Summer research scholarships
Summer Research Scholarships aim to provide talented physics, engineering and maths students with an opportunity to experience research based activities at the School under the guidance of distinguished research staff.
Scholarships are available in all of the School's nine departments provided that an appropriate research project is available. For an indication of the type of research projects that can be undertaken in the School, please see our list of potential projects. Actual summer projects will be tailored to suit the student and the time available.
ANU Physics Summer Research Scholar applicants are welcome to attend the Physics Project Market Day to explore first-hand with researchers SRS project opportunities.
Available projects
Our list of potential summer research projects can be viewed in a number of ways
By research field
By research department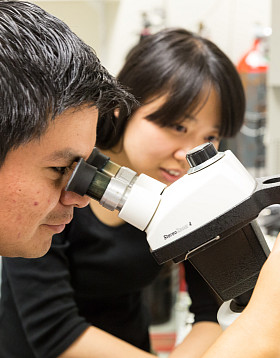 A summer scholarship offers...
Full-board accommodation on campus, a weekly allowance, return travel to Canberra, and a short research project on an approved topic.
Read more...
Eligibility:
Australian and New Zealand enrolled third, fourth or honours year domestic students, or exceptional second year or international students
Duration:
 The program generally run for eight weeks, late November through to late January for each session, excluding Christmas/New Year break. Accommodation is unlikely to be provided outside of this period.
Applications:
Open 1st August
Closes 15th September