Accelerator mass spectrometry group
Australia is set to play a leading role in the global hunt for mysterious dark matter, with the launch of a new lab in regional Victoria today. The Stawell Underground Physics Laboratory (SUPL) will be the new epicentre of dark matter research in Australia...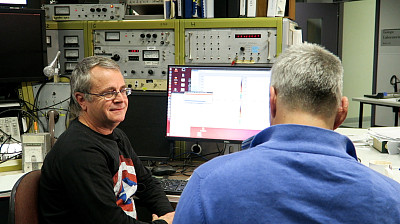 Today's visit to the HIAF Control room finds Associate Professor Stephen Tims researching sedimentation in the catchment of a lake in China. It seems to have nothing to do with nuclear physics - but thanks to the nuclear weapons tests in the 1950s,...
A thin layer of plutonium that encircled the globe during the first nuclear weapons tests in the fifties could mark the dawning of a new geological age, experiments in the Heavy Ion Accelerator Facility show. Human impact on the planet has reached the level...
How do you find the remnants of violent cosmic events? Look at the bottom of the ocean of course! PhD student in nuclear physics, Dominik Koll, is searching for tiny traces of plutonium-244 and iron-60. Each of these originate in different cosmic events,...
The first-ever discovery of rare plutonium-244 on earth has scientists rethinking the origins of the elements on our planet. The tiny traces of radioactive plutonium-244 were found in ocean crust alongside radioactive iron-60. The two isotopes are evidence...
A mystery surrounding the space around our solar system is unfolding thanks to evidence of supernovae found in deep-sea sediments. Professor Anton Wallner, a nuclear physicist at ANU Research School of Physics, led the study which shows the Earth...
An international team of scientists has found evidence of a series of massive supernova explosions near our solar system, which showered the Earth with radioactive debris. The scientists found radioactive iron-60 in sediment and crust samples taken from...