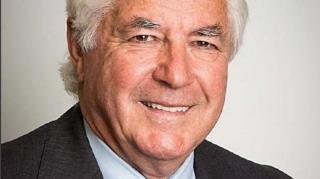 Director's Message
Dear Colleagues,
I hope you had an enjoyable Reconciliation Day.
Last week the Australian Academy of Sciences announced the new Fellows elected to the Academy. Twenty-Two of Australia's most highly contributing researchers were honoured, including Nuclear Physics alumnus, Dr Greg Clark, AC (above). Greg has a long association with the School, serving as Chair of the Advisory Board and still providing valued counsel. I refer you to his biography published at the time of the School morning tea in recognition of his award of the Companion of Australia in May 2018. I would also like to congratulate ANU colleagues, Professors Dorrit Jacob (Director RSES) and Barry Pogson (RSB) on their election as AAS Fellows.
A note passed to me from another notable Nuclear Physics alumnus, Professor John Poate, mentioned some international press appearing in the NY Times last week picking up on some wonderful work just published in Science. My congratulations, to the ANU co-authors, Anton Wallner, Michaela Froehlich, Martin Martschini, Stefan Pavetich and Steve Tims, and all their co-authors. Apart from demonstrating the truly remarkable isotopic sensitivity in HIAF, their results have a significant impact in constraining fundamental astrophysics.
A reminder about the public screening of "Picture a Scientist", hosted by the Women in Physics group and followed by a panel discussion on 10th June from 1200-1400 in the Huxley Theatre. All are welcome.
Finally, as our new building moves down the final stretch towards completion later this year I wanted to share with you a short video of the construction process to date. Sarah O'Callaghan, our Building Project Manager from Facilities & Services had the great foresight to photographically document the technical and architectural details throughout the long construction process. My thanks to Adam McGrath (HCreations) for capturing this one-of-a-kind construction at all stages. He has composited a short video on ANU TV, and has amassed 1000's of stills.
Enjoy the short week!
Tim
CHM & CoS Dean's Commendations for Excellence in Education 2021
Nominations are open for the ANU College of Health and Medicine (CHM) and the College of Science (CoS) Commendations for Excellence in Education. Staff within CHM and CoS, and students enrolled within these Colleges, may nominate a staff member for a Commendation. Commendations will be awarded to individual staff or teams involved in teaching, supervising or supporting learning and teaching.
Nominations due
9am, Monday 11 October 2021


Upcoming HDR Workshops
Journal article writing
June 18, 10am-12pm

Targeting a journal and responding to reviewers
June 18, 1-3pm

Editing for narrative
25 November, 10am-12pm

Editing for style
25 November, 1-3pm

Interested in Space Technology?
The Canberra innovation network is hosting a space hackathon June 17-18 for groups of undergraduate and graduate students. The event includes workshops and mentoring sessions to help you develop a concept to pitch to the judging panel to win a $10,000 prize. Registration closes June 10. More information and registration online.
Congratulations!
| | |
| --- | --- |
| | Shimul Nath on the completion of his PhD and on his success in being awarded one of ten Forrest Prospect Fellowships for postdoctoral research. The Forrest Research Foundation is a highly competitive program that offers fellowships to be held at any of Western Australia's five universities. Shimul will undertake his fellowship at the University of Western Australia. |
Nicolas Baudin Program - Deadline Extension
| | |
| --- | --- |
| | The call for projects for the "Nicolas Baudin" virtual internships has been extended to Monday 7th June. |
Carers' Career Development Assistance Fund (CCDAF)
Applications for the second round of the CCDAF funding scheme are now invited, with a closing date of Friday 11 June 2021 at 5:00pm.
Nonlinear Chirality Revealed at the Nanoscale 
The team from Nonlinear Physics Center with collaborators predicted and observed nonlinear circular dichroism in the second-harmonic generation signal enhanced by the multipolar Mie resonances in the AlGaAs nanoparticle dimers placed on an engineered substrate.

The paper is published in Nano Letters.

2021-22 Banting Postdoctoral Fellowships Competition
The Banting Postdoctoral Fellowships program is designed to support world-class postdoctoral researchers. The fellowship provides $70,000 per year for two years. The program is open to both Canadian and international researchers who have recently completed a PhD, PhD- equivalent, or health professional degree. Applications must be completed in full collaboration with the proposed host institution.

ABC Top 5 Science Residency
In partnership with the Australian National Centre for Public Awareness of Science at ANU, the ABC provides a media residency to discover Australia's next generation of dynamic science thinkers and give them a voice. The scheme aims to equip emerging Science scholars with media and communication skills — to share their ideas and specialist knowledge more widely, through expert commentary, analysis, and programs.
Interested in Starting or Continuing Your Research Career in Germany?
Join the "Research in Germany"- Online Talk Series and chat with experts about PhD and PostDoc opportunities in Germany

7-10 June 2021 at 2pm (CEST)

For more information and to register, 'read more'.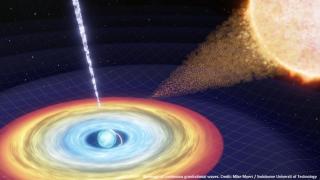 Gravitational Wave Search No Humdrum Hunt
The International community of Gravitational Wave scientists are a few steps closer to detect a new source of gravitational waves that has never been detected.
Distinguished Prof. Susan Scott, Dr Karl Wette and Dr Lilli Sun from CGA along with the LIGO Scientific Collaboration (LSC) and Virgo Collaboration are focusing their research on 'continuous gravitational waves' that are a steady constant stream or "hum" of gravitational waves that are caused by spinning of neutron stars.
Oliphant Tea Room

The Oliphant tea room is open with tea bags & black coffee* only.

Please remember to bring your own cup & spoon.



*coffee grounds for garden use are available

HDR eForm Issues

As most of you would be aware, there have been some issues with a number of HDR eForms, which SBS and IDTC have been working hard to resolve.

There is a fix which will be migrated into production next week, after the Student Administration System upgrade has been completed.

Building and Room Security Access

Please note that the school now has a general access restriction of 8am to 6pm, Monday to Friday.

If you need to complete a new after-hours risk assessment, please see the new top section here: https://physics.anu.edu.au/intra/whs/

Departmental seminars

Mr Campbell Strachan - 1 June
Diagnosing hydrogen plasma in a high power helicon device
» read more

Mr Shankar Dutt - 2 June
Versatile solid-state nanopore membranes: fabrication, characterization, and application.
» read more

Know your administrator...

Julie Arnold - EME & NLPC

Petra Rickman - NP/HIAF & ARC CDM

Belinda Barbour - DQS

Nikki Azzopardi - AM, CPF, LPC & TP

Know your School team...

Sue Berkeley -
Finance Team Leader

Goran Radovanovic -
Stores Services

Hannah Phan - Purchasing/Finance Services

Patrick Romero - Stores/Purchasing Services

RCD Testing

RSPhys South is going to begin its RCD testing in its locations deemed "Non-hostile" only, beginning Wednesday the 9th and finishing up Friday 18th of June.

The testing is primarily over and done by 8:00AM - 8:30AM (Beginning at 6:00AM) and booting up your PCs on arrival to your workstation etc. is expected to be the only inconvenience to be endured.

For any further infomation please contact the Infrastruce Team.

Kitchen Etiquette

Can all RSPhys staff/students please be aware of the following kitchen hygiene/etiquette that we must follow to maintain a clean and healthy working environment at RSPhys.

The ARC Linkage Projects 2021 (LP21) Assessment Round 2 is now open

If you are planning to submit an LP21 application in this Round, please email us your Notice of Intent (NoI).

UA-DAAD Joint Research Cooperation Scheme 2022 - Unavailable

A reminder to all that ANU will not participate in this year's UA-DAAD Australia-Germany Joint Research Cooperation Scheme (2021 for funding in 2022). Please do not draft applications for this scheme.

Check In CBR App

All RSPhys meeting rooms and teaching spaces now have a QR Code located at their entrance. It is encouraged that everyone at RSPhys use the Check In CBR app when using these rooms, as this will enable the 1 person per 2m2 rule, and follow ACT Health guidelines for improved contact tracing.

It is mandatory for all RSPhys visitors to use the Check In CBR App to 'check in'. An additional check in point is located at RSPhys reception. If you require a QR code for your area, please contact whs.physics@anu.edu.au.

1.5m physical distance must still be followed in all scenarios

OFF CAMPUS FLU VACCINATIONS
The University is committed to supporting our staff to maintain their health and wellbeing during the upcoming influenza season and for this reason is ensuring that FREE flu vaccinations for staff are available again this year.

The University has two options for receiving the flu vaccination – either on campus at the National Health Co-Op or off-campus by accessing a voucher code to be used at a Terry White Chemist in Canberra.