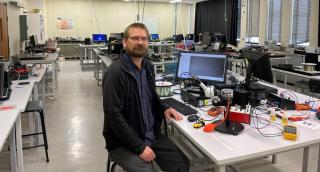 Director's Message
Dear Colleagues,
My heartfelt congratulations to Dr Mika Kohonen, who will take the reins running our PEC teaching laboratories. Mika has been running the labs brilliantly for so long it is a great pleasure to see him permanently in this leadership role. Please take a moment to say hi to Mika (above) when you're next in the teaching labs.
Just a reminder that Market Day will be this Thursday, 1130-1430, in the foyer of the new building. My thanks as always to A/Prof Cormac Corr (DMP) for coordinating the event, to Martin Conway (SCU) for putting the booklet together and to Nikki Azzopardi (School Admin) for organising the catering. This is an important day in our School's calendar so if you're not already standing by a poster please wonder by. It's a fabulous way to see the diversity of research available to our students. Very regrettably, this will be the first Market Day I'll miss. I'll be 1 km underground visiting the Stawell Underground Physics Laboratory (SUPL) which will host some of the amazing detectors designed and built by NPAA in the search for signatures of Dark Matter. See the School Seminar by Dr. Giorgio Busoni (FTP and ARC Centre of Excellence for Dark Matter Particle Physics) on Thursday for more details.
ANU Open Day is coming up on Sept 3rd and we need several volunteers to staff the Physics booth on the day, running demos and generally answer questions about physics. There will be a curriculum expert at hand to answer technical questions on our course structure. Please let Siobhan Ryman (PEC) know if you can help on Saturday, 3rd Sept, anytime between 0900-1500.
Each day from my office window I can see the stellarator gradually disappearing, see below. Martin Conway has been collecting a time lapse video of this epic process, which we'll share in the next few weeks. My endless thanks to Mick Blacksell (Tech Workshops) for overseeing this complex project.
Have a great week,
Tim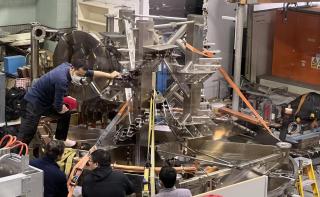 Evacuation Process Reminder
With the movement of people into the new building, the School's warden team is currently in flux and not all areas of our buildings are covered by Floor Wardens.
As such we would like to remind everyone that when the evacuation alarm sounds, you should collect any personal belonging you might need to get home, exit the buildings and head for one of the muster points for our buildings to await further instructions.
You should not wait to be directed by a floor warden to leave the buildings if the evacuation Alarm has activated.
Physics Project Market Day 2022
To enable our undergraduate students to have the opportunity to engage more with research conducted within the school, Physics Project Market Day will take place on Thursday 18th August from 12pm to 2pm in the foyer of the new building. The event will be an opportunity to interact directly with undergraduate students by sharing/discussing your research and potential projects with them by presenting a poster.
Contact cormac.corr@anu.edu.au if you have any questions.
HDR Supervision Development Forum - 17 August
"Supervising First Nations Higher Degree Research"
Consistent with commitments in the ANU by 2025 Strategy and the HDR Supervision Development Framework, the HDR Supervision Development Team is facilitating a series of activities to strengthen supervision of First Nations HDR candidates, that of other candidates working on First Nations Topics, and support for First Nations supervisors. We acknowledge the central contributions of ANU First Nations staff and HDR students to this work.
Date: Wed 17th August 2022
Time: 12-1pm
Register: Eventbrite
John Carver Seminar Series 2022
The John Carver Seminar Series 2022 will be held on Monday 26 September starting at 10am in the new Auditorium (building 160).
You will need to present a 15-minute talk on your research to an audience of your fellow students and RSPhys colleagues. The talks are not followed by questions.
The talks are judged by a panel of three judges (two academics and a student).
Seminar presenters will be considered for one of the three prizes:
The John Carver Prize ($750)
The Dean's Prize ($500)
The Director's Prize ($500)
There will also be a vote for the People's Choice award ($200).
Please email hdr.physics@anu.edu.au by 12 September 2022 to register your interest in participating in this wonderful event!
Congratulations to Shiyu Wei who was one of the winners of the College 3MT Final!
All of the RSPhys students who presented in the College 3MT Final gave outstanding talks and the judges would have had a very difficult job of selecting the best ones. Well done everyone!

ARC Linkage Projects 2022 (LP22)
Applications for Assessment Round 2 of ARC Linkage Projects 2022 (LP22) are now open in RMS and will close on 13 December 2022.
If you are planning to submit an LP22 application and haven't notified the College Research Office yet, please submit your Notice of Intent (NoI) by filling this form here.
Those who express interest in applying will be provided with further information on application resources and the College of Science internal timeline.
National Intelligence and Security Discovery Research Grants (NISDRG) - Round 3 Now Open
If you intend to submit an EoI please contact the College Research Office (CRO) in the first instance for guidance on internal process.
The ARC invites you to submit an Expression of Interest application for the National Intelligence and Security Discovery Research Grants (NISDRG) program Round 3. Applications are open in the relevant Research Management System (RMS) instances and will close at 5:00 pm (AEST) on Friday 19 August 2022.
The Grant Opportunity and supporting documentation can be found on GrantConnect.
CERN Postdoctoral Fellowship Programes
| | |
| --- | --- |
| | The CERN Theory Department will have openings for postdoctoral positions (Senior Research Fellowships) in all areas of relevance to particle physics, including QCD, collider physics, Standard Model and beyond, astroparticle physics and cosmology, heavy-ion physics, lattice gauge theory, quantum field theory, quantum gravity and string theory, mathematical physics. |
Office Work Risk Assessment and Safe Work Procedure

The Risk Assessment and Safe Work Procedure for Office work in the School has recently been reviewed.

These documents have been published on the school WHS intranet and the School WHS SharePoint.

Returning to Campus

Updated Process and Mask Protocols

College HR & Finance Hot Desking In Physics

EVERY TUESDAY
Mornings - HR Team
Afternoons - Finance Team

submitting reimbursement forms.

2022 Wall Planners

2022 wall planners are available now at the Oliphant Reception.

Departmental seminars

Mr Shayan Majidy - 18 August
Noncommuting charges: Bridging theory to experiment
» read more

School Seminar Program - 18 August

Capture of dark matter in compact stars - Dr Giorgio Busoni

Physics Project Market Day - 18 August

New Physics Building Foyer

Know your administrators...

L-R: Belinda Barbour, Sonia Padrun, Petra Rickman, Nikki Azzopardi, & Julie Arnold

Know your School team...

Uyen Nguyen -
Finance Team Leader

Sue Berkeley -
Stores/Purchasing Team Leader

Goran Radovanovic -
Stores Services

Patrick Romero - Stores/Purchasing Services

Know your student admin...

Liudmila (Luda) Mangos -
Higher Degree Research admin
C3.02C, Cockcroft bldg (Thurs 9:30-5pm) hdr.physics@anu.edu.au

Siobhan Ryman -
Physics Education Centre admin and HDR
1.05, Bldg 38A (Tues 8.30-4pm) ; C3.02C, Cockcroft bldg (Mon,Thurs-Fri 8.30-4pm) pec.physics@anu.edu.au

Tweet Series

The Researcher Development team are starting a new tweet series for @ANUresearcher! This tweet series is intended to be fun AND rewarding – a collaborative storytelling about the highs and lows of HDR student life – Hannah Carle, a RD casual is creating graphic mosaics based on different themes each week.

ANU Community Connect

ANU Community Connect provides a safe and welcoming space for all ANU students. We offer no-cost essential items through our food pantry, Share the Dignity vending machine, access to our friendly and knowledgeable team to support students build connections, navigate university services and actively engage with programs and events to improve student experience at ANU.

What To Do If You Test Positive For COVID-19

If you test positive to COVID-19, please:

1. Register your positive result with ACT Health using this online form, or with the state/territory health authority where you are located.

2. Alert the University through this online form.

3. Apply for personal leave.

4. Isolate for at least seven days after the day you test positive.