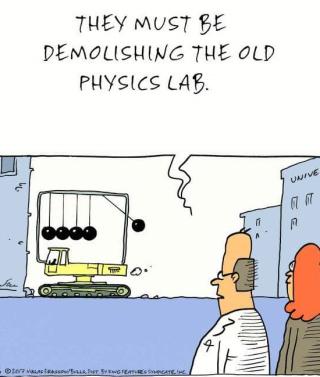 Director's Message
Dear Colleagues,
This week's pic alludes to my comments at School Forum. Over the next few week Graeme Cornish and Simon Foxcroft will be discussing with HoDs about their requirements for decanting in preparation for the building program. Please talk with your Heads about any requests you might have throughout this process.


You will have seen that a Voluntary Early Retirement Scheme will open soon. Please discuss this with your supervisors. I'm very amenable to providing research support for academics who would like to join our Honorary Faculty.
Don't forget to nominate your favourite educator in the Joint Colleges of Science Excellence in Teaching Awards.
Founder's Day is just 5 weeks away. Hoe will open the nominations for Director's Awards next week, and Sue will be chasing up Department presenters.
I'm sorry to be missing PEC Planning Day this year. The program looks fantastic.
Have a good weekend, see you in a fortnight,
PEC Planning Day 2017
| | |
| --- | --- |
| | Thursday, 14 September 2017, 9:00-5:00 - Mt Stromlo |
Teaching Excellence Awards
| | |
| --- | --- |
| | Applications are invited for the Joint Colleges of Science Excellence in Teaching Awards. |
ARC Linkage Projects Round 2 2017
| | |
| --- | --- |
| | The ARC Linkage Projects 2017 Round 2 – NOI open 21/08/2017 – 11/09/2017. |
Industrial Transformation Research Program (ITRP)
The ARC are holding a half day information and networking forum for the ITRP.
Access and Equity
| | |
| --- | --- |
| | Travel grants for Women in STEM |
ANU Ally Network: Pride Week 2017
ANU Pride Week Market Day - Thursday, 21 September in the Pop-Up Village
Request for Surplus Science Equipment for Timor-Leste
| | |
| --- | --- |
| | RSB postdoc Rob Sharwood is travelling to East Timor at the end of September to train science teachers... |
HDR Retreat - Kioloa 6-8 November 2017
| | |
| --- | --- |
| | HDR student organised initiative - A weekend at the South Coast - Registrations Closes - 28 September 2017 |
Departmental seminars

Mr Haitao Chen - 8 September
Manipulation of light-emitting properties of 2D materials by photonic nanostructures
» read more


Professor Mikhail Belkin - 15 September
Photonic devices based on quantum-engineered nonlinear metamaterials
» read more

Staff Movements

Director's Office
Tim Senden will be travelling in China 7-20 September 2017. Hoe Tan will be acting.

Stores
Uyen Ngyuen is currently away, Kathy Hicks will by covering.

Centre for Plasma an Fluids
Robert Dewar will be attending a Conference in Indonesia 1-25 September.

Matthew Hole will be away from 4-23 September, presenting talks at the 15th IAEA Technical Meeting on the Energetic Particles in Magnetic Confinement Systems, a Physics meeting of the Integrated Tokamak Physics Activity of ITER, and giving an invited talk to the Division of Plasma Physics Meeting in Chengdu.

Events - Training

Defence Export Controls Awareness and Training Seminar - 13 September 2017
» read more

PEC Planning Day - 14 September
» read more

John Carver Seminar Series 2017

Showcase your research at the John Carver Seminar Series - nominations close 15 September 2017

RSPE Health & Safety Courses

WHS courses - book through Horus.

Figtree

Safety incident & hazard reporting guidelines.

School Facilities and Services

For any general building issues: lights not working, plumbing problems, doors not locking and so on, please use the school's work request system to notify problems.

Job Opportunities

CSIRO Superconductivity Team - Research Scientist - Theoretical Physicist Position

Recruiting for Lecturer in Physics at Queensland University of Technology