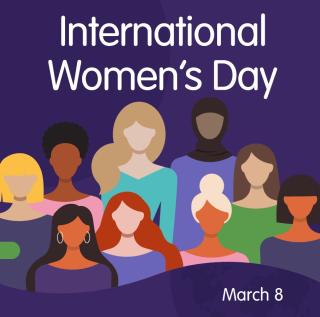 Director's Message
Dear Colleagues,
Welcome back. This week we will be celebrating International Women's Day and among the host of events it's a pleasure to draw your attention to two in which our School feature prominently. First is the annual Science in the Pub IWD event this evening, and tomorrow another joint-College presentation in the Physics Auditorium with four of our senior leaders. Details are below and I encourage everyone to join in.
It is a great pleasure to congratulate Dr Daria Smirnova (EME) on her recent career recognition in Nanophotonics (see below).
I have asked the Heads of Department to encourage student and EMCR participation in the School WHS and Executive meetings. These are important fora, valuable for professional development and can be included in your annual PDR (due 1st May).
The highly successful autonomous vehicle company, Advanced Navigation, will be holding stakeholder meetings in Physics this week. CGA holds a CRC-P with AdvNav, and last year they purchased our spin-out, Via Photonics. To introduce their interests to a broader group you are invited to the seminar at 10am on Thursday, 9th in the Physics auditorium. All staff and students are welcome. Colleagues from RSAA, AITC and CECC will be joining us.
Finally, I've opened a new panel in the right-hand column to promote opportunities in Technology Development. Like the other panels on this side of the Event Horizon these are more permanent information sources. The TechDev panel will be populated with current calls for funding, recruitment etc and I thank Kiara Bechta-Metti Director of the Commercialisation Office for the first panel. Periodically, Kiara will be hot desking in Physics and I will use this panel to announce which days she plans to be around.
Have a great week,
Tim
Call For New Members – Physics Equity and Diversity Committee
| | |
| --- | --- |
| | The Physics equity and diversity committee welcomes new members from both staff and students. The committee is structured so that you can get involved at the level that suits you in a variety of areas including Gender equity, First nations engagement, LGBTIQ* issues as well as in Strategy and Communication. How to join? You can talk to the current co-chairs Mary Gray and James Sullivan or contact them by email (James & Mary). |
PhB Mentors Needed
This year we have 9 first-year Physics students in the PhB program, some of the smartest high-school graduates from across the country.
Each student is to be assigned an academic mentor for their time at ANU, and we would like to make a call for people willing to take on this role.
This typically involves 1-2 meetings per semester to provide advice regarding their degree. All students should do research projects and also enter the Honours Program, so this is an excellent opportunity to expand your research groups with extra hands.
Please contact us to express your interest., and 'read more' for further details about the program.
James Sullivan and Yuri Kivshar
PhB Physics discipline coordinators

EMBL Australia Light Sheet Microscopy Workshop
EMBL Australia is excited to present 'Beyond Imaging: visualisation, analysis and inference'. A very special three-day in-person light-sheet microscopy workshop, featuring some of the world's best leaders in the field. The event takes place at Monash University, Clayton Campus from 26-28 April, 2023.
| | |
| --- | --- |
| | During storm warnings, issued by the Bureau of Meteorology, parking stations on campus will be opened for shelter. However, there is no guarantee of a parking space. Should you park there, and are not a parking station permit holder, you must move your car immediately after the storm or before 8am the following day to avoid the possibility of receiving an infringement notice. |
Building an artificial brain from rare vanadium oxide
A rare form of vanadium oxide could be the basis for a new generation of computers that mimic the human brain, researchers from the Electronic Materials Engineering (EME) department have found.
Trivanadium pentoxide (V3O5) has properties suited to making devices for neuromorphic computing, which is based on a network of artificial neurons and synapses.
Australian Science Policy Fellowship - 2023-24 Round Open
| | |
| --- | --- |
| | The Australian Science Policy Fellowship Program is an initiative of the Office of the Chief Scientist that gives scientists the opportunity to work in a policy role in an Australian Government department for up to 12 months. The program seeks to strengthen the science-policy interface by bringing science and technology expertise into public policy processes and bringing experience of government processes and policymaking into academia. |
Photonic Rashba Effect
| | |
| --- | --- |
| | The Rashba effect was predicted in 1960 for electrons moving in a plane in the presence of an applied electric field. The photonic Rashba effect is manifested in the splitting of photon spins in the momentum space, with different directionality of left- and right- circular polarized emitted light from upconversion nanoparticles. We employ gradient metasurfaces to observe this effect experimentally, said a PhD student of Nonlinear Physics Center Mr. Aditya Tripathi, the first author of the paper just published. |
IWD 2023 Science In The Pub - Call For Presenters
RSPhys is sponsoring International Women's Day Science in the Pub - the call for presenters is now open. If you'd like to share your research and your experiences as a women* in science, please email philuponscience@gmail.com. Free presenter training available too!

When: 7 PM Tuesday 7th March, 2023
Where: Smiths Alternative, 76 Alinga St, Civic
How Much: Free! With thanks to our sponsors; ANU Physics, ANU CGA, CSIRO and TMOS.
WiPAE Event - 'In Conversation 2 - Women* In Leadership'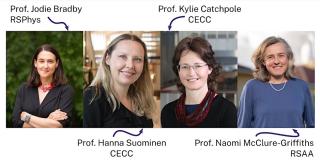 In Conversation 2 gives the floor to four amazing women from RSPhys, RSAA and CECC to talk about women in leadership. It will be followed by a light lunch to give you the opportunity to meet our speakers in person.
When: Wed March 8th, 10:30-12pm
Where: Physics Auditorium, 160 Mills Road
National Space Qualification Network (NSQN) Industry Workshop - March 15 & 16
Registration is now open for the NSQN Industry Workshop

Date: 15-16 March 2023
Time: 8:30am - 5:00pm
Where: ANU Research School of Physics, 160 Mills Road, Acton, ACT 2601

REGISTER NOW: https://buff.ly/3Y0f6rb
CoS I.D.E.A. Website

Browse I.D.E.A.'s knowledge repository here.

2023 Wall Planners

2023 wall planners are available now at the Physics Store.

Need to Edit a Requistion?

If you are new or old to the RSPhys online requisition system, 'read more' for time saving tips when editing a requisition with a mistake.

Processes to consider when purchasing

1. All IT equipment through SCU
2. All electrical items must be tested & tagged before use
3. UPS require RCD on device side. See this procedure (PDF, 28kB)
4. Chemicals require WHS pre approval before purchase
5. Use Mandatory/Preferred suppliers where appropriate

Please also note that purchases made through Officeworks will not be reimbursed.

Departmental seminars

Dr Aleese Barron - 9 March
Archaeobotanical applications of microCT imaging
» read more

School Seminar Program - 21 March

Engineering optical resonances in nanostructured dielectric materials for nonlinear photonics - Dr Kirill Koshelev

Know your administrators...

L-R: Belinda Barbour, Sonia Padrun, Petra Rickman, Nikki Azzopardi, & Julie Arnold

Know your School team...

Uyen Nguyen -
Finance Team Leader

Sue Berkeley -
Stores/Purchasing Team Leader

Goran Radovanovic -
Stores Services

Patrick Romero - Stores/Purchasing Services

Mim Ellen-Barwell - Stores/Purchasing Services

Know your student admin...

Liudmila (Luda) Mangos -
Higher Degree Research admin
C3.02C, Cockcroft bldg (Thurs 9:30-5pm) hdr.physics@anu.edu.au

Siobhan Ryman -
Physics Education Centre admin and HDR
1.05, Bldg 38A (Tues 8.30-4pm) ; C3.02C, Cockcroft bldg (Mon,Thurs-Fri 8.30-4pm) pec.physics@anu.edu.au

Know your school team...

Phil Dooley -
Manager, Marketing and Communications (part time)
phil.dooley@anu.edu.au
0414 945 577

TechDev

You can report school maintenance issues here.

What To Do If You Test Positive For COVID-19

If you test positive to COVID-19, please:

1. Inform your supervisor or course convenor.

2. Alert the University through this online form.

3. It is no longer required to report positive RAT tests to ACT Health, however it is strongly encouraged to do so, using this online form.