Event Horizon

Research School of Physics
| | |
| --- | --- |
| | Weekly newsletter | vol 47 no 29 | 25–29 July 2022 |
Director's Message

Dear Colleagues,

Welcome back to the start of the new term.

Many of our community were present in person and on-line to remember Professor Bob Crompton at St John's in Reid last Tuesday. With readings from his close and extended family it was a beautiful tribute to a man remembered for his generosity and commitment to friends, family and physics. A link to the recording of the service can be found in the last Event Horizon.

My congratulations to Em/Professor Eugene Gamaly on the publication of the second edition of his book, 'Femtosecond laser-matter interactions: Solid-plasma-solid transformations at the extreme energy density' (this link provides details and a 20% discount). Over the past couple of years, I have become aware of several colleagues who have published significant books and I would like to host an event this year to celebrate their achievements. Please let me know if you are aware of any books published since 2019 that we could recognise in a special face-to-face event.

The ANUSA-affiliated undergraduate film club, Black Mountain Pictures, is requesting to use some of our spaces to film a music video on Saturday, 30th July. There will be a crew of around 5-6 people. I will be in attendance for the day and invite people to offer their lab space as background for this project. Any hazardous operations will have to be halted for the hour or two required, and I welcome company throughout the day. Please contact me by CoB Thursday if you're interested.

I have reached out to Heads and Centre Directors about nominating projects for the Vidya and Chennupati Jagadish Scholars program run in conjunction with the College Future Research Talent (FRT) program. For the 2023 round, the College will provide funding for up to 8 Indian FRT scholars and 3 Indonesian FRT scholars, and the V&C Jagadish program will fund 5 scholars from any developing country to undertake research projects within RSPhys for 3 months. Please speak to your Heads and Centre Directors for details. All academic groups are welcome to apply. These are very talented students selected from some of the best institutions in their respective countries.

As part for the Below Zero Emissions program we are all being asked to consider our travel-related carbon footprint. These steps can be rather simple, for example, you might catch a bus to Sydney as the first stage of an international flight. The time commitment is not very different, buses are rarely delayed, and the carbon and cost saving is significant. As an initial step of recognising the global challenge please tick the pilot program in the Travel Plan section for your next trip.

A courtesy reminder with regards to personal or public notices. You are very welcome to use the tea rooms to distribute or post general notices of a public matter. The Event Horizon can also be used for public notices. Departmental poster boards have limited space and would be best reserved to display research work, conferences, scholarship notices or Centre announcements.

This week's top pic shows Professors Bronwyn Fox (Chief Scientist, CSIRO) and Nanda Dasgupta (NPAA) on a site visit to the Heavy Ion Accelerator last Monday. It was a great pleasure to also show Bronwyn through the new building and discuss the new ANU-CSIRO MoU designed to enhance our engagement in quantum physics, space and technical workshops.

Below can be seen the early stages of dismantling our H1 Stellarator with our colleagues and new owners from University of South China. This collaboration has been initiated by A/Prof Cormac Corr (DMP) and Michael Blacksell (Head, Technical Workshops) over several years and will soon see the main components ship to China to start a new chapter in fusion research. As the facility represents one of the large engineering projects built entirely in Physics I will be opening the hall up for tours soon to see the internal sophistication one last time. Not since the system was assembled within the vacuum vessel over 20 years ago has it been possible to see the inner workings. I will keep you posted when these tours are about to run in the next few weeks.

Best regards,
Tim

The Latest on COVID-safe Work

The mask mandate is being maintained indoors on the ANU campus for semester 2. This applies in all teaching spaces and work areas.

The RAT and N95 mask distribution hub will re-open on Tuesday 26, Wednesday 27 and Thursday 28 July between 10am - 2pm on Tangney Road in Kambri. Bring your ANU staff or student card with you.

How a Dark Matter Embrace Could Slow a Spinning Black Hole

Counting large black holes could help us find elusive dark matter particles, a new study led by the Centre for Gravitational Astrophysics has found.

Large black holes are formed when smaller ones collide – in dense regions of the universe this could happen multiple times. But if the colliding black holes are spinning fast then the new black hole could be kicked out of the dense area, preventing any further mergers.

But Dr Lilli Sun and her colleagues from CGA and the ARC Centre of Excellence for Gravitational Wave Discovery (OzGrav) realised in some scenarios dark matter clouds can form around fast spinning black holes. In the process the black holes lose their rotational energy and avoid ejection from the dense area.

Congratulations to the winners of the RSPhys 3 Minute Thesis competition held on Thursday 21 July!

First prize and People's Choice – Benjamin Grace from CGA for his talk "How I Got My Surfer Hair"

Runner-up - Sungyeon Hong from MP for her talk "Order, Disorder and In Between: Hyperuniformity"

Well done to all the presenters for their wonderful talks!

Superstars of STEM

The game-changing Superstars of STEM program smashes society's gender assumptions about who can work in science, technology, engineering and maths by creating more visible diverse STEM experts featured regularly in the media.

Apply for the 2023-2024 program. Applications close on 14 August 2022.

Notice of Intent (NoI) Form for ARC Fellowship Funding Schemes Commencing in 2023/2024

Although we are still awaiting ARC outcomes for the Fellowship schemes, the College of Science Research Office (CRO) is now inviting notices of intent (NoIs) for the following schemes:

ARC Laureate Fellowships (FL23)
ARC Future Fellowships (FT23)
ARC Discovery Early Career Research Award (DE24)

If you would like to apply for (or are contemplating applying for) any of the above schemes, please complete this short form. The form should take less than a minute to complete per application you intend to submit.

For queries in relation to any of the above schemes, please contact your local Research Office.

Global Traces of Plutonium Could Mark the Start of the Anthropocene

A thin layer of plutonium that encircled the globe during the first nuclear weapons tests in the fifties could mark the dawning of a new geological age, experiments in the Heavy Ion Accelerator Facility show.

Human impact on the planet has reached the level at which many believe the planet has entered a new geological age – the Anthropocene – and so the hunt is on to find a marker of this new age, and plutonium is a leading candidate.

The International Commission on Stratigraphy has set up an Anthropocene Working Group (AWG) to explore possible markers for the start of a new geological period, one of which is plutonium.

Returning to Campus

Updated Process and Mask Protocols

College HR & Finance Hot Desking In Physics

EVERY TUESDAY
Mornings - HR Team
Afternoons - Finance Team

submitting reimbursement forms.

2022 Wall Planners

2022 wall planners are available now at the Oliphant Reception.

Departmental seminars

Mr Xilin Lu - 26 July
Light-matter Interaction Models: Symmetry, Exact Solvability and Non-Hermiticity
» read more

Mr David Freeman - 28 July
High harmonic generation in gas and condensed matter phases
» read more

Distinguished Lecture - 25 July

New perspectives onto the Universe in the era of multi-messenger astronomy - Associate Professor Samaya Nissanke

Know your administrators...

L-R: Belinda Barbour, Sonia Padrun, Petra Rickman, Nikki Azzopardi, & Julie Arnold

Know your School team...

Uyen Nguyen -
Finance Team Leader

Sue Berkeley -
Stores/Purchasing Team Leader

Goran Radovanovic -
Stores Services

Patrick Romero - Stores/Purchasing Services

Know your student admin...

Liudmila (Luda) Mangos -
Higher Degree Research admin
C3.02C, Cockcroft bldg (Thurs 9:30-5pm) hdr.physics@anu.edu.au

Siobhan Ryman -
Physics Education Centre admin and HDR
1.05, Bldg 38A (Tues 8.30-4pm) ; C3.02C, Cockcroft bldg (Mon,Thurs-Fri 8.30-4pm) pec.physics@anu.edu.au

3 Minute Thesis College Final - CoS & CHM

A final reminder that The College of Science and College of Health and Medicine are hosting a 3MT Final on Thursday 04 August from 1pm-4pm. The event will be held in the Finkel Lecture Theatre, JCSMR Bldg 131 and will be followed by afternoon tea in the foyer.

Everyone is invited to attend and support their candidates and colleagues; it's a great opportunity to learn about the incredible research being undertaken in CoS and CHM. We had a great event in 2021 with 17 participants and an engaged audience and it would be excellent to have another successful event this year. Attendance is free but you must register through Eventbrite.

First Aid and Warden Teams

With all the moves into the new Physics Building we have reviewed our first aid and warden teams.

'Read more' for a list of the areas we need to have some additional assistance. If you are located in and are interested in volunteering for any of these roles (training is provided), please contact our WHS team at WHS.Physics@anu.edu.au.

As You See It! Photography Competition

When you think of Science, Health and Medicine, what do you see? The micro world at the end of a microscope? The flora or fauna outside your office window? Maybe it's the ANU bush campus or the clear, starry night sky. We would like to see it As You See It!

The As You See It! photography competition is open to all ANU alumni, staff and students with an original photo. Images will be shortlisted by a selection committee, with the top photos from each category going to a public vote during August.

The two winning images from each category will form the 2023 ANU College of Science and ANU College of Health and Medicine annual calendar.

Call for Applications - Award for Space Plasma, Astronomy & Astrophysics

Closing date 31 July

We are seeking applications for the Award for Space Plasma, Astronomy & Astrophysics. The Award is intended to aid postgraduate and undergraduate students undertaking research in Space Plasma, Astronomy or Astrophysics.

Free Flu Vaccinations

To provide flexibility for our staff in 2022, the ANU are offering three options for receiving your free flu vaccination:

1. On campus at the ANU Medical Centre

2. On campus at the University Pharmacy

3. Off campus by accessing a voucher code to be used at a Terry White Chemist in Canberra

Tweet Series

The Researcher Development team are starting a new tweet series for @ANUresearcher! This tweet series is intended to be fun AND rewarding – a collaborative storytelling about the highs and lows of HDR student life – Hannah Carle, a RD casual is creating graphic mosaics based on different themes each week.

What To Do If You Test Positive For COVID-19

If you test positive to COVID-19, please:

1. Register your positive result with ACT Health using this online form, or with the state/territory health authority where you are located.

2. Alert the University through this online form.

3. Apply for personal leave.

4. Isolate for at least seven days after the day you test positive.
L-R: RSPhys 3MT winners Benjamin Grace (First prize and People's Choice) & Sungyeon Hong (Runner-up)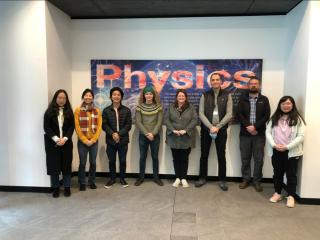 L-R: Shiyu Wei (EME), Sungyeon Hong (MP), Jack Lang (QST), Benjamin Grace (CGA), Sue Berkeley (3MT Judge, EME), Peter Linardakis (3MT Judge, NPAA), Mika Kohonen (3MT Judge, QST), YiYi Zhong (NPAA)
---
The Australian National University, Canberra | CRICOS Provider : 00120C | ABN : 52 234 063 906
---
If you do not wish to receive future emails from us, please unsubscribe.