Director's Message
Dear Colleagues,
Another gorgeous weekend. Welcome back to those who had a chance to enjoy the School holidays.
Some diverse and excellent things to mention this week. Firstly, my congratulations to Professor Ilya Shadrivov (NLPC, above) on his election to the Fellowship of the Optical Society (OSA), "For pioneering contributions to the field of electromagnetic metamaterials including nonlinear phenomena and light localization in composite structures". Great news, Ilya.
Some outstanding work led by A/Professor Tibor Kibédi (NP, below) is set to challenge conventional thinking on the stellar evolution and nucleosynthesis. In this multi-national collaboration the elusive Hoyle state, in which three alpha particles combine to produce carbon-12, has been refined leading to the revelation that carbon-12 is produced at a rate 34% higher than previously understood. Well done to all the co-authors for this important work. My thanks to science writer, Chris Stewart, who has joined with Phil Dooley to showcase our Physics.
Congratulations to Dr Siva Karuturi, Prof Hoe Tan, Distinguished Prof Chennupati Jagadish (EME) and their colleagues at King Abdullah University of Science & Technology (KAUST) and Research School of Electrical, Energy and Materials Engineering (RSEEME) for their recent work (see Event Horizon no.26) on direct solar-to-hydrogen production which has been voted as one of the top 10 innovations by the Innovation for Cool Earth Forum (ICEF), hosted by the government of Japan. Their result stands alongside other revolutionary achievements.
Finally, the CTLab (AM) has beautifully contributed to some wonderful science outreach by Geoscience Australia to promote a campaign to find ACT's Fossil Emblem. You can vote for your favourite local fossil, but be quick, voting ends on Tuesday 13th. Ah, takes me back 50 years to when my dad first took me to Woolshed Creek (back of Duntroon) to see the Brachiopods, Atrypa duntroonensis. Funnily enough, 40 years later I was to collaborate with now famous palaeontologist, Dr Gavin Young (AM), who first established the historical record for the site. Guess which fossil is my pick for the fossil emblem?
Have a great week (don't forget to vote),
Tim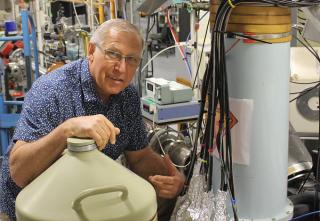 Nobel Prize in Physics
The 2020 Nobel Prize in Physics has been awarded to scientists Roger Penrose, Reinhard Genzel and Andrea Ghez for their discoveries about black holes. Andrea is the fourth woman in history to win the prize. "I think today I feel more passionate about the teaching side of my job than I have ever," Ghez said after the announcement. "Because it's so important to convince the younger generation that their ability to question, and their ability to think, is just crucial to the future of the world."
Post-doc Fellowship
Stephen Hawking Fellowship. In recognition of Stephen Hawking's exceptional contributions to the understanding of the universe and the communication of science, UK Research and Innovation is offering 10 four-year postdoctoral fellowships each year in theoretical physics, and some areas of mathematics and computer science. Deadline of Application 18 November 2020.
The ANU Researcher Development Thesis Boot Camps are back!
Research candidates can often encounter difficulties with writing towards the end of their degree. Thesis Boot Camp helps you do a large amount of work on your thesis and develop productive writing habits in three days. The concept of Thesis Boot Camp is disarmingly simple. Put a group of people experiencing similar issues in the same room for a weekend, feed them regularly and provide a reward for every 5,000 words written. We have free two camps of 60 participants each this year, click here to find out more and join us.
20-22 November, Fri-Sun and 14-16 December, Mon-Wed

RSPhys WHS are conducting noise assessments
RSPhys WHS are conducting noise assessments on areas that may have excessive noise levels to help identify appropriate control measures to put in place and to eliminate any hazards to RSPhys personnel.
If you have any concerns of excessive noise in your workplace, please contact your Supervisor/Manager or email whs.physics@anu.edu.au .
Please be aware of the use of any Ototoxin chemicals in your area as exposure to these chemicals can also result in hearing loss. Types of Ototoxin chemicals can be found on the link below. If you are aware you are in contact with any of these, contact your supervisor or Physics WHS directly.
Geoscience Australia is collaborating with several other organisations to establish a fossil emblem for the ACT. This is a chance for us to get the whole Australian community excited about fossils and geological time, but we need your help!

Message from the Research Working Party

Thank you for the very thoughtful feedback to our Research Strategy Document. During the past few weeks, we have analysed your comments in detail and worked to amend our draft recommendations accordingly.

Please see the updated recommendations (V2) for your further comments and suggestions. In the coming weeks, we will be organising a School Forum, where we will have a chance to discuss this document further.

Our next step will be to start consolidating our recommendations with the recommendations of the HDR, Education, and Infrastructure WPs to arrive to a coherent School Strategy. Please send any feedback to Elena.Ostrovskaya@anu.edu.au or Mahananda.Dasgupta@anu.edu.au

HDR Working Party

Now available for comment are the eight recommendations made by the following three HDR sub committees:

Current HDR programs, admission and candidature progression
HDR Recruitment, including the pathway through school's Master programs
Student experience and pastoral care

Please see below for details and email Lan.Fu @anu.edu.au, Patrick.Kluth@anu.edu.au or James.Sullivan@anu.edu.au with your feedback.

Infrastructure Working Party – Guiding Principles

As ANU and the School are going through some major changes, the Working Party (Infrastructure) has come up with a set of principles on Technical Capabilities to guide us through this turbulent time. We would appreciate your comments and feedback as these guiding principles will form the basis of our report and recommendations. Please send your feedback to hoe.tan@anu.edu.au or rachael.hanrick@anu.edu.au by cob 18 Oct.

Education Working Party | Draft Recommendations

The Research School of Physics is responsible for delivering physics education at ANU. It specialises in having a rich, research-led curriculum that encourages students to apply their knowledge. In 2019, the school underwent an external review, which also examined the education program. Read more to see the objectives and recommendations now available for feedback. Please email pec.physics@anu.edu.au with your comments.