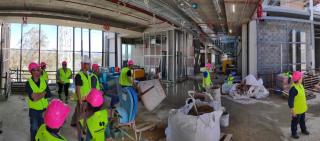 Director's Message
Dear Colleagues,
I hope you enjoyed a very pleasant long weekend. This week my congratulations go to Professor Susan Scott (CGA) on her election into the American Physical Society, Mr Tim Gray (NP) on publishing significant fundamental research and Ms Dige Wang (LPC) who has been elected the HDR Officer for PARSA. Please see their articles below which detail their achievements and contributions.
My thanks to Craig MacLeod (LPC) for offering this week's pic, showing a group having a guided tour of the new building by Brett Price (Hindmarsh). The group is standing in the entrance foyer looking out through the tea room window over the lake. I am trying to take groups of 10 through the site every week. If you are keen to see how this wonderful building is progressing please contact Sue Wigley to put you name on the list. All are welcome. I have included a special report by Hassell Studios, Engagement or Extinction (right), our building architect who highlight how the global university sector is rising to engage better with students, industry and government. Needless to say, our building is part of this international case study.
Have a good short week,
Tim
HDR Working Party
Now available for comment are the eight recommendations made by the following three HDR sub committees:
Current HDR programs, admission and candidature progression
HDR Recruitment, including the pathway through school's Master programs
Student experience and pastoral care
Please see below for details and email Lan.Fu @anu.edu.au, Patrick.Kluth@anu.edu.au or James.Sullivan@anu.edu.au with your feedback.
Congratulations Susan Scott
Prof. Susan Scott is elected as a Fellow of American Physical Society (APS). Susan was elected for "groundbreaking discoveries in general relativity and gravitational wave science, advancing our understanding of the singularities and global structure of space-time and the nature of astrophysical signatures in gravitational wave experiments; and for promoting gravitational research worldwide." (Image credit Stuart Hay ANU)
Congratulations PhD student Tim Gray
Congratulations to Tim Gray (NP) for the journal article Early Signal of Emerging Nuclear Collectivity in Neutron-Rich 129Sb also highlighted by the US Department of Energy.
Congratulations Dige Wang
Dige has been elected the next PARSA HDR Officer. Next year she will strive to give a voice to all HDR students through increasing university support, especially for those whose projects were severely impacted by uncontrollable factors (such as machine failures, hailstorm damage, the pandemic etc.) and to ensure that all HDR students are able to continue/complete their research at the ANU whilst maintaining healthy mental and physical wellbeing. If you have any questions please email dige.wang@anu.edu.au
DAAD Germany-Australia Network event (12 Oct 2020)
ARC Linkage Projects Round 3
RSD Seminar Series Recordings
Presentation on German funding opportunities
PhD Scholarship
| | |
| --- | --- |
| | High benefit PhD scholarship open to all disciplines - The Population Health Exchange, ANU, is pleased to be partnering with the Community and Expert Reference Group, and the ACT Government to offer a High Benefit Scholarship and up to two research awards. These will support research on the ACT Community's experience with Mr Fluffy. Applications close on 18 Oct 2020. |
Summer Scholarships
| | |
| --- | --- |
| | This year RSPhys is offering up to four Summer Research Internships to currently enrolled ANU students. Third year undergraduate students are encouraged to consider this opportunity. For more details please visit RSPhys summerscholarships. Applications close on 18 Oct 2020. |
ECI Public Forum

8 October 2020
4:00-5:30
Digging deeper into the Technology Investment Roadmap
Register Here

Departmental Seminars

7 October
Mr Dominik Koll
A 10-million year time profile of interstellar influx to Earth mapped through long-lived Fe-60 and Pu-244
» read more

Engagement or Extinction?

Can design help overcome barriers to engagement between universities and industry? Spoiler alert – yes. Pressure for universities to engage with industry continues to increase, fuelled by research funding cuts and the relentless pursuit for innovation. Covid-19 has intensified these pressures.

4-6 November 2020
STEM paper & grant writing workshops

This workshop provides mentoring, transparent peer review and centralized writing training opportunities that young women in STEMM may not have at their home institutions. It is designed to help strengthen the scientific writing and critical thinking skills of Australia's next generation of scientists and academics. Registration now open.

From Last Week

EDC Movie Reccommendations:

Infrastructure Working Party – Guiding Principles

As ANU and the School are going through some major changes, the Working Party (Infrastructure) has come up with a set of principles on Technical Capabilities to guide us through this turbulent time. We would appreciate your comments and feedback as these guiding principles will form the basis of our report and recommendations. Please send your feedback to hoe.tan@anu.edu.au or rachael.hanrick@anu.edu.au.

Education Working Party | Draft Recommendations

The Research School of Physics is responsible for delivering physics education at ANU. It specialises in having a rich, research-led curriculum that encourages students to apply their knowledge. In 2019, the school underwent an external review, which also examined the education program. Read more to see the objectives and recommendations now available for feedback. Please email pec.physics@anu.edu.au with your comments.