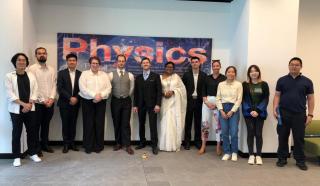 Director's Message
Dear Colleagues,
It was a huge pleasure to watch the Masters and PhD students graduate on Thursday morning. Twenty six in total graduated this round, some of whom joined us for a celebratory afternoon tea (see above and below). My congratulations and best wishes to our graduating colleagues. Please stay in touch.
I was so very excited and pleased to see the team from Thaum among the top ten companies in the CSIRO On Accelerate program. Since they formed in 2018 they have been at the centre of some ingenious projects and are a fabulous example of where bright entrepreneurial physicists can go. Smiling below at the CSIRO awards event are some of the key members of Thaum (L) Ellen McRae, Aqeel Akber, Shreyansh Singh, Mahasen Sooriyabandara and Privthi Reedy. As one of the foundation members of Momentum they can be found on Level 4, Cockcroft East and are very welcoming to students and staff keen to understand why what they do is so exciting. I can highly recommend reaching out to them.
An Expression of Interest (EoI) for the new Associate Director (Research) can be found here. The EoI will remain open until January 30th.
Your Heads will be reminding everyone about the need to plan for holidays, and the restorative powers that a break from work can bring.
For those at work on Wednesday there will be the traditional fruit mince pies at morning tea time in the new building.
Over January, the Event Horizon will continue as a "summer edition", meaning it will be light and I welcome photos from your travels.
Have a safe and enjoyable break.
Tim
ARC LP23 now open
LP23 Round 1
Applications open:  14 December 2022 - close in RMS: 4 April 2023
LP23 Round 2
Applications open:  5 April 2023 - close in RMS: 31 July 2023
LP23 Round 3
Applications open:  1 August 2023 - close: 13 December 2023

Academic Women's Own Writing (WOW) Retreat
Now open for registration to all female-identifying academic staff in the College. This event will provide an opportunity to focus on writing productivity and written research outputs in the supportive company of a cohort of other women academics.
The event will be held 17-20 January 2023. It includes ~22 hrs of scheduled writing time, ~4 hrs peer review of writing, & 2+ hrs of panel sessions on writing. Attendees can opt in to only parts of the Retreat.
Attendees must register & attend a welcome session on Mon 16 Jan (either 3pm meeting or 5.30pm family-friendly BBQ). Details, including the program are available on the College intranet.
Please register at https://anu.au1.qualtrics.com/jfe/form/SV_b8igrBNjuWskVlr by 5pm, Monday, 9 January 2023.
Purchasing, Stores & Finance Holiday Break Calendar
Please do not wait till the last minute to think about your purchases and invoices that need payment. There are lots of things that need doing at the end the year. Please also keep in mind that Concur transations have been taking up to 7 days to appear.
For the purchasing, stores and finance holiday break calendar:
Raising support for the Mike Gore Fund
Professor Mike Gore AO changed the face of science communication in Australia, the Asia-Pacific and globally. Mike's legacy is immense: from early days lecturing physics and overseeing residences at the Australian National University, through foundational work building Questacon-The National Science and Technology Centre and the Questacon Science Circus, to bridgebuilding work as an international ambassador for science communication at the Australian National Centre for the Public Awareness of Science (CPAS). His passion, vision, spirit, and infectious enthusiasm for science impacted the lives of many individuals and organisations. To honour, celebrate and continue Mike's legacy, we're launching a fundraiser to support a prestige scholarship in science communication. The fund will be administered at and by CPAS. We appreciate any donations, small or large, and kindly request you share this in your networks and with people who knew Mike.
Click here to donate: https://bit.ly/3tYzjAm
Congratulations to our graduating students
Bryan Pi Ern Tee, Doctor of Philosophy, NPAA
Jingshi Yan, Doctor of Philosophy, EME
Mark Bradshaw, Doctor of Philosophy, QST
Benjamin Coombes, Doctor of Philosophy, NPAA
David Freeman, Doctor of Philosophy, FTP
Jacob Ross, Doctor of Philosophy, QST
David Shin, Doctor of Philosophy, QST
Joshua Butson, Doctor of Philosophy, EME
Shaun Lung, Doctor of Philosophy, EME
Janet Fan Mi Zhong, Master of Philosophy, FTP
Naiyin Wang, Doctor of Philosophy, EME
James Spollard, Doctor of Philosophy, CGA
Ya Zhang, Doctor of Philosophy, CGA
Sabina Scully, Doctor of Philosophy, QST
Matthias Wurdack, Doctor of Philosophy, QST
Jessica Sarah Catling, Master of Energy Change
Hongjin Chen, Master of Energy Change
Kyung Sup Lee, Master of Energy Change
William Hincapie Morales, Master of Energy Change
Alice Katrina Kelly, Master of Energy Change
Emily Annika Faithfull, M Energy Change (Adv)
Jiaxi Ding, M Energy Change (Adv)
Victoria Uttaree Bashu, M Science (Adv) in Nuc Science
Katherine Kinder, M Science (Adv) in Precision Instrumentation
Yogesh Sridhar Athreya, M Science (Adv) in Quantum Technology
Angela Anna Baiju, M Science (Adv) in Quantum Technology
Australia Awards Fellowships - now Open
The Australia Awards Fellowships are now open, closing 22nd of January 2023. The maximum amount available per fellow is $30,000. ANU can submit 5 applications, with each application having a maximum of 15 fellowships.
Fellowships can be for short-term study/training, professional development and related activities, with a minimum duration of 2 weeks (up to 52 weeks) and 70% of the activities taking place in Australia. Priority areas are Climate change and resilience (including green energy transition), Health and health security, Gender equality and social inclusion, Digital economy (including cyber and critical technology engagement), Maritime and the blue economy, and, Infrastructure and connectivity.
Email science.jaeger.rm@anu.edu.au if you have any queries.
Andrew Papworth Prize Endowment - Open for Donations
If you wish to make a donation either by cashing out long service or annual leave or in cash you can do so now by contacting Kellie Takenaka. If you have any questions or would like to know more please contact Vince Craig.
ANU Shut Down

The University shutdown period is 23rd December 2022 COB, re-opening 3rd January 2023.

Departmental seminars

Mr Farshad Daraei Ghadikolaei - 21 December
Influence Rock Heterogeneity in CO2 Geo-sequestration
» read more

Staff Movements

EME, Lan Fu will be away 23/12/22 - 06/02/23
FTP, Cedric Simenel will be away from 23/12/22 - 09/1/23
NPAA, Andrew Stuchbery will be away from 19/12/22 - 31/1/23
HIAF, Nanda Dasgupta will be away from 16/12/22 -26/1/23
Admin, Sonia Padrun will be away from 9/1/23 - 20/1/23

Know your administrators...

L-R: Belinda Barbour, Sonia Padrun, Petra Rickman, Nikki Azzopardi, & Julie Arnold

Know your School team...

Uyen Nguyen -
Finance Team Leader

Sue Berkeley -
Stores/Purchasing Team Leader

Goran Radovanovic -
Stores Services

Patrick Romero - Stores/Purchasing Services

Mim Ellen-Barwell - Stores/Purchasing Services

Know your student admin...

Liudmila (Luda) Mangos -
Higher Degree Research admin
C3.02C, Cockcroft bldg (Thurs 9:30-5pm) hdr.physics@anu.edu.au

Siobhan Ryman -
Physics Education Centre admin and HDR
1.05, Bldg 38A (Tues 8.30-4pm) ; C3.02C, Cockcroft bldg (Mon,Thurs-Fri 8.30-4pm) pec.physics@anu.edu.au

College Hot Desking In Physics

EVERY TUESDAY
Mornings (10-12) - HR Team
Afternoons - Finance Team

EVERY THURSDAY
Mornings - RM Team

ANU Community Connect

ANU Community Connect provides a safe and welcoming space for all ANU students. We offer no-cost essential items through our food pantry, Share the Dignity vending machine, access to our friendly and knowledgeable team to support students build connections, navigate university services and actively engage with programs and events to improve student experience at ANU.

Over the summer, ANU Physics and the ANU MakerSpace will be facilitating Kinetic, a funding opportunity aimed to help teams of ANU students, staff and alumni expand ideas into successful projects. This opportunity is open to all disciplines and provides up to $50k worth of funding and support to each successful team.

What To Do If You Test Positive For COVID-19

If you test positive to COVID-19, please:

1. Register your positive result with ACT Health using this online form, or with the state/territory health authority where you are located.

2. Alert the University through this online form.

3. Inform your supervisor or course convenor.


Physics North is in need of more First Aid Officers. If you are a first aider, or would like to be, please contact Christian Notthoff for more information.