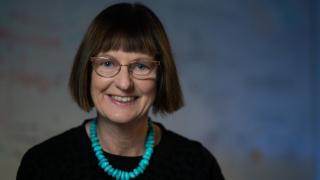 Director's Message
Dear Colleagues,
We heard the wonderful news during the week that Distinguished Professor Susan Scott (photo credit Tracey Nearmy/ANU) has been awarded the prestigious Blaise Pascal Medal from the European Academy of Science in recognition of her research leadership in gravitational wave science. Congratulations Susan!
Further to the sad news about Ian McRae's passing I've included a few images below that capture Ian as many will remember him. Ian arrived in Australia in 1965, an 18 year old Glaswegian apprentice apparently completing his trade in our main workshop. Around 1969 he left Physics to work in RSChem before re-joining us in 1972, where he stayed for 34 years, retiring mid 2006. By all accounts he was a great enabler and a talented technician, most recently in the Laser Physics Centre. Prof Stephen Buckman has been asked by the family to offer some words at Ian's service, which will be held on Friday 4th November,1:00pm at Tobin Brothers Chapel (101 Nettlefold Street, Belconnen). The family welcomes his friends to attend.
My thanks to Siobhan Ryman for arranging the "end of teaching year thank you" morning tea for the members of PEC last Friday (the cake photo below courtesy of Prof Jodie Bradby).
I draw your attention to the initiative lead by Prof Vince Craig (DMP) to raise funds to commemorate the commitment of Andrew Papworth to undergraduate education below. It's fabulous cause.
Regards,
Tim
Survey to Capture the Demographics of the School
The School, in conjunction with the College of Science, is conducting a demographic survey in order to get a snapshot of the makeup of the staff in the School. Much of this data has not been recorded in HR records, so this is required to reveal the true demographics of the School.
The survey is anonymous and the data from the survey will be processed to ensure that nobody can be identified. The processed data will be reported to the School Director, the co-chairs of the Physics Equity and Diversity Committee and the CoS Associate Director IDEA.
Data from the survey will be used to help the development of a local hiring strategy within the School. It will also be used by the College and University to understand the demographics within the RSPhys and similar surveys are being used in other schools within the CoS. Some generalised data from this survey will be included in the published hiring strategy for Physics. Note the survey is only for full time, part time and casual staff members.
If you are a staff member you can access the anonymous survey here. Your participation will ensure that we have reliable data on which to develop a hiring strategy.
Students, emeritus and honorary members of the School are not required to complete the survey.
Andrew Papworth Prize Endowment - Open for Donations
We are currently in the process of establishing the Andrew Papworth Prize Endowment Fund to commemorate the outstanding contribution Andrew Papworth made to undergraduate physics at the ANU. The fund will primarily be used to award prizes to physics undergraduates for outstanding laboratory work.

If you wish to make a donation either by cashing out long service or annual leave or in cash you can do so now by contacting Kellie Takenaka. If you have any questions or would like to know more please contact Vince Craig.
Major Equipment Committee Grants Scheme
The next round of the Major Equipment Committee Grants scheme opens November 1st (Tomorrow).
Here is a list of key dates:
Release of documents and applications open 1 November 2022
Information Session 8 November 2022
Applications close 31 January 2023
Applicant Interviews 13-17 February 2023
Outcomes confirmed by early March 2023
This timeline gives more opportunity for teams to fully expend budget in 2023.
An information session will be held Tuesday 8 November, 10-11am in the Finkel Lecture Theatre, John Curtin School of Medical Research, 131 Garran Road.
Please register attendance via RSVP email to mec@anu.edu.au. Registered attendees will receive a Zoom link closer to the event, and the session will also be uploaded to the MEC website afterwards.
For any queries or concerns please contact the Research Initiatives and Infrastructure team on mec@anu.edu.au.
ANU Library Academic Skills - Editing Your Thesis Workshops
Tuesday 22 November 2022
Editing for narrative, 10.00am-12.00pm
Editing for style and voice, 1.00pm-3.00pm
Workshops will be run in B160, Research School of Physics, R4.03, Conference Room.
Registration is required. To register and for more information, please see the Eventbrite page.
College of Science Research Expo
The Expo will be showcasing some of the amazing research capabilities we have across the College, and our colleagues will be highlighting this research through presentations across the afternoon.
Where: Marie Reay Building (6th Floor), from 3.00pm – 6.00pm
When: Wednesday, 16th November
Light refreshments will be served.
Please register your attendance via Eventbrite by Wednesday, 9th November 2022.
Enquires please contact eo.cos@anu.edu.au
Australia India Research Students Fellowship Program
The Australia India Institute is delivering the Australia India Research Students Fellowship Program. Funded by the Australian Government's Department of Education, it will support emerging researchers from India and Australia to undertake short-term research exchanges. Seventy fellowships will be awarded, with 35 awards available to research students and early-career researchers from higher education institutions in each country.
AIRS Fellows will undertake a research project during an exchange of 4 to 8 weeks, to be completed by mid-October 2023. Awards of between $6,200 and $7,600 are available to Australian participants, depending on the length of stay in India. Applications close on 13 November.
College Hot Desking In Physics

EVERY TUESDAY
Mornings (10-12) - HR Team
Afternoons - Finance Team

EVERY THURSDAY
Mornings - RM Team

2022 Wall Planners

2022 wall planners are available now at the Oliphant Reception.

End of Year Purchasing Schedule

Please note the end of year purchasing schedule – for an easy and smooth book keeping for 2022.

Know your administrators...

L-R: Belinda Barbour, Sonia Padrun, Petra Rickman, Nikki Azzopardi, & Julie Arnold

Know your School team...

Uyen Nguyen -
Finance Team Leader

Sue Berkeley -
Stores/Purchasing Team Leader

Goran Radovanovic -
Stores Services

Patrick Romero - Stores/Purchasing Services

Know your student admin...

Liudmila (Luda) Mangos -
Higher Degree Research admin
C3.02C, Cockcroft bldg (Thurs 9:30-5pm) hdr.physics@anu.edu.au

Siobhan Ryman -
Physics Education Centre admin and HDR
1.05, Bldg 38A (Tues 8.30-4pm) ; C3.02C, Cockcroft bldg (Mon,Thurs-Fri 8.30-4pm) pec.physics@anu.edu.au

ANU Community Connect

ANU Community Connect provides a safe and welcoming space for all ANU students. We offer no-cost essential items through our food pantry, Share the Dignity vending machine, access to our friendly and knowledgeable team to support students build connections, navigate university services and actively engage with programs and events to improve student experience at ANU.

2022 College of Science Awards for Service

2022 College of Science Awards for Service are now open for nominations of both academic and professional staff. Further information on the awards is available on the College Intranet.

Making Dark Matter Come to Light - High School Student Art Competition 

Entry is open to students in Years 7, 8 and 9, or Years 10, 11 and 12, with prizes awarded in each category.

Applicants can use what they've learnt from the Dark Matter website and any other resources to produce a unique and original artwork to represent their interpretation of a Dark Matter particle.

The competition closes on Dark Matter Day (31st October 2022).

What To Do If You Test Positive For COVID-19

If you test positive to COVID-19, please:

1. Register your positive result with ACT Health using this online form, or with the state/territory health authority where you are located.

2. Alert the University through this online form.

3. Inform your supervisor or course convenor.