Director's Message
Dear Colleagues,
Welcome to Spring, and to term break.
I am thrilled to announce Professor Kirk McKenzie (CGA) has been appointed the CRC SmartSat Professorial Chair in Precision Measurement in Space. Kirk brings a truly remarkable experience to this prestigious five year position with many years at NASA/JPL working on significant projects such as the GRACE missions, which you may remember from his presentation last June (YouTube).
A few dates to keep;
The John Carver Seminar Series will be held on Monday, 26th September (see below).
Founder's Day will be held on Friday, 21st October (more details to follow).
The Heliac H1 Stellarator has left the building! Ms Alice Yuan (left) and Dr Xianghui Yin, School of Electrical Engineering, University of South China (USC) can be seen standing next to the last crates being packed for China on Friday. My deep gratitude goes to Mr Michael Blacksell (Tech Workshops) and A/Prof Cormac Corr (DMP) for developing this partnership and giving the facility a second life. For over 8 intensive weeks, Michael oversaw the careful disassembly of one of our most sophisticated engineering projects. It is a great testament to all the ingenious technical staff who worked on H1 that the facility could be dismantled with such precision. Once the shipment arrives at USC, Yin plans to have the facility running within 18 month. USC have been preparing for this over the past 5 years, constructing a new building, committing the resources of an nearby engineering company, ten academic appointments and twenty PhD scholarships to this project. This will be China's first stellarator.
Last week was definitely one for engineering feats. With the narrowest of margin and great precision the new liquid nitrogen tanks were skilfully installed in the new building on Friday morning (see below).
Hope you have a good week,
Tim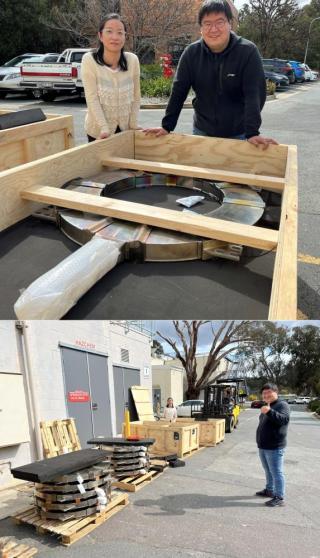 HDR Induction Week
The University is hosting an ANU wide Semester 2 HDR Induction week on 05-09 September.
As part of this week, the College of Science will be holding a Welcome Event on 8 September at 1 pm – please register for this event via Eventbright.
New students and their supervisors are cordially invited to attend!
Just a reminder that the RSPhys Orientation session for new students will be held on Wednesday, 7 September at 2pm – a calendar invite has been sent recently.
The Konference on Optics, Atoms, and Laser Applications (KOALA) is a student conference on all things lasers, optics and atoms! It is an affordable, inclusive, and supportive conference with a focus on networking and industry careers as well as the attendees' academic presentations. KOALA is a fully in-person conference, with accommodation provided.
Registrations and abstract submissions for KOALA close September 9th (Friday!)
Pressure Makes Nanodiamonds, or Nanopyramids, or Nanowires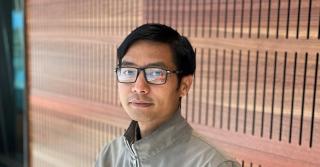 Holograms made from arrays of tiny wires are a step closer after a new study of nanostructure fabrication revealed the tricks to making nanowires reliably.
Physicists at the Australian National University node of TMOS studied growth of gallium nitride nanostructures by chemical vapour techniques and found that partial pressures in the gas mix and growth temperature were key to controlling the type of nanostructures, such as nanowires, nanopyramids or nanodiamonds.
PhD student Sonachand Adhikari said understanding how to build gallium nitride structures could unlock new technologies.
Johnson & Johnson Women in STEM Scholars Award
Johnson & Johnson Women in STEM Scholars Award (J&J WiSTEM2D) is expected to open early September.
Scholars are awarded the amount of $150,000 paid in three instalments of U.S. $50,000 per year for three years.
To apply you must be a woman working in the field(s) of Science, Technology, Engineering, Mathematics, Manufacturing and Design.
You must be an early to mid-career woman working within a STEM2D university department at the time of application.
For further information about the scheme please visit the website.
This scheme has a cap on the number of applications to be submitted from an institution. If you intent to apply please contact the research office immediately.

Canberra Innovation ACT Competition
Got an idea that could potentially change the world? Want to explore what entrepreneurship is all about? Form a team, develop a highly impactful, scalable business concept over 2 weeks and pitch for your share of the $10000 grant pool and in-kind support from our ecosystem.
Innovation ACT Intensive is a program for ANU students that provides skills, tools and networks to those who are looking to begin their entrepreneurial journey. Over two weeks in September, teams will learn how to test and evolve ideas with support of mentors, build a sustainable business model and develop a pitch to deliver to a panel of judges for funds and more support.
Register here: https://iactintensive.cbrin.com.au/
Participation will earn CDS points towards completion of the College of Science, Health & Medicine Career Development Framework.
John Carver Seminar Series 2022
The John Carver Seminar Series 2022 will be held on Monday 26 September starting at 10am in the new Auditorium (building 160).
You will need to present a 15-minute talk on your research to an audience of your fellow students and RSPhys colleagues. The talks are not followed by questions.
The talks are judged by a panel of three judges (two academics and a student).
Seminar presenters will be considered for one of the three prizes:
The John Carver Prize ($750)
The Dean's Prize ($500)
The Director's Prize ($500)
There will also be a vote for the People's Choice award ($200).
Please email hdr.physics@anu.edu.au by 12 September 2022 to register your interest in participating in this wonderful event!
R U OK? Day

Thursday 8 September 2022

Returning to Campus

Updated Process and Mask Protocols

College HR & Finance Hot Desking In Physics

EVERY TUESDAY
Mornings - HR Team
Afternoons - Finance Team

submitting reimbursement forms.

2022 Wall Planners

2022 wall planners are available now at the Oliphant Reception.

Know your administrators...

L-R: Belinda Barbour, Sonia Padrun, Petra Rickman, Nikki Azzopardi, & Julie Arnold

Know your School team...

Uyen Nguyen -
Finance Team Leader

Sue Berkeley -
Stores/Purchasing Team Leader

Goran Radovanovic -
Stores Services

Patrick Romero - Stores/Purchasing Services

Know your student admin...

Liudmila (Luda) Mangos -
Higher Degree Research admin
C3.02C, Cockcroft bldg (Thurs 9:30-5pm) hdr.physics@anu.edu.au

Siobhan Ryman -
Physics Education Centre admin and HDR
1.05, Bldg 38A (Tues 8.30-4pm) ; C3.02C, Cockcroft bldg (Mon,Thurs-Fri 8.30-4pm) pec.physics@anu.edu.au

Statistical Support for HDR students

A reminder to researchers across the University that the services of the Statistical Support Network are available to Masters and PhD students for their research projects. Statistical support is available for design of experiments and surveys, data management, exploratory data analysis, statistical modelling and data presentation.

2022 Innovation Forum

The 2022 Innovation Forum brings together forward thinking collaborative innovation advocates to discuss, plan, collaborate and innovate.

Date: Wed 28 Sep 2022
Time: 9:00am-5:00pm AEST
Location: Canberra Innovation Network, Level 5, 1 Moore Street

ACMM27

29 January - 2 February 2023

Registration and abstract submission are due to open very soon, and details of pre- and post- conference workshops will be announced within a couple of weeks.

Tweet Series

The Researcher Development team are starting a new tweet series for @ANUresearcher! This tweet series is intended to be fun AND rewarding – a collaborative storytelling about the highs and lows of HDR student life – Hannah Carle, a RD casual is creating graphic mosaics based on different themes each week.

ANU Community Connect

ANU Community Connect provides a safe and welcoming space for all ANU students. We offer no-cost essential items through our food pantry, Share the Dignity vending machine, access to our friendly and knowledgeable team to support students build connections, navigate university services and actively engage with programs and events to improve student experience at ANU.

What To Do If You Test Positive For COVID-19

If you test positive to COVID-19, please:

1. Register your positive result with ACT Health using this online form, or with the state/territory health authority where you are located.

2. Alert the University through this online form.

3. Apply for personal leave.

4. Isolate for at least seven days after the day you test positive.