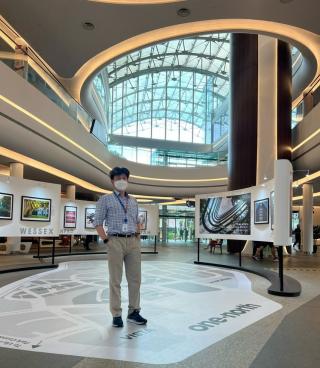 Director's Message
Dear Colleagues,
It's my great pleasure to welcome Dr Horst Punzmann into his new role in the School as Facility Manager for the ACT-node of the Australian Nano-Fabrication Facility. Horst is a very familiar face in Physics working on the H1 stellarator and more recently fluid dynamics. Over the past year Horst has developed a close working relationship with the ANFF staff as they prepare for one of the most complex equipment relocation exercises we've seen.
Some very exciting news from Singapore with Professor Ping Koy Lam (QST) taking up a prestigious fractional appointment with A*STAR as Chief Quantum Scientist (CQS) for the next three years. Above Ping Koy is seen standing in Fusionopolis, below the stunning view from his office window. I'm certain Ping Koy would welcome visitors. As chief he'll provide strategic direction and advise on research priorities in quantum for A*STAR and associated Singaporean Universities. In Ping Koy's absence, Professor Ben Buchler (QST) will led the ANU chapter of the ARC Centre of Excellence for Quantum Computation and Communication Technology (CQC2T).
Dr Phil Dooley has just posted episode three of Megavolts, interviewing A/Professor Steve Tims (NPAA) about the role accelerator mass spectrometry plays in environmental monitoring and recently his involvement in establishing the geological marker for the Anthropocene.
I'm very pleased to announce that the School submitted 35 projects for the next round of CoS Future Research Talent and Chennupati and Vidya Jagadish Visiting Scholarships, both to be run in-person in 2023. It will be fantastic to see these wonderful students once more in our research groups around mid-2023.
Have a good week,
Tim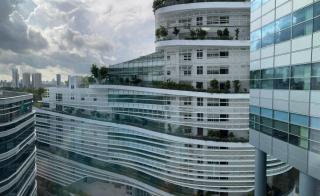 An Important Reminder About Publications...
To help our admin team have all publication information complete and correct for ERA, please check your publications on your RSPhys people profile (click on your name here, scroll down to "publications", or click on the "publications" tab). If you are missing any publications from 2016-2022, email admin.physics@anu.edu.au urgently, and please respond ASAP to any FoR code enquiries.
Thank you!
Physics, in Physics Today!
| | |
| --- | --- |
| | The latest issue of Physics Today, the membership magazine of the American Institute of Physics, includes an invited feature article "Metasurfaces for Quantum Technologies" written by our former PhD student Kai Wang (now at Stanford University) and Yuri Kivshar (Nonlinear Physics Center, FTP) with Maria Chekhova from Max Plank Institute in Germany. This front-cover contribution continues a series of the articles published in Physics Today by Mark Oliphant (1966), Yuri Kivshar (2004), Rodney Baxter (2005), and Murray Batchelor (2007) |
HDR Supervision Development Forum - 17 August
"Supervising First Nations Higher Degree Research"
Consistent with commitments in the ANU by 2025 Strategy and the HDR Supervision Development Framework, the HDR Supervision Development Team is facilitating a series of activities to strengthen supervision of First Nations HDR candidates, that of other candidates working on First Nations Topics, and support for First Nations supervisors. We acknowledge the central contributions of ANU First Nations staff and HDR students to this work.
Date: Wed 17th August 2022
Time: 12-1pm
Register: Eventbrite
Physics Project Market Day 2022
To enable our undergraduate students to have the opportunity to engage more with research conducted within the school, Physics Project Market Day will take place on Thursday 18th August from 12pm to 2pm in the foyer of the new building. The event will be an opportunity to interact directly with undergraduate students by sharing/discussing your research and potential projects with them by presenting a poster.
What you need to do:
By Wednesday 10th August, if you would like to participate in this event, can you please sign up in the participant list

here

On Thursday 18th August, bring a poster to the foyer (if you have signed up a poster board will be allocated to you) and interact with students.
Make sure you print your poster well in advance!
A booklet for 2022 will be printed with all recently updated projects.
Contact cormac.corr@anu.edu.au if you have any questions.

Presentation Training
Presenter training for scientists - for Dark Matter in the Pub presenters, and everyone else too. It covers structure, tips and tricks to connect with the audience, and voice and body skills to conquer nerves and give you poise in front of a crowd.
WHEN: 1230 - 2PM, 12th August
WHERE: Smiths Alternative
COST: Free thanks to sponsorship by the AIP ACT Branch
Register here: https://www.eventbrite.com.au/e/captivating-presentations-for-scientists-tickets-368138230357
National Intelligence and Security Discovery Research Grants (NISDRG) - Round 3 Now Open
If you intend to submit an EoI please contact the College Research Office (CRO) in the first instance for guidance on internal process.
The ARC invites you to submit an Expression of Interest application for the National Intelligence and Security Discovery Research Grants (NISDRG) program Round 3. Applications are open in the relevant Research Management System (RMS) instances and will close at 5:00 pm (AEST) on Friday 19 August 2022.
The Grant Opportunity and supporting documentation can be found on GrantConnect.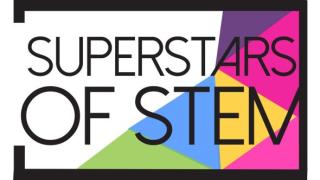 Superstars of STEM
The game-changing Superstars of STEM program smashes society's gender assumptions about who can work in science, technology, engineering and maths by creating more visible diverse STEM experts featured regularly in the media.
Apply for the 2023-2024 program. Applications close on 14 August 2022.
Returning to Campus

Updated Process and Mask Protocols

College HR & Finance Hot Desking In Physics

EVERY TUESDAY
Mornings - HR Team
Afternoons - Finance Team

submitting reimbursement forms.

2022 Wall Planners

2022 wall planners are available now at the Oliphant Reception.

Departmental seminars

Mr Shayan Majidy - 18 August
Noncommuting charges: Bridging theory to experiment
» read more

Physics Project Market Day- 18 August

New Physics Building Foyer

School Seminar Program - 18 August

Capture of dark matter in compact stars - Dr Giorgio Busoni

Know your administrators...

L-R: Belinda Barbour, Sonia Padrun, Petra Rickman, Nikki Azzopardi, & Julie Arnold

Know your School team...

Uyen Nguyen -
Finance Team Leader

Sue Berkeley -
Stores/Purchasing Team Leader

Goran Radovanovic -
Stores Services

Patrick Romero - Stores/Purchasing Services

Know your student admin...

Liudmila (Luda) Mangos -
Higher Degree Research admin
C3.02C, Cockcroft bldg (Thurs 9:30-5pm) hdr.physics@anu.edu.au

Siobhan Ryman -
Physics Education Centre admin and HDR
1.05, Bldg 38A (Tues 8.30-4pm) ; C3.02C, Cockcroft bldg (Mon,Thurs-Fri 8.30-4pm) pec.physics@anu.edu.au

CERN Postdoctoral Fellowship Programes

The CERN Theory Department will have openings for postdoctoral positions (Senior Research Fellowships) in all areas of relevance to particle physics, including QCD, collider physics, Standard Model and beyond, astroparticle physics and cosmology, heavy-ion physics, lattice gauge theory, quantum field theory, quantum gravity and string theory, mathematical physics.

As You See It! Photography Competition

The As You See It! photography competition is open to all ANU alumni, staff and students with an original photo. Images will be shortlisted by a selection committee, with the top photos from each category going to a public vote during August.

Tweet Series

The Researcher Development team are starting a new tweet series for @ANUresearcher! This tweet series is intended to be fun AND rewarding – a collaborative storytelling about the highs and lows of HDR student life – Hannah Carle, a RD casual is creating graphic mosaics based on different themes each week.

ANU Community Connect

ANU Community Connect provides a safe and welcoming space for all ANU students. We offer no-cost essential items through our food pantry, Share the Dignity vending machine, access to our friendly and knowledgeable team to support students build connections, navigate university services and actively engage with programs and events to improve student experience at ANU.

What To Do If You Test Positive For COVID-19

If you test positive to COVID-19, please:

1. Register your positive result with ACT Health using this online form, or with the state/territory health authority where you are located.

2. Alert the University through this online form.

3. Apply for personal leave.

4. Isolate for at least seven days after the day you test positive.