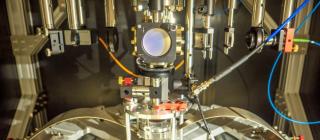 Director's Message
Dear Colleagues,
The service to farewell Andrew Papworth will be held at 2pm, this Thursday at 101 Nettlefold Street, Belconnen (Further details). All are very welcome to come and pay tribute to Andrew's life and contributions.
My congratulations to Professors John Close (QST) and Paul Tregoning (RSES) for securing a CRC-P jointly with Q-CTRL Pty Ltd and MOG Labs. Their project, "Integrating Quantum Tech into Space Manufacturing for Defence & Agriculture", will combine unique technological capabilities in miniaturised lasers and small quantum sensors to produce unique remote sensing payloads for space deployment. Total project value of $5.5M. It is wonderful to see this awarded across two Research Schools, and with such prominent Australian technology companies. The image above shows a cold atom cell from John's lab. (image credit: Sam Legge)
Great news from the Integrated Materials Design team (DMP) comprising Professor Sean Smith (Director NCI) and Drs Xin Tan and Hassan Tahini. Their Nature Catalysis article, "A single-Pt-atom-on-Ru-nanoparticle electrocatalyst for CO-resilient methanol oxidation" has just been published with co-authors from UNSW, Los Alamos National Laboratory, University of Science and Technology of China, North Carolina State University, Gatan, Sandia National Laboratories and Ruhr-Universität Bochum, and is set to be a landmark work.
Have a great week,
Tim
Learning From Industry: NASA
Join the ANU Institute for Space and the College of Engineering and Computer Science as they welcome Badri Younes, a Deputy Associate Administrator at NASA on Thursday 31 March at 1pm in the Innovation Space of the Birch Building (#35) for a presentation and Q&A.
You can register here, tickets are essential: https://www.eventbrite.com/e/learning-from-industry-nasa-tickets-302483966687
Discovery Projects 2023
Applications for Discovery Projects for funding commencing in 2023 are now open in the ARC's Research Management System (RMS). If you did not previously submit an NoI but in the interim have decided to apply (including as part of an external application submitted by another university), please contact us as soon as possible at arc.rm@anu.edu.au.
Those who've notified us will receive direct email communication containing important information for applicants.
Judging of the prestigious 7NEWS Young Achiever Awards was completed recently. Congratulations to Kasimir Gregory (MP) who has been selected as a Finalist in the Western Sydney University Academic Achievement Award.
ANU Major Equipment Grants Scheme
The ANU Major Equipment Grants scheme will be open on 4 April 2022 and close on 24 May 2022.
An information session will be held:
Tuesday 29th March, 9:30-10:30 in the Seminar Room, Hanna Neumann Building (Room 1.33, building 145).
The session will be led by Major Equipment Committee Chair, Professor Mick Sherburn.
HDR Supervisor Survey
The Science, Health & Medicine Career Development Framework has been available for HDR candidates in the ANU College of Science, and the ANU College of Health and Medicine for over two years now and they would like to seek your feedback regarding future development and participation of the framework into 2022.
Please can you spend a few minutes answering the following short survey so that we can better provide resources and support to HDR candidates within our Colleges.
https://forms.office.com/r/MxuNTDr9m8
If you can complete the anonymous survey by Friday 15th April – that would be appreciated.
If you have any questions please do not hesitate to contact the HDR School Administrator or the HDR Career Development Team.
Metaphotonics Gains Intelligence
The team of collaborators from the School, with colleagues from the ITMO University, presented the field of intelligent metaphotonics –the area of science at the junction of artificial intelligence and metaphotonics. They provided the evaluation of metaphotonics functionalities underpinned by artificial intelligence and presented a summary of the concepts of machine learning with some specific examples developed and demonstrated for metasystems and metasurfaces. The project was driven mainly by a PhD student Mr. Sergey Krasikov and Dr. Aaron Tranter. The paper is published in Opto-Electronic Advances (Impact Factor=9.682), and it can be found at DOI https://doi.org/10.29026/oea.2022.210147
Investor Showcase 25 March 11:00am - 1:00pm
At the Canberra Innovation Network we engage with 500+ local startups per year. We provide workshop programs, one on one coaching, mentor connections, the Griffin Accelerator and more to empower entrepreneurs to make more progress.
Applications Are Invited For The First 2022 Round of The Professional Staff Scholarships Scheme (PSSS) & the Professional Staff Development Endowment Fund (PSDEF)
Applications for the first round of the PSSS and the PSDEF are open, with a closing date of Friday 25 March 2022 at 5:00pm.
The University recognises that the contribution of highly skilled and dedicated professional staff are critical to the success and future of the University. Professional staff are encouraged to continue their growth and development through participation in a range of career development initiatives. To support this goal, the University provides financial support to successful applicants through the PSSS and the PSDEF.
Returning to Campus

Updated Process and Mask Protocols

2022 Wall Planners

2022 wall planners are available now at the Store.

Rapid Antigen Tests and Masks

Collection hub opening times have been extended: from Monday 28 March to Thursday 31 March

Departmental seminars

Ms Ruotong Huang - 30 March
Investigation of CO2 dissolution at pore-scale using MCT for the application of geological carbon sequestration
» read more

Know your administrators...

L-R: Belinda Barbour, Sonia Padrun, Petra Rickman, Nikki Azzopardi, & Julie Arnold

Know your School team...

Sue Berkeley -
Finance Team Leader

Goran Radovanovic -
Stores Services

Hannah Phan - Purchasing/Finance Services

Patrick Romero - Stores/Purchasing Services

Know your student admin...

Liudmila (Luda) Mangos -
Higher Degree Research admin
C3.02C, Cockcroft bldg (Thurs 9:30-5pm) hdr.physics@anu.edu.au

Siobhan Ryman -
Physics Education Centre admin and HDR
1.05, Bldg 38A (Tues 8.30-4pm) ; C3.02C, Cockcroft bldg (Mon,Thurs-Fri 8.30-4pm) pec.physics@anu.edu.au

Invitation to Nominate Candidates for the 2023 Schmidt Science Fellows Award

Please send your nominations to the Physics HDR team hdr.physics@anu.edu.au by COB Tuesday 05 April 2022.

Tweet Series

The Researcher Development team are starting a new tweet series for @ANUresearcher! This tweet series is intended to be fun AND rewarding – a collaborative storytelling about the highs and lows of HDR student life – Hannah Carle, a RD casual is creating graphic mosaics based on different themes each week.

Nicolas Baudin Interships and Travel Grants to France

Applications for the 2022 Nicolas Baudin Program are now open!