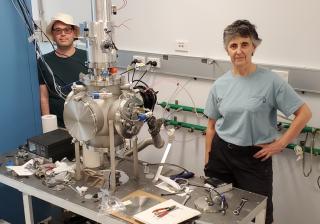 Director's Message
Dear Colleagues,
Again, my congratulations to Em/Professor Ken Baldwin for his induction into the Australian Academy of Technology and Engineering (ATSE). The Institute for Climate, Energy and Disaster Solution (ICEDS) has a nice article about his contributions to the energy transition.
It is a great pleasure to congratulate Dr Marcus Doherty on his recent promotion to Lieutenant Colonel in the Australian Army. Marcus is well known for his contributions to the Australia quantum community and in recognition of the central role he plays Nationally will be leading the new Quantum Technologies Deputy Directorate of Future Land Warfare.
I'm afraid COVID continues to have a substantial impact on the opening of our new building and it seems unlikely now that we will be able to move in before February. As regrettable as this is I'm hoping that it provides everyone the chance to book leave over January. I'm intending to take an extended break from 24th December until 1st February and can highly encourage others to so as well.
This week's image shows Mr Dimitris Tsifakis and Professor Christine Charles (NPAA) in front of the Oregon Physics H200 negative ion source, part of a significant ARC Linkage Project with US-based company Oregon Physics, represented on-site by Em/Professor Rod Boswell (image credit). This commercial research relationship will extend the development of a novel focussed ion beam technique for a range of applications, including the early detection of cancer in studies underway at Melbourne's famous Walter and Eliza Hall Institute (WEHI).
Have a good week,
Tim
Reminder to Clear Your Purchase Card
All purchases need to be submitted and approved in Concur by Thursday 23rd December.
RSB Director's Seminar - Monday 6th December 2021
"Relating Protein Structure to Function with Computer Simulations"
Presented by Professor Ben Corry

Date: Monday, 6 December
Time: 12:30 – 1:30pm, preceded by lunch at 12noon
Location: Eucalyptus Seminar Room, Level 2, RN Robertson Building (46)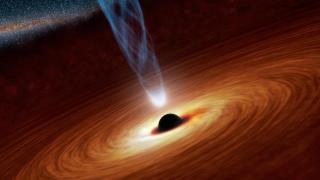 Mysterious Clouds Could Offer New Clues on Dark Matter
An international gravitational wave collaboration including CGA scientist and OzGrav CI, Dr Lilli Sun are on a hunt for boson clouds that are a compelling candidate for dark matter. Gravitational wave scientists are aiming towards detecting gravitational waves emitted by boson clouds that orbit around black holes. The study that is published to ArXiv, is the first all-sky survey in the world tailored to look for predicted gravitational waves coming from possible boson clouds near rapidly spinning black holes. Gravitational wave science not only provides information about mysterious compact objects in the Universe, like black holes and neutron stars, they also allow researchers to look for new particles and dark matter.
The ARC Centre for Dark Matter and Particle Physics held their virtual Annual Workshop last week. The workshop brings together all members to provide an introduction to the full scope of work being undertaken across the Centre. This year the Centre introduced two new awards and we are pleased to announce that Raghda Abdel Khaleq from the ANU Node was a joint winner of the Outreach and Impact Award. This award aims to recognise CDM members who actively engage in outreach/impact activities to promote the work of the Centre and particle physics outside of academia and to the broader community. This award recognises those members who go above and beyond the expectations of outreach involvement in the Centre.
2022 AINSE Honours Scholarships: applications now open (applications close 15 March 2022)
Australian Battery Society - Energy Renaissance Innovator Award: Applications open (applications close 17 December 2021)
Call for Proposals at ANSTO's Australian Centre for Neutron Scattering (ACNS), National Deuteration Facility (NDF), and other Lucas Heights facilities – Round 2022-1 (deadline extended until 15 February 2022)
2022 Honours Scholarships (Applications close 15 March 2022)
Notice of Intent (NoI) Form for ARC and NHMRC Schemes Opening in 2021/22
The College of Science Research Office is now inviting notices of intent (NoI) to submit applications for the following schemes:
Science Communication PhD Workshop: Open for Registrations for CoS/CHM PhD Students
The Centre for the Public Awareness of Science (CPAS) has historically offered an annual 2-day Science Communication workshop for PhD candidates from SHM schools. Due to Covid-19, they have not been able to offer this workshop in person since 2019.
They are now calling for registrations from SHM PhD candidates for their 2022 workshop, to be held on 1 and 2 February 2022, from 9am to 5pm each day, in the Marie Reay Building in Kambri.
Please send your expression of interest in attending the workshop, by email to: cpas@anu.edu.au. Places are currently limited to 60 attendees.
Returning to Campus

Updated Process and Mask Protocols

2022 Wall Planners

2022 wall planners will be available at the Store from December 20th.

Mail at the Store

All mail (letters, journals, magazines) is currently being received and kept at the Store. If you are expecting any mail, or wish to enquire if you have mail awaiting collection, please email store.physics@anu.edu.au.

The Stores team would appreciate if all enquiries wait for a reply email prior to presenting at the Store.

A Reminder About Reimbursements...

When seeking a reimbursement please follow these guidelines, and remember to use the updated reimbursement form found on the ANU Policy Library.

Final Chemical Waste Pickup for 2021

The last ACT run for 2021 will be the 8th December and will return again on 19th January 2022.

Departmental seminars

Mr Mahdi Davoodianidalik - 8 December
Coherent bundle-wall coupling in two-dimensional turbulence
» read more

Know your administrators...

L-R: Belinda Barbour, Sonia Padrun, Petra Rickman, Nikki Azzopardi, & Julie Arnold

Know your School team...

Sue Berkeley -
Finance Team Leader

Goran Radovanovic -
Stores Services

Hannah Phan - Purchasing/Finance Services

Patrick Romero - Stores/Purchasing Services

Know your student admin...

Liudmila (Luda) Mangos -
Higher Degree Research admin
C3.02C, Cockcroft bldg (Mon-Fri 9.30-5pm) hdr.physics@anu.edu.au

Siobhan Ryman -
Physics Education Centre admin and HDR
1.05, Bldg 38A (Mon-Tues 8.30-4pm) ; C3.02C, Cockcroft bldg (Wed-Fri 8.30-4pm) pec.physics@anu.edu.au

Matthias Wurdack (he/him)

Disha Kapasi (she/her)

Shridhar Manjunath (he/him)

Elizaveta Melik-Gaykazyan (she/her)

Ben Swinton-Bland (he/him)

Mahdi Davoodianidalik (he/him)

HDR Student Reps - Seeking Expressions of Interest to Join our HDR Student Reps in 2022

Do you want to become a HDR Student Rep, 'Read more' ?

ANU COVID Pathway to 2022

VS Postdoctoral Fellowship in Valuing Local Co-Benefits for Indigenous Communities

A Postdoctoral Fellowship opportunity at CSIRO in the Valuing Sustainability Future Science Platform has just been announced.