Director's Message
Dear Colleagues,
It is a great pleasure to announce the approval of the new Graduate Certificate in Nuclear Technology Regulation, to be lead out of Nuclear Physics and Accelerator Applications and convened by Dr AJ Mitchell (see above). That fact that this program was jointly conceptualised across four Colleges, refined and approved by Academic Board all within one month is a testament to two defining ANU qualities; we are a compact and highly collegial campus, and our education program governance is outstanding. This is a remarkable and timely achievement, and I would like to thank all the very many people involved - from the new Business Engagement and Commercialisation team, two Associate Deans (Education), Anna Cowan (CoS) and Carolyn Hendriks (CAP), the Academic Quality Assurance Committee, Academic Board and of course the contributing academics in the Centre for the Public Awareness of Science (CoS), the School of Engineering (CECS) the School of Regulation and Global Governance (RegNet, CAP) and the College of Law. An outline of the certificate and the contributing academics can be found here.
At the bottom of the page are some recent photographs in the project-long series taken to document the development of our new building (image credits: Adam McGrath). Over the next month the Heads of Materials Physics, Electronics Materials Engineering and Quantum Science and Technology will be consulting with their departments around space allocation. This will be an iterative process as we test the fit of the new space and take into account proximity of people to their facilities and colleagues. I am hoping the move into the new space will commence early in the new year.
I would like to request that you all consider taking a good break over summer. Please speak with your supervisor and book in leave as soon as you can.
Have a good week and my best wishes are with students undertaking exams over this period.
Tim
HDR Student Reps - Seeking Expressions of Interest to Join our HDR Student Reps in 2022
RSPhys has an amazing group of HDR student representatives who have been working on multiple initiatives to improve student experience at RSPhys and to represent Physics HDR students at various committees at the School and College levels. Some of the reps will be stepping down in 2022 and would like to encourage other HDR students to join the team to help promote students' interests at our School.
Science and Art Might Seem Like Completely Different Fields, But That Is Not The Case...

Every day, scientists use great creativity to come up with theories and consider alternatives as they explore the universe and all that lies within.
Thinking outside the box is a habit of both scientists and artists.
In this SciArt activity, Centre member Raghda Abdel Khaleq will show you how to combine science and art to make beautiful artworks using the refraction of light.
We would love to see your artwork - take a photo and submit it to darkmatter-art@unimelb.edu.au
AIP NSW Postgraduate Awards
Our PhD student, Zain Mehdi, the winner of this year's John Carver Prize, will present his talk at the NSW AIP Branch Annual Postgraduate Awards event on Tuesday 9 November 2021, 2pm.
Each presenter will have the opportunity to compete for the AIPNSW Postgraduate medal and the RSNSW Jak Kelly prize.
Everyone is welcome to join, for Zoom details 'read more'.
RSB Director's Seminar - Monday, 8th November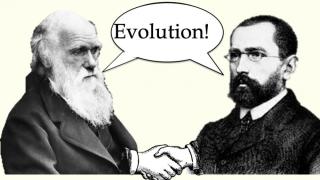 "Interdisciplinary Adventures in Language Evolution: Exploring the Past, Present and Future of Language Diversity"
Professor Lindell Bromham
Monday, 8th November
12:30 – 1:30pm
Zoom Link

MP PhD student, Shankar Dutt, has been selected to represent ANU students in the 10th Anniversary edition of the Global Young Scientists Summit (GYSS) which will take place virtually on 17 – 21 January 2022 (5 days). This year, the selection process was very competitive with over 1,700 nominations and applications around the world. Shankar will have the opportunity to listen to and interact with Nobel Laureates and world-renowned scientists during the five days of the summit.
November is... Academic Writing Month - #AcWriMo
Need to get some writing done before the end of the year? November is academic writing month! Join the Researcher Development community online for a festival of writing, set your writing goals and have some company along the way. We will provide online writing sessions, a register for recording your output, and lots of writing workshops to help you reach your goals.
Brought to you by ANU Researcher Development team: Professor Inger Mewburn (@thesiswhisperer), Dr Cally Guerin and Dr Derek Panchuk.
STAFF MOVEMENTS

Prof. Patrick Kluth will be away 8/11/21-12/11/21. Dr Vanessa Robins will be acting Associate Director HDR during this time.

ANU Templates

Do you need ANU letterhead, PowerPoint slides, or an ANU minutes template?

Sign in to ANU SharePoint for current ANU templates.

RSPhys Store

Stores will be physically staffed, though operating at reduced capacity with no face to face interactions.

A Reminder About Reimbursements...

When seeking a reimbursement please follow these guidelines, and remember to use the updated reimbursement form found on the ANU Policy Library.

Honours Presentation Day - 10 Nov

Wednesday 10th November, from 9:15am

Know your administrators...

L-R: Belinda Barbour, Sonia Padrun, Petra Rickman, Nikki Azzopardi, & Julie Arnold

Know your School team...

Sue Berkeley -
Finance Team Leader

Goran Radovanovic -
Stores Services

Hannah Phan - Purchasing/Finance Services

Patrick Romero - Stores/Purchasing Services

Know your student admin...

Liudmila (Luda) Mangos -
Higher Degree Research admin
C3.02C, Cockcroft bldg (Mon-Fri 9.30-5pm) hdr.physics@anu.edu.au

Siobhan Ryman -
Physics Education Centre admin and HDR
1.05, Bldg 38A (Mon-Tues 8.30-4pm) ; C3.02C, Cockcroft bldg (Wed-Fri 8.30-4pm) pec.physics@anu.edu.au

Matthias Wurdack (he/him)

Disha Kapasi (she/her)

Shridhar Manjunath (he/him)

Elizaveta Melik-Gaykazyan (she/her)

Ben Swinton-Bland (he/him)

Mahdi Davoodianidalik (he/him)

HDR Progress Milestones

Students and supervisors can access information on HDR progress milestone requirements on the School Intranet.

Job Opportunity for HDR Students

Applications now open

NCI is looking for Associate Training Officers to join the training team. These are casual positions at the ANU5 level.

ANZCOP21 - November 18-19, 2021

ANZCOP 2021 is a special event of the Australian and New Zealand Conference on Optics and Photonics presented on behalf of ANZOS - the Australian and New Zealand Optical Society.