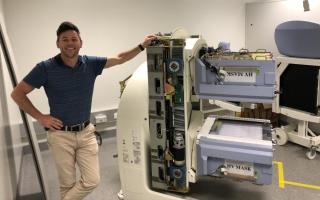 Director's Message
Dear Colleagues,
I hope you had a pleasant weekend. My congratulations to Professor Lan Fu on her selection as one of the IEEE Photonics Society Distinguished Lecturers for the 2021-22 (see below). This is a wonderful opportunity to present current research to a very wide global community. Well done, Lan.
You might sometimes wonder where our retired equipment ends up. The fate of instrumentation is varied, ranging from being recycled or internally repurposed, donated to a collaborator's lab or even given as props in Hollywood movie sets. This week's image shows the clinical SPECT/CT system used by Prof Ross Stephens' group (formally Applied Mathematics) being shipped to TeleMed Nuclear Imaging in Western Australia. TeleMed is a remarkable social benefit enterprise established to bring advanced clinical imaging services to remote rural and indigenous communities around Western Australia. I am grateful to Mr Lee Philip, our Infrastructure Support Officer, who had the foresight to arrange this donation. Below are the former members of the Browitt Nanoparticle Lab (circa 2010); L-R. Ms Karen Knox, Mr Sergey Lobanov, Em/Prof Ross Stephens, Ms Jess Bell and Mr David King. Lee was also a long serving member of this group before his current role.
Have a good week,
Tim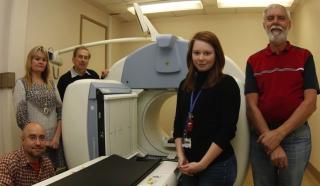 Congratulations to Prof. Lan Fu for being selected as one of the IEEE Photonics Society Distinguished Lecturers for the 2021-22.

The IEEE Photonics Society Distinguished Lecturers program was designed to honour excellent speakers who have made technical contributions of high quality and to enhance the technical programs of Photonics Society chapters worldwide.

We look forward to listening to Prof. Fu's distinguished lecture.
Australian Academy of Science Aboriginal and Torres Strait Islander Scientist Award
The award recognises research in the physical and biological sciences conducted by outstanding Aboriginal and Torres Strait Islander PhD students and academics within 15 years of PhD award (excluding career disruption). The aim is to support the recipients' research and/or the expansion and growth of their research networks. Awards are for up to AUD20,000.

Applications close 1 June 2021.
Australian Science Policy Fellowship Program
The Australian Science Policy Fellowship program is continuing, after its successful three year pilot program. The program gives early- and mid-career scientists the opportunity to work in a Commonwealth Government department for 12 months.

The program hopes to attract diverse, highly-skilled and enthusiastic scientists into the Australian Public Service.

Applications will be open from April 7 to April 26.
Upcoming Researcher Development Events
| | |
| --- | --- |
| | ANU Researcher Development coordinates and facilitates workshops, events, and competitions to develop your skills even further. |
National Library of Australia 2022 Fellowships
Apply for a National Library Fellowship
The National Library has diverse collections that support, inspire and transform research. Fellowships enable scholars, writers and researchers to conduct intensive research into our collections in a supportive, intellectual and creative environment.
Oliphant Tea Room

The Oliphant tea room is open with tea bags & black coffee* only.

Please remember to bring your own cup & spoon.



*coffee grounds for garden use are available

There has been an increased number of enquiries from both students and supervisors about the Australian Government exemptions for overseas HDR students to travel to Australia.

Please refer to "Home Affairs travel exemptions for HDR students".

Building and Room Security Access

Please note that the school now has a general access restriction of 8am to 6pm, Monday to Friday.

If you need to complete a new after-hours risk assessment, please see the new top section here: https://physics.anu.edu.au/intra/whs/

Departmental seminars

Mr Nathan Spinks - 13 April
Pulse shape discrimination for particle identification in NaI:Tl crystals for the SABRE dark matter experiment
» read more

Mr Choon Kong Lai - 15 April
Hybrid integration towards single-chip Brillouin devices
» read more

Mr Murdock Grewar - 19 April
Quadratic form minimisation in X-ray transmission tomography
» read more

School Colloquium - 22 April

Strong Coulomb interactions in silicon quantum dot qubits - Professor Susan Coppersmith

TMOS Colloquium - 23 April

Shaping the Future of Biomedical Imaging - Professor Kishan Dholakia

School Seminar Program - 28 April

Plasmas: from Solar to Cellular - Professor Christine Charles

Know your administrator...

Julie Arnold - EME & NLPC

Petra Rickman - NP/HIAF & ARC CDM

Belinda Barbour - DQS

Nikki Azzopardi - AM, CPF, LPC & TP

Boosting Female Founders Initiative – Round 2 now open

NHMRC schemes opening in 2021 (Q1)

The College of Science Research Office (CRO) is now inviting notices of intent (NoI) to submit applications for the following schemes opening in 2021.