Director's Message
Dear Colleagues,
First term starts today. My best wishes to all our educators and students alike. This is shaping up to be our largest first year intake on record.
There is a stack of great things coming up, please take a moment to scan through the Event Horizon.
Recently, grade 5 and 6 students from the Queanbeyan South Public School visited Physics. It was a great pleasure to see these amazing young minds engage Rose Ahlefeldt, Lauren Bezzina, James Sullivan, Ellen Zheng, Kaitlin Cook and Jacob Buete on topics regarding light. One of the most popular activities was a guided treasure hunt around the new building with plenty of science-y clues leading to well placed nano-ducks. A wonderful day and my thanks to the Principal, Adam Zanco, and his enthusiastic staff for bringing these amazing students to ANU. My thanks also to John Close for making the introduction to Adam and inspiring the opportunity, which undoubtedly will grow into a regular event. If you have an interest in this activity please speak with James Sullivan. (Photo: Will Graham)
On Saturday, Phil Dooley hosted a highly successful EMCR SciComm Workshop as part of the Australian Science Communicators network. Around 40 young researchers from around Australia received professional coaching from journalists and science communicators.
Have a good week,
Tim
Windows 8.1 End Of Life
It is that time again. Windows 8.1 has now reached end of life and is no longer getting security updates from Microsoft. We need to work to remove all Windows 8.1 (and earlier) machines from our network, either through upgrading to Windows 10 or locking out the network ports.
If you know of any Windows 8.1 machines in the school please let us know at it.physics@anu.edu.au so that we can assist you with the process.
Call For New Members – Physics Equity and Diversity Committee
| | |
| --- | --- |
| | The Physics equity and diversity committee welcomes new members from both staff and students. The committee is structured so that you can get involved at the level that suits you in a variety of areas including Gender equity, First nations engagement, LGBTIQ* issues as well as in Strategy and Communication. How to join? You can talk to the current co-chairs Mary Gray and James Sullivan or contact them by email (James & Mary). |

Tuckwell Academic Fellow Opportunity - CoS Level Bs and Cs
A prestigious opportunity for an existing ANU Academic staff member: the University is seeking to appoint at least one new Tuckwell Academic Fellow for a 3-year term to join the existing team of Fellows supporting Tuckwell Scholars. This position is a 0.2 FTE secondment for an existing ANU Academic staff member (typically a level B or C academic).
This is a chance to make a contribution to a high-profile program working with talented undergraduate students, and it is also a rare opportunity for Level B & C Academic staff to demonstrate service to the University.
In Need Of A Rotary Vacuum Pump?
These pumps need a second home (or they will be thrown out). Please contact Matt Sellars for more details.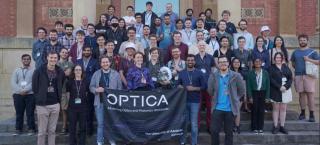 KOALA 2023 Committee Optica/SPIE ANU Student Chapter
The Optica/SPIE ANU Student Chapter has the great honour of being the host for the 13th Konference of Optics, Atoms, and Laser Applications (KOALA) 2023. This is an annual conference, usually held in December, that convenes students from diverse interests, such as atom optics, photonics, quantum optics, fibres, microscopy, and many more.
If you are interested in joining the organisation committee, please email optica.spie.chapters@anu.edu.au. For more information, please visit the previous website, or twitter.
Australian Science Policy Fellowship - 2023-24 Round Open
| | |
| --- | --- |
| | The Australian Science Policy Fellowship Program is an initiative of the Office of the Chief Scientist that gives scientists the opportunity to work in a policy role in an Australian Government department for up to 12 months. The program seeks to strengthen the science-policy interface by bringing science and technology expertise into public policy processes and bringing experience of government processes and policymaking into academia. |
Oxford PhD Exchange - 2023-2024 Round
The Australian National University (ANU) has been invited to nominate up to three Higher Degree Research (HDR) candidates for the 2023-2024 round of the Oxford PhD Exchange (ANU to Oxford University).
The Oxford PhD Exchange is a graduate candidate exchange program between Oxford University and the ANU. The exchange aims to enable excellent PhD scholars to enrich their research in an international setting.
Applicants can apply for an exchange period of one academic year, or one or two academic terms.
IWD 2023 Science In The Pub - Call For Presenters
RSPhys is sponsoring International Women's Day Science in the Pub - the call for presenters is now open. If you'd like to share your research and your experiences as a women* in science, please email philuponscience@gmail.com. Free presenter training available too!

When: 7 PM Tuesday 7th March, 2023
Where: Smiths Alternative, 76 Alinga St, Civic
How Much: Free! With thanks to our sponsors; ANU Physics, ANU CGA, CSIRO and TMOS.
National Space Qualification Network (NSQN) Industry Workshop - March 15 & 16
Registration is now open for the NSQN Industry Workshop

Date: 15-16 March 2023
Time: 8:30am - 5:00pm
Where: ANU Research School of Physics, 160 Mills Road, Acton, ACT 2601

REGISTER NOW: https://buff.ly/3Y0f6rb
Free Rapid Antigen Tests (RATs)

Free rapid antigen tests (RATs) & P2 masks will be distributed between 10am-4pm at the Kambri Hub (Joplin Lane):

- Tues 21st Feb
- Wed 22nd Feb
- Thurs 23rd Feb

Bring your staff/student ID to collect (one pack per person)

2023 Wall Planners

2023 wall planners are available now at the Physics Store.

Need to Edit a Requistion?

If you are new or old to the RSPhys online requisition system, 'read more' for time saving tips when editing a requisition with a mistake.

Departmental seminars

Dr Noemie Bastidon - 21 February
Low temperature detectors for dark matter search
» read more

School Seminar Program - 22 February

Nonlinear light-matter interaction: Multiphysics modeling employing carrier kinetics - Professor Alexander Kildishev

Public Lecture - 23 February

Energy transition toward Net Zero Japan in 2050: scenario analysis and emerging technology - Professor Masakazu Sugiyama

Know your administrators...

L-R: Belinda Barbour, Sonia Padrun, Petra Rickman, Nikki Azzopardi, & Julie Arnold

Know your School team...

Uyen Nguyen -
Finance Team Leader

Sue Berkeley -
Stores/Purchasing Team Leader

Goran Radovanovic -
Stores Services

Patrick Romero - Stores/Purchasing Services

Mim Ellen-Barwell - Stores/Purchasing Services

Know your student admin...

Liudmila (Luda) Mangos -
Higher Degree Research admin
C3.02C, Cockcroft bldg (Thurs 9:30-5pm) hdr.physics@anu.edu.au

Siobhan Ryman -
Physics Education Centre admin and HDR
1.05, Bldg 38A (Tues 8.30-4pm) ; C3.02C, Cockcroft bldg (Mon,Thurs-Fri 8.30-4pm) pec.physics@anu.edu.au

Know your school team...

Phil Dooley -
Manager, Marketing and Communications (part time)
phil.dooley@anu.edu.au
0414 945 577

From The Equity & Diversity Committee...

"Many of you will know columnist David Brooks from his regular appearances on the US based public broadcaster PBS's Newshour which is shown locally on SBS. Here David has written a touching and insightful article on how to support a friend dealing with depression."

L'Oréal-UNESCO For Women In Science Fellowships

Applications for the L'Oréal-UNESCO For Women in Science Australian & New Zealand Fellowships are now OPEN, closing on Monday 6 March 2023. Five $25,000 fellowships will be awarded, please 'read more' for further infomation.

Please contact the college research office ASAP if you intend to apply.

What To Do If You Test Positive For COVID-19

If you test positive to COVID-19, please:

1. Register your positive result with ACT Health using this online form, or with the state/territory health authority where you are located.

2. Alert the University through this online form.

3. Inform your supervisor or course convenor.