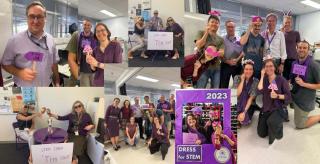 Director's Message
Dear Colleagues,
I hope you all had a chance to wear something purple in support of Girls and Women in STEM. Above you can see a great selection of colleagues recognising the International Day. For my part, I revelled in the chance to wear my purple t-shirt and jeans to the opening of ANU Council on Friday. By all accounts Council members were impressed with the outlook of our level 4 meeting room.
My sincere gratitude to all those stepping into the new term of teaching. As numbers firm up it looks like it will be a record year for first year students.
Finally, I'm delighted to disclose that the bat found napping on one of the historic carpets given to Australia on the establishment of diplomatic relations between China and Australia in 1972 has been safely relocated by Wild Care Australia (see below, thanks and credit to Graeme Cornish). For those amateur naturalists like me, you'll be pleased to know this was identified as Gould's Wattled Bat.
Have a good week.
Tim
Windows 8.1 End Of Life
It is that time again. Windows 8.1 has now reached end of life and is no longer getting security updates from Microsoft. We need to work to remove all Windows 8.1 (and earlier) machines from our network, either through upgrading to Windows 10 or locking out the network ports.
If you know of any Windows 8.1 machines in the school please let us know at it.physics@anu.edu.au so that we can assist you with the process.
RSB Director's Seminar Series - Mon 13th Feb
Blood and Guts: Malaria Parasite Entry and Transmission
Professor Wai-Hong Tham
Date: Mon 13 Feb 2023
Time: 12.30pm
Location: Eucalyptus Seminar Room, Level 2, RN Robertson Building 46 or Join the Webinar
AISRF (Round 15) Scheme - Now Open
Please contact the Research Office science.jaeger.rm@anu.edu.au by 13 February 2023 if you have an interest in applying. Notifying the Research Office of your intention to apply is essential, as there is a cap of two applications per institution, and a ranking process will need to be put in place.
For further information please see here.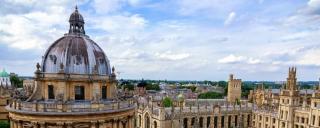 Oxford PhD Exchange - 2023-2024 Round
The Australian National University (ANU) has been invited to nominate up to three Higher Degree Research (HDR) candidates for the 2023-2024 round of the Oxford PhD Exchange (ANU to Oxford University).
The Oxford PhD Exchange is a graduate candidate exchange program between Oxford University and the ANU. The exchange aims to enable excellent PhD scholars to enrich their research in an international setting.
Applicants can apply for an exchange period of one academic year, or one or two academic terms.
WiPAE - 'The Leadership' Film Screening
Date: Wednesday, 15 February 2023
Time: 5.30pm – 8.30pm (movie starts at 6pm)
Venue: Kambri Cinema
Link: Eventbrite
EMCR SciComm Workshop 2023
Want to improve your science communication skills? Join us for an intensive training day, taught by the some of the best in Aussie SciComm!
Date: Sat 18th Feb 2023
Time: 9AM - 7.30 PM
Venue: ANU Physics Physics Building 160 Mills Road Acton 2601
Register here
*Special RSPhys Registered Attendees Ticket Prices*
IWD 2023 Science In The Pub - Call For Presenters
RSPhys is sponsoring International Women's Day Science in the Pub - the call for presenters is now open. If you'd like to share your research and your experiences as a women* in science, please email philuponscience@gmail.com. Free presenter training available too!

When: 7 PM Tuesday 7th March, 2023
Where: Smiths Alternative, 76 Alinga St, Civic
How Much: Free! With thanks to our sponsors; ANU Physics, ANU CGA, CSIRO and TMOS.
The Robert and Helen Crompton Award
We are seeking applications for the Robert and Helen Crompton Award, valued up to $15,000.
This generous award is funded by The Robert and Helen Crompton Endowment Fund. Emeritus Professor Robert Crompton, an ANU physicist for over 40 years, and his wife Helen established this Endowment to provide support for outstanding physics students. It is the intention of the Research School and the Crompton family that the fund is used to enhance career opportunities and experience of students.
This generous award enables RSPhys HDR students to undertake part of the research program overseas or make a collaborative visit to an overseas institution, for 3 to 6 months.
Please refer to the Conditions of Award for eligibility details. Nominations may be made by the students, supervisors or Heads of Departments.
Complete applications should be emailed to hdr.physics@anu.edu.au
Applications closing date is 31 March 2023

AEA SEED Grant Submission Call
The Department of Education have opened the call for submissions to Tranche 1 of the Australia's Economic Accelerator (AEA) Seed Grants, closing 5:00pm (AEDT) on Friday 17 March 2023.
All documentation for this grant opportunity is available on The Department of Education's website.
Please contact the College Research Office as soon as possible if you intend to apply.
Statistical Support For HDR Students
The academic year is getting under way, which is a good time to remind researchers across the University that the services of the Statistical Support Network are available to Masters and PhD students for their research projects. Statistical support is available for design of experiments and surveys, data management, exploratory data analysis, statistical modelling and data presentation.
Students and their supervisors are welcome to book an initial consultation with the SSN lead via this link. Consultations are free. Depending on the nature of the support required, students may be provided with links to relevant videos, text-based or web-based tutorials, or may be connected with SSN members in Colleges who have volunteered their time to advise research students.
If you have any queries about the Statistical Support Network or the services it provides, please don't hesitate to get in touch with us at ssn@anu.edu.au. The network members look forward to collaborating with you on your projects!
Free Rapid Antigen Tests (RATs)

Free rapid antigen tests (RATs) & P2 masks will be distributed between 10am-4pm at the Kambri Hub (Joplin Lane) from next week:

- Wed 15th Feb
- Thurs 16th Feb
- Tues 21st – Thurs 23rd Feb

Bring your staff/student ID to collect (one pack per person)

2023 Wall Planners

2023 wall planners are available now at the Physics Store.

Need to Edit a Requistion?

If you are new or old to the RSPhys online requisition system, 'read more' for time saving tips when editing a requisition with a mistake.

Departmental seminars

Dr Richard Henley - 14 February
X-ray CT applications to the tracking of chemical transformations in natural materials
» read more

Ms Theresa Fruth - 16 February
Searching for Dark Matter with the LZ experiment
» read more

School Seminar Program - 14 February

Nuclear spin dynamics in porous engineering systems - Dr Neil Robinson

Public Lecture - 23 February

Energy transition toward Net Zero Japan in 2050: scenario analysis and emerging technology - Professor Masakazu Sugiyama

Know your administrators...

L-R: Belinda Barbour, Sonia Padrun, Petra Rickman, Nikki Azzopardi, & Julie Arnold

Know your School team...

Uyen Nguyen -
Finance Team Leader

Sue Berkeley -
Stores/Purchasing Team Leader

Goran Radovanovic -
Stores Services

Patrick Romero - Stores/Purchasing Services

Mim Ellen-Barwell - Stores/Purchasing Services

Know your student admin...

Liudmila (Luda) Mangos -
Higher Degree Research admin
C3.02C, Cockcroft bldg (Thurs 9:30-5pm) hdr.physics@anu.edu.au

Siobhan Ryman -
Physics Education Centre admin and HDR
1.05, Bldg 38A (Tues 8.30-4pm) ; C3.02C, Cockcroft bldg (Mon,Thurs-Fri 8.30-4pm) pec.physics@anu.edu.au

Know your school team...

Phil Dooley -
Manager, Marketing and Communications (part time)
phil.dooley@anu.edu.au
0414 945 577

L'Oréal-UNESCO For Women In Science Fellowships

Applications for the L'Oréal-UNESCO For Women in Science Australian & New Zealand Fellowships are now OPEN, closing on Monday 6 March 2023. Five $25,000 fellowships will be awarded, please 'read more' for further infomation.

Please contact the college research office ASAP if you intend to apply.

What To Do If You Test Positive For COVID-19

If you test positive to COVID-19, please:

1. Register your positive result with ACT Health using this online form, or with the state/territory health authority where you are located.

2. Alert the University through this online form.

3. Inform your supervisor or course convenor.