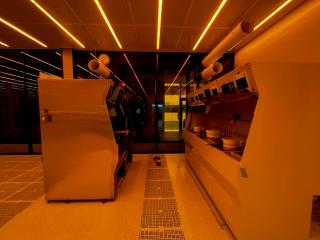 Director's Message
Happy New Lunar Year to all (beach-side from the South Coast).
Given my absence I can't report very much for this coming week but I would like to note that the first of the major laboratory equipment was moved into the Cleanroom last week (see above & at the bottom, photo credit Simon Foxcroft). For those wondering, this was the largish gift Santa left us in the foyer last year.
My congratulation to Distinguished Professor Yuri Kivshar and his collaborators from China and Singapore for their Nature article published last week. They present the first experimental realization of intrinsic chiral bound states in the continuum using resonant metasurfaces.
I was delighted to read about another author in our midst, a writer of fiction known by her nom de plume, Samara Parish. My thanks to Phil Dooley for his article on introducing us to Samara's successes and I encourage you to read more about how fiction can help us to address challenging issues.
A reminder to everyone that teaching commitments for first semester are due soon. Please let your Head, Siobhan Ryman or Prof Joe Hope know your plans asap.
Have a good week,
Tim
Need to Edit a Requistion?
If you are new or old to the RSPhys online requisition system, 'read more' for time saving tips when editing a requisition with a mistake.
Fictional Issues Tackling The Real Problems
Fiona McTavish found that no one was taking her scientific discovery seriously, so she decided to fix that by dressing as a man.
Many frustrated female scientists must have considered this course of action, and would love to know how it went.
If you want to know, dear reader, you'll have to read the book – the fictional historical romance novel How to Deceive a Duke by the Engagement Manager in the TMOS Centre of Excellence, Samara Parish.
W*iPAE Dress for STEM - Photo Competition
International Day of Women and Girls in Science
To show support for Women* in Science the WiPAE group want to see you working (it) in your purple! A $200 prize will be awarded for the best group photo of you and your purple crew hard at work. Open to all CECS, RSPhys, and RSAA

Please submit entries by 3pm, 10th February.
New Measurements Of Nuclei Throw A Neutron Amongst The Pigeons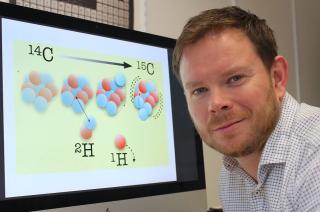 New measurements of the surface of atomic nuclei have thrown up a puzzle about how they behave.
A set of reactions used to measure properties of neutrons in similar forms of carbon and nitrogen nuclei, performed at 'gentle' energies, show a nearly 50 percent discrepancy with knockout experiments that are like a break in snooker that causes a single ball to shoot out of the pack.
Science in the Pub - as part of the 2023 Summer School
Staff Movements

Lan Fu will be away 23/12/22 - 06/02/23
Andrew Stuchbery will be away from 19/12/22 - 31/1/23
Nanda Dasgupta will be away from 16/12/22 -26/1/23

2023 Wall Planners

2023 wall planners are available now at the Physics Store.

Departmental seminars

Mr Jacob Buete - 27 January
Determining the Impact of Shell Structure on Nuclear Reactions
» read more

School Seminar Program - 14 February

Nuclear spin dynamics in porous engineering systems - Dr Neil Robinson

Know your administrators...

L-R: Belinda Barbour, Sonia Padrun, Petra Rickman, Nikki Azzopardi, & Julie Arnold

Know your School team...

Uyen Nguyen -
Finance Team Leader

Sue Berkeley -
Stores/Purchasing Team Leader

Goran Radovanovic -
Stores Services

Patrick Romero - Stores/Purchasing Services

Mim Ellen-Barwell - Stores/Purchasing Services

Know your student admin...

Liudmila (Luda) Mangos -
Higher Degree Research admin
C3.02C, Cockcroft bldg (Thurs 9:30-5pm) hdr.physics@anu.edu.au

Siobhan Ryman -
Physics Education Centre admin and HDR
1.05, Bldg 38A (Tues 8.30-4pm) ; C3.02C, Cockcroft bldg (Mon,Thurs-Fri 8.30-4pm) pec.physics@anu.edu.au

What To Do If You Test Positive For COVID-19

If you test positive to COVID-19, please:

1. Register your positive result with ACT Health using this online form, or with the state/territory health authority where you are located.

2. Alert the University through this online form.

3. Inform your supervisor or course convenor.