Director's Message
Dear Colleagues,
By every account the Summer School was enormously enjoyed by the students (see above). My thanks to the lecturers for their time and enthusiasm, and to Prof Cédric Simenel (FTP/NPAA) and Petra Rickman (NPAA) for organising this wonderful event.
Last week in Nature a multi-national team published a novel entanglement methodology crucial for the standardisation of quantum computing platforms. Their approach is already having great impact with several major quantum computing groups taking it on board. An ANU press release follows their findings, and two of the four lead ANU authors can be seen below at their lab in Singapore (Prof Ping Koy Lam and Dr Syed Assad, credit A*STAR). My congratulation to all the authors, their approach highlights the need for appropriate metrology in this emerging field.
Distinguished Professor Jagadish had the honour and pleasure of meeting the Indian President, Droupadi Murmu, last week in Indore (see below). My congratulations to him on receiving this prestigious award.
My thanks to everyone who volunteered to be 'extras' in the School photoshoot last week. John Gollings took some simply gorgeous photos of the new building, which I'll share as soon as they arrive. Some images of John and colleagues below.
Have a good week.
Tim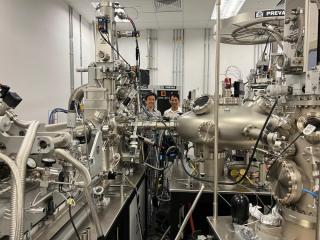 Need to Edit a Requistion?
If you are new or old to the RSPhys online requisition system, 'read more' for time saving tips when editing a requisition with a mistake.
How a Thousand Tiny Lasers Could Launch A Dynamic Hologram
Physicists have developed a new tiny laser that could be used by the thousand to make future dynamic 3D holograms.
Unlike a 2D screen made up of coloured dots, each pixel in a hologram would need to be a microscopic laser with precise control of the light it emits, and that consumes minimal power: until now such a device had not been created.
The new laser, made from a ring laser surrounding a nanowire, could be employed in many future holographic technologies, such as medical imaging, said Wei Wen Wong, lead author of the team's publication in Laser and Photonics Reviews.
Congratulations!
Congratulations to Prof Jagadish for receiving the Pravasi Bharatiya Samman Award on Jan. 10 - the highest award given to overseas Indians by the Government of India.

Watch Jagadish accepting the award here.
Nonlinear Chiral Light
| | |
| --- | --- |
| | Chiral nanophotonics is a rapidly expanding frontier of optics that has revolutionized the conventional approaches to manipulate light at the nanoscale. However, nonlinear chirality is usually extremely weak. Recently, strong nonlinear chiroptical response associated with high efficiency of third-harmonic generation and large nonlinear circular dichroism have been demonstrated for metasurfaces supporting optical Mie resonances and bound states in the continuum. We observed the record-high value of nonlinear circular dichroism combined with very high conversion efficiency, said Kirill Koshelev, first author of the paper reporting the research in ACS Publications. |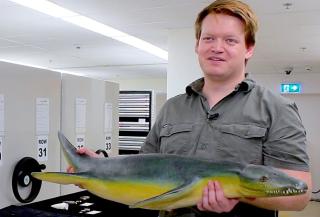 3D XRay Vision Reveals Prehistoric Predator's Brunch
It's the chance of lifetime for Joshua White to study Eric the plesiosaur during his PhD in the Materials Physics Department.
It's not just that Eric is nearly 100 million years old, and is an almost completely intact skeleton that, in the fossilisation process has turned into stunning opal.
Staff Movements

Lan Fu will be away 23/12/22 - 06/02/23
Andrew Stuchbery will be away from 19/12/22 - 31/1/23
Nanda Dasgupta will be away from 16/12/22 -26/1/23
Sonia Padrun will be away from 9/1/23 - 20/1/23

2023 Wall Planners

2023 wall planners are available now at the Physics Store.

Departmental seminars

Mr Jacob Buete - 27 January
Determining the Impact of Shell Structure on Nuclear Reactions
» read more

WIPAE Morning Tea - 17th Jan

Join your Women* in Physics, Astro and Engineering team for the first morning tea of 2023!

10am, Tuesday 17th Jan
Oliphant tearoom

Know your administrators...

L-R: Belinda Barbour, Sonia Padrun, Petra Rickman, Nikki Azzopardi, & Julie Arnold

Know your School team...

Uyen Nguyen -
Finance Team Leader

Sue Berkeley -
Stores/Purchasing Team Leader

Goran Radovanovic -
Stores Services

Patrick Romero - Stores/Purchasing Services

Mim Ellen-Barwell - Stores/Purchasing Services

Know your student admin...

Liudmila (Luda) Mangos -
Higher Degree Research admin
C3.02C, Cockcroft bldg (Thurs 9:30-5pm) hdr.physics@anu.edu.au

Siobhan Ryman -
Physics Education Centre admin and HDR
1.05, Bldg 38A (Tues 8.30-4pm) ; C3.02C, Cockcroft bldg (Mon,Thurs-Fri 8.30-4pm) pec.physics@anu.edu.au

What To Do If You Test Positive For COVID-19

If you test positive to COVID-19, please:

1. Register your positive result with ACT Health using this online form, or with the state/territory health authority where you are located.

2. Alert the University through this online form.

3. Inform your supervisor or course convenor.