Director's Message
Dear Colleagues,
It is a pleasure to congratulate Dr Kaitlin Cook (NPAA) who has been elected as a Member-at-Large for the American Physical Society Forum for International Physics for a two year term. This international forum does some exciting work around supporting international mobility, particularly for scientists from developing nations, as well as science-for-diplomacy projects like the SESAME light source.
This week's image shows the evolution of covers for the popular quantum optics book by Professors Hans Bachor (QST) and Tim Ralph (UQ). On Wednesday 19th, at 4pm, you are welcome to meet the authors and share in a celebration of their 3rd edition. Professor Elena Ostrovskaya (AD(R)/QST) will introduce the authors in the Level 4 Seminar room. All are welcome, students encouraged.
The 27th Canberra International Physics Summer School (CIPSS) on "Fields and Particles" will be hosted by the Research School of Physics over the two weeks of January 9-20th, 2023. This is a great opportunity for all students to meet likeminded colleagues from around Australia. Past Schools have been the source of many lasting professional relationships over the 30 years this School has been running. The academic line-up is excellent, and it's free. I can highly recommend this program to all RSPhys students.
Founder's Day is less than two weeks away. It has now become a part of our tradition to have a Founder's Day Quiz. Vladimir Mangazeev has designed a set of challenging physics problems which will be available on Friday morning, 14th October. The quiz is open to all staff members and graduate students and the deadline for submission is 11am, 20th October. The top three entrants will receive prizes valued at $500, $300 and $200 ... best of luck!
The ANU Rocketry group has reached out to invite an open collaboration to develop an innovative payload in one of their upcoming launches at the SpacePort America Cup 2023. The flight is scheduled to reach 3km and will showcase the creativity and capabilities of ANU students. Some of the mission constraints are;
340mm x 80mm cylindrical form,
4kg minimum wet mass,
<20 G maximum acceleration,
Vehicle travelling ~Mach 1.1
~25 seconds to apogee; and,
Requires an independent power supply
More details can be found by reaching out to Caroline Blair (Payload Lead) or Luan Dinh (Team Senior Advisor), ANU Rocketry.
Have a great week,
Tim
Help Us Understand Our School Staff Demographics
RSPhys is running a 60 second survey to better understand our school staffing demographics. The information you provide will be used to develop diversity and inclusion strategies and to report on the success of initiatives over time. Your responses will help RSPhys develop an equitable hiring strategy that will address barriers to employment for underrepresented groups. The survey is for staff only including full time, part time and casual appointments, professional and academic. It is not for students or emeritus and honorary appointments.
The survey is live right now and will remain open until Friday, 20 October. It is anonymous and only takes 1 minute to complete.
Electrical Equipment Tags
The team performing Test and Tag of the equipment in the school have found equipment had been tagged as DO NOT USE that is still being used.
DO NOT USE tags are applied to equipment that have been deemed unsafe and needs repair.
They are not to be plugged in and used until they have been repaired.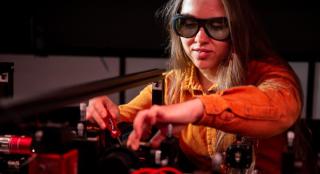 How a Single Cylinder Unleashes Extreme Physics
Physicists have used a single extremely small component on a quest to make extremely short, extremely bright pulses of extremely short-wavelength laser light.
Anastasiia Zalogina from the Nonlinear Physics Centre led a project to convert infrared laser light to high harmonics (up to sevenfold shorter wavelengths ranging from visible towards UV spectrum), using a single cylinder of aluminium gallium arsenide with a diameter about 50 times smaller than a human hair.
News from NPAA...
Dr Georgi Georgiev from IJC Lab, Orsay, is visiting the nuclear structure group in NPAA from 31/10 to 13/10 to plan experiments at HIAF (ANU), RIKEN (Japan) and ISOLDE at CERN (Switzerland) within the French-Australian Scientific International Collaboration(FASIC)

Making Dark Matter Come to Light - High School Student Art Competition 
Entry is open to students in Years 7, 8 and 9, or Years 10, 11 and 12, with prizes awarded in each category.
Applicants can use what they've learnt from the Dark Matter website and any other resources to produce a unique and original artwork to represent their interpretation of a Dark Matter particle.
The competition closes on Dark Matter Day (31st October 2022).
CPAS Science Communication PhD Workshop: Open for Registrations for CoS/CHM PhD Candidates
The Australian National Centre for the Public Awareness of Science (CPAS) is hosting its annual 2-day Science Communication workshop for PhD candidates from SHM schools.
We are calling for registrations from SHM PhD candidates for this workshop, to be held on 22 and 23 November 2022 from 9am to 5pm each day in STB 2, Science Teaching Building #136.
To express your interest in attending the workshop, please email cpas@anu.edu.au. Places are currently limited to 50 participants.
Please note that workshop attendance is kindly sponsored by the Deputy Dean Science Education. No fee will be incurred unless the PhD candidate does not attend on the day without offering an explanation.
End of Year Purchasing Schedule
Please note the end of year purchasing schedule – for an easy and smooth book keeping for 2022.
Sept-Oct........Purchase of goods
November.....Delivery and the invoicing of goods
December........Payment of goods
All goods purchased on Purchase Cards also need to be paid in November to be reconciled in December.
College Hot Desking In Physics

EVERY TUESDAY
Mornings - HR Team
Afternoons - Finance Team

EVERY THURSDAY
Mornings - RM Team

Notice of Employee Representational Rights (NERR)

On Thursday 29 September 2022, the University gave notice that it is commencing bargaining in relation to a new enterprise agreement.

2022 Wall Planners

2022 wall planners are available now at the Oliphant Reception.

ANU Costing and Pricing Approvals Tool

Reminder to all ANU Costing and Pricing Approvals tool (CPA) users to update your Department within the tool to ensure the CPA approvals process goes smoothly next time you apply for or receive funding.

Departmental seminars

Wei Wen Wong - 11 October
"Epitaxial growth of III-V micro-ring lasers for optoelectronic applications"
» read more

Dr Matt Thompson - 13 October
Living on the edge: Reactor wall materials for future fusion devices
» read more

School Seminar Program - 12 October

Seeing the light in quantum technologies - Mr Hao Jeng

Founder's Day 2022 - 21 October

Know your administrators...

L-R: Belinda Barbour, Sonia Padrun, Petra Rickman, Nikki Azzopardi, & Julie Arnold

Know your School team...

Uyen Nguyen -
Finance Team Leader

Sue Berkeley -
Stores/Purchasing Team Leader

Goran Radovanovic -
Stores Services

Patrick Romero - Stores/Purchasing Services

Know your student admin...

Liudmila (Luda) Mangos -
Higher Degree Research admin
C3.02C, Cockcroft bldg (Thurs 9:30-5pm) hdr.physics@anu.edu.au

Siobhan Ryman -
Physics Education Centre admin and HDR
1.05, Bldg 38A (Tues 8.30-4pm) ; C3.02C, Cockcroft bldg (Mon,Thurs-Fri 8.30-4pm) pec.physics@anu.edu.au

ANU Community Connect

ANU Community Connect provides a safe and welcoming space for all ANU students. We offer no-cost essential items through our food pantry, Share the Dignity vending machine, access to our friendly and knowledgeable team to support students build connections, navigate university services and actively engage with programs and events to improve student experience at ANU.

What To Do If You Test Positive For COVID-19

If you test positive to COVID-19, please:

1. Register your positive result with ACT Health using this online form, or with the state/territory health authority where you are located.

2. Alert the University through this online form.

3. Apply for personal leave.

4. Isolate for at least seven days after the day you test positive.