Director's Message
Dear Colleagues,
My many thanks to all those who taught this semester.
Congratulations to those affiliated with InSpace after news of their Trailblazer success with partners at University of Southern Queensland broke a week or so ago. To thank those involved, Professor Anna Moore, Director of InSpace held a morning tea in the new "Mission Control" for InSpace at 121 Marcus Clark Str (see above, Anna is on left). Among the successful teams is local composites start-up, New Frontier Technologies, led by H/Professor Paul Compston (DMP) in collaboration with Professor Patrick Kluth (AD(HDR), DMP). Employing a unique laser assisted composite tape robot won through LIEF, this team will develop deployable structures for space applications with a total project budget of almost $5M over 4 years. Patrick and his team have had a run of good news. Last week, Patrick, Shankar Dutt and Christian Notthoff received $50k from the Discovery Translation Fund to undertake commercialisation activities for versatile solid state membranes. The team developed new fabrication methods for these membranes that have applications in nanopore research, as x-ray windows and TEM sample grids, among many others (examples can seen below with tweezers for scale).
Have a good week,
Tim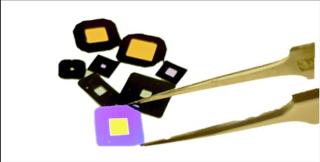 A Reminder From The Purchasing Team...
That WWVP checks and cards can not be paid for on an ANU Purchase card.
ANU 75th Anniversary Time Capsule
As the University's 75th anniversary celebrations draw to a close, we are creating a time capsule to preserve and curate an inspiring collection of items that together acknowledge all that is unique, innovative and transformative at ANU.

The capsule will be carefully preserved before it is uncovered in 2046 – marking our 100th anniversary.

You can nominate a physical or digital item in the EOI form here. The closing date for submissions is Friday 24 June.
Nonlinear Nonreciprocal Metasurfaces
| | |
| --- | --- |
| | The team from Nonlinear Physics Center (FTP), with collaborators from Germany and Singapore, reported the first demonstration of asymmetric parametric generation of light with nonlinear metasurfaces that produce different and completely independent images for the reversed direction of illumination. Nonlinearity-enabled asymmetric control of light paves the way towards novel nanophotonic components via dense integration of nonlinear resonators into compact metasurface designs. From RSPhys, the project was driven by Dr. Sergey Kruk and the results have been published in Nature Photonics (Impact Factor=38.77). |
inSTEM Conference – July 20-21 2022
inSTEM is a networking and career development conference for people from marginalised or underrepresented groups in STEM, and their allies. Networking is a key strategy for career progression, yet numerous studies have shown that women's networks are less powerful than men's and that women seem to be less equipped to leverage the networks they do have when it comes to their career. Further research has found that this is not an issue specific to women but is indicative of the experiences of marginalised groups in general.
Spin-charge Separation in a One-dimensional Fermigas With Tunable Interactions
Honorary Professor Xiwen Guan (FTP) has had his collaborative work with Professor Randy Hulet's group at Rice University on the observation spin charge separation published in Science.

Quad Fellowships Are Now Open!
On September 24, 2021, Quad partners, Australia, India, Japan, and the United States announced the Quad Fellowship. The Quad Fellowship is a first-of-its kind scholarship program, designed to build ties among the next generation of scientists and technologists. The program will sponsor 100 Australian, Indian, Japanese, and American master's and doctoral students in science, technology, engineering, and mathematics to study in the United States, with 25 selected from each country. The fellowship will develop a network of science and technology experts, committed to advancing innovation and collaboration in the private, public, and academic sectors in their own country, and among Quad countries.
Quad Fellowships are administered by Schmidt Futures, who will manage the application process and administer Fellowship funding to successful applicants. More information on Quad Fellowships can be found in the document attached and on the Quad Fellowships website. For any questions regarding Quad Fellowships, please email info@quadfellowship.org.
Dolby Australia Scientific Paper Competition
Dolby Australia wishes to encourage and reward novel scientific advances in the areas of signal processing, machine learning and psychoacoustics by young and emerging Australian researchers from the Australian National University.
We are supporting an award for the best published article by an emerging researcher published between 1 January 2021 and 1 May 2022. The submission deadline is 15 July 2022.
3 Minute Thesis Competition - RSPhys round
RSPhys 3MT round will be held on Thursday 21 July 2022 at 11am. Students wishing to present in the RSPhys 3 MT round should email hdr.physics@anu.edu.au to register their interest by 11 July. Everyone is invited to attend! Venue to be confirmed closer to the date. Prizes will be on offer for the winners.
Financial Assistance Available To Students

The University is offering a Student Urgent Relief Bursary (SURF) with the intention to relieve students' financial burden and assist with extra costs caused by COVID or remote learning. There were very specific criteria for applying and a very small number of applications in 2021. The criteria for this bursary have been revised to include all students who are facing financial difficulties in 2022—not just related to COVID/remote learning. It is encouraged for students to review the conditions of this grant to see if you may be eligible for this financial support.
The Student Admin team would also like to remind students that our School offers the Ben Williams Student Support Grant to assist RSPhys students who are experiencing personal difficulties which may be affecting their ability to study.
Call For Applications For The Robert and Helen Crompton Award
Applications closing date 10 July 2022
We are seeking applications for the Robert and Helen Crompton Award, valued up to $15,000.
This generous award is funded by The Robert and Helen Crompton Endowment Fund. Emeritus Professor Robert Crompton, an ANU physicist for over 40 years, and his wife Helen established this Endowment to provide support for outstanding physics students. It is the intention of the Research School and the Crompton family that the fund is used to enhance career opportunities and experience of students.

The John Carver Seminar Series 2022
An annual student event aimed at showcasing the amazing research done by our students and celebrating the wealth of talent in our School.
The John Carver Seminar Series 2022 will be held on Monday 26 September at 10am. We are hoping to hold this event in the new Auditorium, but will confirm the venue closer to the date.
Students wishing to participate in the John Carver Seminar Series will need to present a 15-minute talk on their research to the audience of fellow students and RSPhys colleagues. The talks are not followed by questions.
The talks are judged by a panel of three judges (two academics and a student).
ANU-CSIRO Collaboration Grant in Agri-Food
FUNDING OPPORTUNITY
Over the past several months, the ANU-CSIRO Collaborations Steering Committee has been working with CEAT and members of CSIRO Ag & Food to develop a pilot program designed to kick start collaborations between ANU and CSIRO in the agri-food domain. The initiative has the approval/support of the DVCR and Deans of the College of Science and CECS. You can find out more here.
Returning to Campus

Updated Process and Mask Protocols

2022 Wall Planners

2022 wall planners are available now at the Oliphant Reception.

BIG Science of Gen IV Power Reactors

When: Tues 21 June 7pm-8pm
Where: ANSTO Discovery Centre Lucas Heights NSW & Online
Register: Here

zOOm into Physics: The Fun Continues with Entropy, Part 2

Back by popular demand: we're continuing our zOOm into Physics (ZiP) chat on entropy this month. We'll be joined again by guest, astronomer Luke Barnes.
Wed 22 Jun, 8-9.30pm AEST. Details to come here.

Defence Export Controls Seminar + Q&A sessions

Date Monday 27th June, 10:00am (for a 10.10am start)
Location Building #46E RN Robertson Lecture Theatre
Registration

Know your administrators...

L-R: Belinda Barbour, Sonia Padrun, Petra Rickman, Nikki Azzopardi, & Julie Arnold

Know your School team...

Uyen Nguyen -
Finance Team Leader

Sue Berkeley -
Stores/Purchasing Team Leader

Goran Radovanovic -
Stores Services

Patrick Romero - Stores/Purchasing Services

Know your student admin...

Liudmila (Luda) Mangos -
Higher Degree Research admin
C3.02C, Cockcroft bldg (Thurs 9:30-5pm) hdr.physics@anu.edu.au

Siobhan Ryman -
Physics Education Centre admin and HDR
1.05, Bldg 38A (Tues 8.30-4pm) ; C3.02C, Cockcroft bldg (Mon,Thurs-Fri 8.30-4pm) pec.physics@anu.edu.au

Student Representatives Wanted!

We are seeking expressions of interest from HDR students to become student representatives for our School.

Free Flu Vaccinations

To provide flexibility for our staff in 2022, the ANU are offering three options for receiving your free flu vaccination:

1. On campus at the ANU Medical Centre

2. On campus at the University Pharmacy

3. Off campus by accessing a voucher code to be used at a Terry White Chemist in Canberra

Tweet Series

The Researcher Development team are starting a new tweet series for @ANUresearcher! This tweet series is intended to be fun AND rewarding – a collaborative storytelling about the highs and lows of HDR student life – Hannah Carle, a RD casual is creating graphic mosaics based on different themes each week.

ICPS 2022 - 27-30 June 2022

2 weeks to register for ICPS 2022!

Tickets available from A$350. Don't miss your chance to be part of this global event and REGISTER NOW!

CGA Winter Research Program

The ANU Centre for Gravitational Astrophysics will be running a Winter Research Program from 20 June until 22 July 2022. The program is suitable for third-year and Honours students in Physics, Astrophysics and Engineering, currently enrolled at all universities across the country.

What To Do If You Test Positive For COVID-19

If you test positive to COVID-19, please:

1. Register your positive result with ACT Health using this online form, or with the state/territory health authority where you are located.

2. Alert the University through this online form.

3. Apply for personal leave.

4. Isolate for at least seven days after the day you test positive.