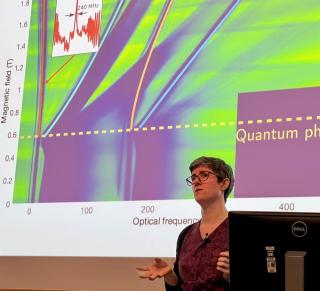 Director's Message
Dear Colleagues,
I trust you had a relaxing weekend.
It was wonderful to see the return of in-person School seminar series last week with the first being delivered by Dr Rose Ahlefeldt (above). While we are waiting on the AV in the new auditorium to be finalised all seminars are scheduled for the Huxley Lecture Theatre.
Cyber Alert: Some of you will have received phishing emails purporting to be from various members of ANU staff (VC, me and others). Please be vigilant, check the origin of all emails before replying or clicking on links. Click here: Report any suspicious emails to ANU IT. Pulse has three informative short videos on cybersecurity, please check them out.
Starting in June, we will be gradually moving groups into the new building. We will be coordinating through Heads with notices coming out from School administration to individuals one week ahead of their scheduled move. Please note that there will be moving boxes made available as your turn comes, as well as removalists on hand to help.
Advance notice that Research Services Division will be hosting a seminar on the Defence Export Control Act, delivered by Defence experts on Monday 27 June. I will be posting details in the coming weeks.
Have a good week,
Tim
Calling for Expressions of Interests to Join the Wanda Henry Scholarship in Photonics Selection Committee
Each year RSPhys may award a scholarship known as the Wanda Henry Scholarship in Photonics. The Scholarship is available to second year students enrolled in physics and/or engineering. The objective of the award is to assist undergraduate students in their study of photonics and give them the freedom to get involved in campus life and provide the encouragement and support to reach their full potential.
We are seeking a selection committee member to join Emeritus Professor Hans Bachor. Please email pec.physics@anu.edu.au to express your interest.
For more details regarding the scholarship, please see: Wanda Henry Scholarship in Photonics.
Multiphoton Photoluminescence From Subwavelength Resonators
| | |
| --- | --- |
| | The team from Nonlinear Physics Center (Department of Fundamental and Theoretical Physics), with collaborators from the Korea University and University of Brescia (Italy) reported the observation of five-photon luminescence from a single subwavelength nanoantenna at room temperature. They demonstrated that the interplay of the Mie multipolar modes can enhance the efficiency of the five-photon luminescence by at least four orders of magnitude. |
AIP ACT Branch Photography Competition
The ACT Branch of the Australian Institute of Physics (AIP) is seeking excellent images and photos to help them demonstrate the beauty of Physics. Please submit photographs or images that capture some aspects of Physics for a chance to win a cash prize. The best image will be featured on the cover of ACT AIP Facebook and Twitter page.

Rebus Theatre and Questacon Present: Chemical ReACTion
An award-winning interactive theatre performance exploring the dilemmas of science communication.
Date: Sat 28 May
Time: 11am & 7pm
Place: Questacon, King Edward Terrace, Parkes, ACT
Tickets are free but bookings are essential. Tickets are available now from Ticketek.

2022 Dean's Commendation for Excellence in Education
Nominations open now!
It continues to be important that we recognise and celebrate those within our community who have gone above and beyond expectations to provide excellent educational experiences for our students.
With this in mind, we are pleased to announce that the 2022 College of Science Dean's Commendations for Excellence in Education are now open for nominations of academic and professional staff. Further information on the awards is available via the link and we encourage you to nominate people or teams whose efforts you think have been exceptional.

ANU Science, Health and Medicine Colloquium: The Human Face of Teaching
Date: Tuesday, 31 May, 2022
Time: 9.15am – 2.30pm
Place: Marie Reay Teaching Centre, 6th Fl
Registration required: click here
Women* in Physics to Meet Women* in Astro - Mon 6th June
The Research School of Astronomy and Astrophysics (RSAA) is thrilled to invite women* in physics to meet women* in astro.
Date: Monday, the 6th of June 2022
Time: 10:00am – 2:30pm
Venue: Mount Stromlo Observatory
(Transportation provided to and from the Acton campus)
Please RSVP by 23/05/2022 via email to julie.tournet@anu.edu.au (RSPhys) or noelia.martinezrey@anu.edu.au (RSAA).
Returning to Campus

Updated Process and Mask Protocols

2022 Wall Planners

2022 wall planners are available now at the Oliphant Reception.

Women* in Physics Morning Tea - 26 May

Please join the WiP group on Thursday, May 26th at 10am in the Oliphant tea room for an informal catch-up. There will be muffins!

Director's Colloquium - 27 May

A new approach to measuring subsurface water temperature using Raman spectroscopy and LIDAR methods - Professor Helen Pask

HDR Workshop - 27 May

Writing with clarity and purpose -10am-12pm

Know your administrators...

L-R: Belinda Barbour, Sonia Padrun, Petra Rickman, Nikki Azzopardi, & Julie Arnold

Know your School team...

Sue Berkeley -
Finance Team Leader

Goran Radovanovic -
Stores Services

Patrick Romero - Stores/Purchasing Services

Know your student admin...

Liudmila (Luda) Mangos -
Higher Degree Research admin
C3.02C, Cockcroft bldg (Thurs 9:30-5pm) hdr.physics@anu.edu.au

Siobhan Ryman -
Physics Education Centre admin and HDR
1.05, Bldg 38A (Tues 8.30-4pm) ; C3.02C, Cockcroft bldg (Mon,Thurs-Fri 8.30-4pm) pec.physics@anu.edu.au

VC's HDR Travel Grant

The VC's HDR Travel Grant that was suspended over the past couple of year has now been reinstated, and is now accepting new applications!

Free Flu Vaccinations

To provide flexibility for our staff in 2022, the ANU are offering three options for receiving your free flu vaccination:

1. On campus at the ANU Medical Centre

2. On campus at the University Pharmacy

3. Off campus by accessing a voucher code to be used at a Terry White Chemist in Canberra

Tweet Series

The Researcher Development team are starting a new tweet series for @ANUresearcher! This tweet series is intended to be fun AND rewarding – a collaborative storytelling about the highs and lows of HDR student life – Hannah Carle, a RD casual is creating graphic mosaics based on different themes each week.

What To Do If You Test Positive For COVID-19

If you test positive to COVID-19, please:

1. Register your positive result with ACT Health using this online form, or with the state/territory health authority where you are located.

2. Alert the University through this online form.

3. Apply for personal leave.

4. Isolate for at least seven days after the day you test positive.