Director's Message
Dear Colleagues,
Above are some of the proud QST authors of a Science paper published last Thursday, left to right; Mr Bryce Henson, Prof Ken Baldwin, Mr Jacob Ross, Mr Kieran Thomas, Prof Andrew Truscott and Dr Sean Hodgman standing over the metastable helium Bose-Einstein condensate experiment that produced this amazingly precise result (Photo - Tracey Nearmy/ANU). With colleagues from Swinburne University of Technology, State Key Laboratory of Magnetic Resonance and Atomic and Molecular Physics (Wuhan, China) and University of Windsor (Canada) they tested quantum electrodynamics with the most sensitive method ever developed for measuring the potential energy of an atom (sensitivity of 10-35 J !). Congratulations to all the authors on developing this novel method, and testing QED with such precision.
Two years ago we had the pleasure of congratulating Distinguished Professor Chennupati Jagadish on being awarded the 2020 Lloyd Rees Lecture from the Australian Academy of Science. Last week he finally had the opportunity to deliver the lecture associated with this award in person at the Shine Dome. The image below shows a constellation of three RSPhys colleagues at that event; Prof Ken Baldwin (foreground), Jagadish and Prof Nanda Dasgupta as Chair. Jagadish's lecture can be viewed on the Academy Website.
Last week the Government announced $60M to support strategic and bilateral international collaboration with key technology partners in India, China, France, Japan, UK, Spain and the US, covering areas including Quantum Computing, Advanced Manufacturing and Hydrogen production.
ANU Media is teaming up with the Australian Science Media Centre to deliver a free online specialist training session, taking place this Wednesday at 10am-12pm. The session is open to all ANU researchers, including postgraduate students studying a PhD or master's by research (for details, see below).
A reminder about wearing the appropriate footwear in the laboratories, please.
Have a great short week and enjoy the fresh hot cross buns on Wednesday.
Cheers,
Tim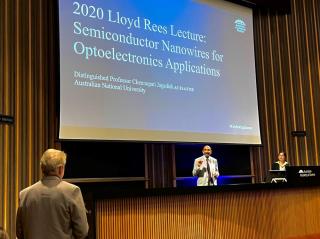 Mandatory Training Courses for School Induction and Building Access - All Persons
As we progress to meet the University's WHS obligations we need ensure that base inductions and WHS training is complete for all staff, students and visitors within Physics (excluding UG).
The school's induction process has mandatory safety training as well as the University WHS Induction course. As such the following training courses have been assigned to all the members of the school. We need everyone to review these courses to ensure they have been completed and are within date.
Young Tall Poppy Science Awards
| | |
| --- | --- |
| | Nominations are welcomed for the annual Young Tall Poppy Science Awards. These were created to recognise and celebrate the achievements of Australian scientists. Recipients of the Young Tall Poppy Science Awards (referred to as 'Tall Poppies') promote interest in science among students in all stages of learning, teachers and peers. Tall Poppies also provide understanding and an appreciation of science in the broader community. |
How To Make Lasers Simple Or Chaotic
New forms of highly efficient laser could be in the pipeline as a result of research that brings new detailed understanding of fundamental laser processes.
Professor Nail Akhmediev and his international collaborators modelled the interaction of high-powered light fields with the material components of lasers and revealed a rich landscape of laser functionality that has never before been explored.
What To Do If You Test Positive For COVID-19
If you test positive to COVID-19, please:

Register your positive result with ACT Health using this

online form

, or with the state/territory health authority where you are located.
Alert the University through this

online form

.
Apply for personal leave.
Isolate for at least seven days after the day you test positive.
HDR Supervisor Survey
The Science, Health & Medicine Career Development Framework has been available for HDR candidates in the ANU College of Science, and the ANU College of Health and Medicine for over two years now and they would like to seek your feedback regarding future development and participation of the framework into 2022.
Australian Institute of Physics Awards
The deadline to apply for the Australian Institute of Physics awards is fast approaching (May 1st).

Please consider applying if you feel you would be competitive or think about someone to nominate.
OPRA Grant Proposals
The Association for Advancement of Research on Open Problems in Nuclear Physics & Particle Physics (OPRA) is currently accepting proposals for grants on set research topics within Nuclear Physics, Strong Interactions and Weak Interactions to investigate the discrepancies between existing theories and experimental findings, and the mathematical consistency of physical theories.
Applications for this scheme close on 14 of April 2022. Grants are worth a maximum of $70,000USD per year for three years.
Returning to Campus

Updated Process and Mask Protocols

Hot Cross Buns

There will be a School morning tea with Hot Cross Buns on Wednesday April 13th, 10:30am in the Oliphant Tea Room & Physics North Tea Room respectively.

2022 Wall Planners

2022 wall planners are available now at the Store.

Departmental seminars

Ms Zahra Azimi - 12 April
Mastering control over structure, composition and homogeneity of InGaAs ternary nanowire
» read more

Know your administrators...

L-R: Belinda Barbour, Sonia Padrun, Petra Rickman, Nikki Azzopardi, & Julie Arnold

Know your School team...

Sue Berkeley -
Finance Team Leader

Goran Radovanovic -
Stores Services

Hannah Phan - Purchasing/Finance Services

Patrick Romero - Stores/Purchasing Services

Know your student admin...

Liudmila (Luda) Mangos -
Higher Degree Research admin
C3.02C, Cockcroft bldg (Thurs 9:30-5pm) hdr.physics@anu.edu.au

Siobhan Ryman -
Physics Education Centre admin and HDR
1.05, Bldg 38A (Tues 8.30-4pm) ; C3.02C, Cockcroft bldg (Mon,Thurs-Fri 8.30-4pm) pec.physics@anu.edu.au

Nicolas Baudin Interships and Travel Grants to France

Applications for the 2022 Nicolas Baudin Program are now open!

Tweet Series

The Researcher Development team are starting a new tweet series for @ANUresearcher! This tweet series is intended to be fun AND rewarding – a collaborative storytelling about the highs and lows of HDR student life – Hannah Carle, a RD casual is creating graphic mosaics based on different themes each week.

Physics World Careers 2022 Guide

Making decisions about your career can be an exciting process, but for most people it's also a tricky one. It can be hard enough to find out what jobs even exist, let alone whether they would be a good match for your skills and interests.

Call for 2022 VinFuture Prize Nominations

The VinFuture Prize, a global science and technology prize originating from Vietnam, is set up to honor breakthrough scientific research and technological innovations that create meaningful change in the everyday lives of millions of people.