Director's Message
Dear Colleagues,
My best wishes for all those contributing to the new teaching term, starting today. It is fantastic to have face-to-face teaching again.
A reminder that the inaugural seminar of the Women in Physics (WiP) Series is on tomorrow (see below).
The new building is starting to look very, very close. The auditorium is a smidge from completion as can be seen with the hanging of a major work by famous Indigenous artist, Tommy Watson, titled "Spider Dreaming". (credit: Sarah O'Callaghan). This amazing work is on loan and we will have a suitable celebration with the owner as soon as possible. Together with the spectacular backdrop of the lake and the Quantum noise distributed seat colours our auditorium is set to become an iconic meeting space.
An open call for mentors and mentees in the NECTAR program closes on 1st March. This is a great program and very rewarding for all parties. Places are limited, apply now! (check eligibility here).
…and, it seems the Government is struggling to give research funding away! If you are thinking about working with an industry partner you may be interested in this article. If you have questions about this scheme please speak with our AD(R), Prof Elena Ostrovskaya or me and we can line up a meeting with people who have had experience with the submission process.
Over the next week we are setting the agenda for the next School Executive. If you have items you would like your representatives or Heads to raise please let them know by Friday. Your general representatives are;
WHS, represented by Dr Rick Walsh (WHSM)
School Facilities, represented by Mr Graeme Cornish (FM)
Student Representatives, represented by Matthias Wurdack (SR)
Early and Mid-Career Researchers, represented by a group contacted through this

email

Equity and Diversity Committee, represented by A/Prof James Sullivan and Mary Gray (E&D)
Have a good week,
Tim
New ARC Industry Fellowship Schemes
On 1 February 2022, the Prime Minister announced the University Research Commercialisation Action Plan, a $2.2 billion investment to place university innovation and industry collaboration front and centre of Australia's economic recovery.

It was announced, as part of this Action Plan, that the Australian Research Council (ARC) will introduce three new Industry Fellowship schemes.
Masks and Rapid Antigen Tests Now Available
To help keep us all safe, ANU has secured a supply of rapid antigen tests and masks, which will be available for our community from Wednesday 9th.
High-harmonic Generation with Metasurfaces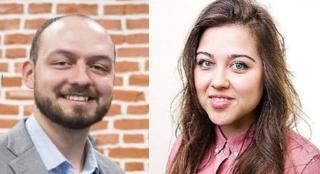 The team of collaborators from the School, with colleagues from University of Jena (Germany) and ITMO University (Russia), demonstrated high-harmonic generation with up to 11-th harmonics from resonant dielectric metasurfaces supporting bound states in the continuum. For the first time to our knowledge, this allowed to enter the regime of nonperturbative nonlinear optics in metaphotonics. From RSPhys, the project was driven by PhD students Kirill Koshelev and Anastasiia Zalogina. The results have been published in ACS Photonics (Impact Factor=7.529), and the paper was highlighted as the journal cover story.
L'Oréal-UNESCO For Women in Science Australian & New Zealand Fellowships 2022
Applications are now open for L'Oréal-UNESCO For Women in Science Australian & New Zealand Fellowships – 2022.

Applications can be done through the new www.forwomeninscience.com.au website.

Applications close 11.59pm Monday 7th March, 2022
Careers Fair Opportunity for HDR Students
Quantum Australia 2022 is a conference that will be held in Sydney at the end of this month and that will feature many industry and government attendees. On its last day, the conference will host an online Careers Fair (February 25th). This event will be a valuable opportunity for students about to graduate and looking for future career options. Registration to the Careers Fair only (held virtually) is free.

HDR Update
Development & Training in February
Returning to Campus

Updated Process and Mask Protocols

2022 Wall Planners

2022 wall planners are available now at the Store.

Women in Physics (WiP) Seminar - 22 February

The Inaugural Seminar of the Women in Physics (WiP) Series - Professor Céline d'Orgeville

Know your administrators...

L-R: Belinda Barbour, Sonia Padrun, Petra Rickman, Nikki Azzopardi, & Julie Arnold

Know your School team...

Sue Berkeley -
Finance Team Leader

Goran Radovanovic -
Stores Services

Hannah Phan - Purchasing/Finance Services

Patrick Romero - Stores/Purchasing Services

Know your student admin...

Liudmila (Luda) Mangos -
Higher Degree Research admin
C3.02C, Cockcroft bldg (Thurs 8:30-4pm) hdr.physics@anu.edu.au

Siobhan Ryman -
Physics Education Centre admin and HDR
1.05, Bldg 38A (Tues 8.30-4pm) ; C3.02C, Cockcroft bldg (Mon,Thurs-Fri 8.30-4pm) pec.physics@anu.edu.au

Wifi Blackspots?

IT have some wifi points to roll out in Physics South. If you find ANU-Secure unusable in your office or lab please report it to it.physics@anu.edu.au.

ANU COVID Pathway to 2022