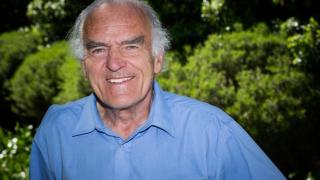 Director's Message
Dear Colleagues,
Welcome back from break and happy Chinese New Year for tomorrow, the year of the Water Tiger.
On Australia Day I emailed you celebrating the news of the late Professor John Love's Order of Australia. My apologies, in my excitement and haste I made an error, John has been appointed a Member of Order of Australia (AM) which is one step above the Medal of order of Australia (OAM). My heart felt thanks to the foresight of his anonymous nominator and referees for their support (photo credit: Stuart Hay).
On behalf of one of our staff members I draw your attention to a request to support a family seeking specialised surgery for their daughter, Maisie (see right).
Have a great week.
Tim
Be surprised by our 2022 series!
You are invited to join the Australian Academy of Science for another year of fascinating science with the upcoming series 'Surprising science: borrowed ideas leading to unimagined consequences'.
The series will uncover remarkable stories of breakthroughs, new technologies and unexpected outcomes—all born from scientific disciplines borrowing each other's ideas.
Women in STEM and Entrepreneurship Grant Opportunity
Round 4 for the Women in STEM and Entrepreneurship grant opportunity has opened.
This program supports investment in gender equity initiatives that aim for lasting systemic change and eliminating barriers for women's participation in STEM education and careers, and entrepreneurship, building on the Australian Government's Advancing Women in STEM strategy and the Women in STEM Decadal Plan, which was developed by the Australian Academy of Science and Australian Academy of Technology and Engineering.
2022 United Uranium Scholarship - Applications are Open
Supporting Promising Young Scientists in the Field of Nuclear Energy
The United Uranium Trust Fund was established in 1966 for 'the promotion and encouragement of scientific research and education in the field of atomic energy'. In accordance with the Deed, the United Uranium Scholarship is awarded to 'promising young scientists' from any Australian organisation or institution whose research or work is in the field of nuclear energy.
NHMRC Investigator Grants Scheme
The NHMRC Investigator Grants scheme provides the highest-performing health and medical researchers (biomedical, clinical, public health and health services research) at all career stages with funding for their salary (if required) and a research support package (RSP) for five years.
The Grant Guidelines for funding in 2023 have been released, however please note that due to the migration of data from RGMS to Sapphire, application forms in Sapphire will not be available online yet and applicants will initially need to work offline. More information can be found here.
If you are interested in applying to this scheme and have not submitted an NoI previously, please contact us as soon as possible at science.jaeger.rm@anu.edu.au so that that we can provide you with access to support and resources as soon as they become available. Those who have already submitted an NoI do not need to do so again.
Are you an ANU PhD candidate with teaching, tutoring and/or academic mentoring experience? Does helping your fellow students with their academic writing sound like your idea of fulfilling work?
Returning to Campus

Updated Process and Mask Protocols

STAFF MOVEMENTS

Tim Senden will be away 24/12/21 – 1/2/2022

Andrew Stuchbery will be away from 23/12/21 – 31/1/22 (Greg Lane will be acting NPAA HoD during this time)

2022 Wall Planners

2022 wall planners are available now at the Store.

Know your administrators...

L-R: Belinda Barbour, Sonia Padrun, Petra Rickman, Nikki Azzopardi, & Julie Arnold

Know your School team...

Sue Berkeley -
Finance Team Leader

Goran Radovanovic -
Stores Services

Hannah Phan - Purchasing/Finance Services

Patrick Romero - Stores/Purchasing Services

Know your student admin...

Liudmila (Luda) Mangos -
Higher Degree Research admin
C3.02C, Cockcroft bldg (Mon-Fri 9.30-5pm) hdr.physics@anu.edu.au

Siobhan Ryman -
Physics Education Centre admin and HDR
1.05, Bldg 38A (Mon-Tues 8.30-4pm) ; C3.02C, Cockcroft bldg (Wed-Fri 8.30-4pm) pec.physics@anu.edu.au

ANU COVID Pathway to 2022