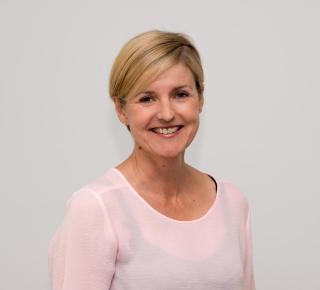 Director's Message
Dear Colleagues,
I would like to congratulate Ruth Carr (above) on ten wonderful years as Executive Director at Australian Science Innovations (ASI), and on her recent appointment as Director, CSIRO Education and Outreach. As many will know ASI runs several excellent youth science programs, including the Australia Physics Olympiad program in which we have had an ongoing involvement in since its inception with the founder, the late Em/Prof Rod Jory. It has been a great pleasure working with Ruth and her team, and I wish her all the very best at CSIRO. Lillian Lesueur, ASI's former Executive Director, will be acting in the position until the new Executive Director is appointed.
Last Thursday a very large community farewelled Em/Prof Mike Gore. The service was a poignant tribute, touching on many of Mike's enduring characteristics. These strongly resonated with all, including Mike's infectious enthusiasm to engage (literally) everyone in asking 'why does that happen?'. He revelled in providing people with a hands-on experience of the physical world, not simply to educate, but to challenge their intuitive framework of physical phenomena - the 'aha moment'. He embodied one of the aspects I remember most about the Faculties of the time, the ability to tell or show a great story to bring context to physics. That art of story-telling, in combination with demonstration, is one of our hallmarks and it was truly wonderful to be reminded of it through the many reflections of Mike. His legacies are celebrated through his familiar mantra, reproduced on the last page of his Order of Service,
"I hear and I forget
I see and I remember
I do and I understand"
Thank you, Mike.
Have a good week.
Cheers,
Tim
2022 United Uranium Scholarship - Applications are Open
Supporting Promising Young Scientists in the Field of Nuclear Energy
The United Uranium Trust Fund was established in 1966 for 'the promotion and encouragement of scientific research and education in the field of atomic energy'. In accordance with the Deed, the United Uranium Scholarship is awarded to 'promising young scientists' from any Australian organisation or institution whose research or work is in the field of nuclear energy.
NHMRC Investigator Grants Scheme
The NHMRC Investigator Grants scheme provides the highest-performing health and medical researchers (biomedical, clinical, public health and health services research) at all career stages with funding for their salary (if required) and a research support package (RSP) for five years.
The Grant Guidelines for funding in 2023 have been released, however please note that due to the migration of data from RGMS to Sapphire, application forms in Sapphire will not be available online yet and applicants will initially need to work offline. More information can be found here.
If you are interested in applying to this scheme and have not submitted an NoI previously, please contact us as soon as possible at science.jaeger.rm@anu.edu.au so that that we can provide you with access to support and resources as soon as they become available. Those who have already submitted an NoI do not need to do so again.

Science Communication PhD Workshop: Open for Registrations for CoS/CHM PhD Students
The Centre for the Public Awareness of Science (CPAS) has historically offered an annual 2-day Science Communication workshop for PhD candidates from SHM schools. Due to Covid-19, they have not been able to offer this workshop in person since 2019.
They are now calling for registrations from SHM PhD candidates for their 2022 workshop, to be held on 1 and 2 February 2022, from 9am to 5pm each day, in the Marie Reay Building in Kambri.
Please send your expression of interest in attending the workshop, by email to: cpas@anu.edu.au. Places are currently limited to 60 attendees.
Returning to Campus

Updated Process and Mask Protocols

STAFF MOVEMENTS

Tim Senden will be away 24/12/21 – 1/2/2022

Andrew Stuchbery will be away from 23/12/21 – 31/1/22 (Greg Lane will be acting NPAA HoD during this time)

2022 Wall Planners

2022 wall planners are available now at the Store.

Know your administrators...

L-R: Belinda Barbour, Sonia Padrun, Petra Rickman, Nikki Azzopardi, & Julie Arnold

Know your School team...

Sue Berkeley -
Finance Team Leader

Goran Radovanovic -
Stores Services

Hannah Phan - Purchasing/Finance Services

Patrick Romero - Stores/Purchasing Services

Know your student admin...

Liudmila (Luda) Mangos -
Higher Degree Research admin
C3.02C, Cockcroft bldg (Mon-Fri 9.30-5pm) hdr.physics@anu.edu.au

Siobhan Ryman -
Physics Education Centre admin and HDR
1.05, Bldg 38A (Mon-Tues 8.30-4pm) ; C3.02C, Cockcroft bldg (Wed-Fri 8.30-4pm) pec.physics@anu.edu.au

Are you an ANU PhD candidate with teaching, tutoring and/or academic mentoring experience? Does helping your fellow students with their academic writing sound like your idea of fulfilling work?

ANU COVID Pathway to 2022