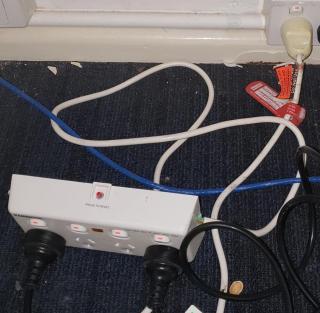 Director's Message
Dear Colleagues,
Hope you have had a relaxing weekend.
Over the next few weeks, the Heads of QST, MP and EME will start to prepare their Departments for the move into the new building in the New Year. We will be focussing on office and workstation allocation initially, with lab allocation ticking along in the background. The goal at this stage will be to assist the move into the new office space over January. I'll post a timeline and guidance in the next Event Horizon. Other groups will be affected by the remedial work in Oliphant over the next few months. I will be contacting those people in due course. My great hope is to open the building for general inspection just before Christmas, COVID restrictions permitting.
This week's pic is not a cheerful one I'm afraid. As you will be aware, Graeme Clemow, the CoS Electrical Safety Technician has spent much of this year moving through labs and offices ensuring our equipment is safe and compliant. There have been relatively few surprises along the way and I'm grateful for all the good work he has been doing. What is so worrying about the image above is that the powerboard was tagged as unsafe and vividly labelled for repair in 2013 (!). Issues like these are readily addressed; a) by asking the staff in the Electronics Unit to investigate and repair, or b) simply disposing of the device, then going to store and replacing it. It was simply luck over the past eight years that no one sustained an injury. We are all responsible for safety of ourselves and others in the workplace, please stay vigilant.
Given our recent absence from the building I'd like highlight two urgent notes below: the Oliphant bike shed and chemical waste disposal.
Have a good week,
Tim
Oliphant Bike Shed
The Oliphant bike shed is very near to demolition time. If you are aware of any bikes still in this space that you own, please contact maintenance.physics@anu.edu.au this week. All the existing bikes will be donated to charity very soon.

Final Chemical Waste Pickup for 2021
The last ACT run for 2021 will be the 8th December and will return again on 19th January 2022.
EOY Finance Processing Cut-offs
Purchase orders to be paid and processed for 2021 – please have your requisitions in ASAP.
To make sure funds are allocated ensure:
- requisition & PO raised in November
- the items & invoice to be received by the end of November (This allows for a 30 day invoice to be processed/paid in December)
To have CONCUR transactions charged against GLC's in 2021 your CONCUR has to be submitted & approved by 21/12/21.
New or updating vendors are currently taking 2-3 weeks, so please keep this in mind when ordering.
Do you have an account that is being finalised at the end of the year? Please make sure all invoices and purchases are finalised by the end of November.
Cos+CHM IDEA Community of Practice Seminar
Kelly Frame - Every Voice Project
Friday 26 November, 1-2pm
"Teaching 'Unlearning': Addressing student biases and establishing inclusive cultures"
Teaching teams, faculties, and the university are committed to fostering diverse, inclusive communities, but translating this commitment into effective teaching strategies is significantly more challenging. In the 2020 gender-inclusive teaching workshop delivered to COS, CHM, and CECS, tutors and academic staff reported difficulty or lack of confidence when it came to mediating the existing biases of their student cohorts. Gendered ideas about who can be successful in STEM are manifest in student interactions with peers and staff, and can produce negative consequences for learning and social belonging for all students, especially minority students. This presentation explores this challenge and proposes teaching practices and policies to address biases and their expression in coursework settings.
Zoom link
Meeting ID: 881 4192 4775
Password: 535 098
HDR Workshops
ANU Academic Skills in collaboration with the Research School of Physics is offering HDR students workshops on planning, writing and editing your research writing tailored to the needs of RSPhys students.
Editing for Narrative - Thurs 25th Nov, 10am-12pm
Editing for Style and Clarity - Thurs 25th Nov, 1pm-3pm
These workshops have been offered in the past and received excellent feedback from the students who attended them.
We encourage all students to make use of this opportunity to improve their writing skills.
November is... Academic Writing Month - #AcWriMo
Need to get some writing done before the end of the year? November is academic writing month!
Join the Researcher Development community online for a festival of writing, set your writing goals and have some company along the way. We will provide online writing sessions, a register for recording your output, and lots of writing workshops to help you reach your goals.
Brought to you by ANU Researcher Development team: Professor Inger Mewburn (@thesiswhisperer), Dr Cally Guerin and Dr Derek Panchuk.
Returning to Campus

Updated Process and Mask Protocols

Mail at the Store

All mail (letters, journals, magazines) is currently being received and kept at the Store. If you are expecting any mail, or wish to enquire if you have mail awaiting collection, please email store.physics@anu.edu.au.

The Stores team would appreciate if all enquiries wait for a reply email prior to presenting at the Store.

A Reminder About Reimbursements...

When seeking a reimbursement please follow these guidelines, and remember to use the updated reimbursement form found on the ANU Policy Library.

School Seminar Program - 2 December

Truth in Science - Professor Rod Boswell

Know your administrators...

L-R: Belinda Barbour, Sonia Padrun, Petra Rickman, Nikki Azzopardi, & Julie Arnold

Know your School team...

Sue Berkeley -
Finance Team Leader

Goran Radovanovic -
Stores Services

Hannah Phan - Purchasing/Finance Services

Patrick Romero - Stores/Purchasing Services

Know your student admin...

Liudmila (Luda) Mangos -
Higher Degree Research admin
C3.02C, Cockcroft bldg (Mon-Fri 9.30-5pm) hdr.physics@anu.edu.au

Siobhan Ryman -
Physics Education Centre admin and HDR
1.05, Bldg 38A (Mon-Tues 8.30-4pm) ; C3.02C, Cockcroft bldg (Wed-Fri 8.30-4pm) pec.physics@anu.edu.au

Matthias Wurdack (he/him)

Disha Kapasi (she/her)

Shridhar Manjunath (he/him)

Elizaveta Melik-Gaykazyan (she/her)

Ben Swinton-Bland (he/him)

Mahdi Davoodianidalik (he/him)

HDR Student Reps - Seeking Expressions of Interest to Join our HDR Student Reps in 2022

Do you want to become a HDR Student Rep, 'Read more' ?

ANU COVID Pathway to 2022

MYSTERY MATTER! ART COMPETITION
Open until Tuesday, 30 November