Director's Message
Dear Colleagues,
It is with sadness to write that last Wednesday, Em/Prof Sydney Hamberger, aged 92, foundation Professor of the Plasma Research Laboratory passed away in Canberra and was laid to rest last Friday. After the 1976 School review, Sydney was appointed to lead a new department that would combine the talents Plasma Physics Group, with the Homo-Polar Generator team and ultimately Theoretical Physics. Based on theoretical and experimental work over the 80's, Sydney was the prime mover in proposing the construction of a stellarator, similar to one in operation at Princeton where the group had had long standing collaborators. Known as H1 'Heliac' this became one of the largest engineering programs in the School and was a showcase for the technical design and fabrication skills in our workshop. By the early 90's, H1 was running and fostered the development of novel diagnostic techniques, as well as the opportunity for theoretical modelling of confined plasmas. Over the 25 years of operation the Heliac received several National research infrastructure grants, almost $30M in total. The image above shows Sydney firing the plasma one last time on May 8th, 2017 at a reunion of past technical and academic staff (see below). Always the enthusiast, Sydney spoke fondly that day of his experiences with his colleagues and noted his pleasure that the facility would have a new home with collaborators at University of South China. A full collection of photos from the reunion can be found here. All photos are courtesy of Martin Conway (SCU).
A reminder of the email Prof Elena Ostrovskaya (AD(R)) sent last week about the grant writing workshop on the 23rd (1000-1200). Run by Rebecca Colless of Gemaker this program has been widely praised by colleagues at RSAA and will suit applicants of all levels of experience. But hurry, spaces are limited. To register for this workshop, click here.
And to entice you to come onto campus, even just for a short visit, you will be pleased to know that the Vanilla Bean and Balmain Grocer are both open for business. And, just to make it even more palpable, Prof Jodie Bradby (Head MP) sent in a picture of her morning tea last week.
Have a good week,
Tim
Returning to Campus – Updated Process and Mask Protocols
From the 15th of November, in line with reduced ANU restrictions for COVID, Staff and students who wish to attend campus can directly utilise the following link to access the re-entry form:
https://forms.office.com/r/vLVG5mgddJ

Once you have read, understood and agreed to the form your access will be reinstated within 24hrs. This is mandatory, but no further action on your part will be required.
Visitors and external parties will need to confirm they have read, agreed and understood to the Schools COVID protocols before they can enter the School. This can be via email. Confirmation of this, the person's identity and where they are coming from must be forwarded to whs.physics@anu.edu.au before they can attend site.
This process will remain in place until the ANU reverts back low/green alert levels.
Mask wearing is now in line with ACT Health guidelines, but it is strongly encouraged that they are worn as an added safety measure. They must be worn in high risk settings such as one on one training and where multiple people are in close contact in labs or workshops.
Always check in with the

Check in CBR App

.
Maintain clean and safe working practices at all times (Sanitise hands, physical distancing, mask wearing when appropriate, etc).
Please observe occupancy numbers on doors.
Have a discussion with your supervisor about re-entry to work life.
Report it to sort it – If you see something wrong, let someone know.
Keep up to date with other changes on the ANU COVID pathway website. Be aware that local area procedures are in addition to general ANU wide procedures.
Einstein-First is an innovative approach to Physics early education, led by CGA Dist. Prof. Susan Scott and UWA Emeritus Prof. David Blair. This program aims to teach modern Einsteinian Physics to school children as young as year 3 and encourage them to take on STEM careers.
Read a brief pitch about Susan and David's efforts in The Australian Higher Education Supplement that was published recently.

Dr Michaela Froehlich (NPAA) is excited about being part of the Curious Minds STEM Coach Program 2021/2022. Curious Minds is a mentoring program for female students Year 9 or 10 to ignite their passion in STEM disciplines. As a STEM Coach, Michaela hopes that her enthusiasm for her multidisciplinary research field fosters curiosity and increases the student's interest and confidence in STEM studies and careers.

Zain Mehdi who has won the 2021 NSW Postgraduate Physics RSNSW Jak Kelly Prize at the AIP NSW Postgraduate Awards event on 9 November!
Zain was the winner of this year's John Carver prize and represented ANU at the AIP NSW Postgraduate Awards.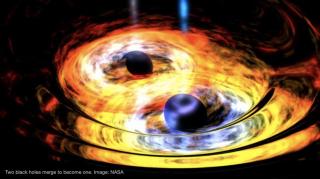 Scientists Detect a "Tsunami" of Gravitational Waves
A team of international scientists, including researchers from The Australian National University (ANU), have unveiled the largest number of gravitational waves ever detected. Thirty five mergers were detected during the latest observing run (O3b) that makes the total number of 90 detections over the course of three observing runs between 2015 and 2021. Amongst the newest data release were some remarkable findings including neutron star-black hole mergers, merger of impossible black holes, and an upside-down spinning black hole-black hole pair.

HDR Workshops
ANU Academic Skills in collaboration with the Research School of Physics is offering HDR students workshops on planning, writing and editing your research writing tailored to the needs of RSPhys students.
Editing for Narrative - Thurs 25th Nov, 10am-12pm
Editing for Style and Clarity - Thurs 25th Nov, 1pm-3pm
These workshops have been offered in the past and received excellent feedback from the students who attended them.
We encourage all students to make use of this opportunity to improve their writing skills.
ANU Templates

Do you need ANU letterhead, PowerPoint slides, or an ANU minutes template?

Sign in to ANU SharePoint for current ANU templates.

RSPhys Store

Stores will be physically staffed, though operating at reduced capacity with no face to face interactions.

Mail at the Store

All mail (letters, journals, magazines) is currently being received and kept at the Store. If you are expecting any mail, or wish to enquire if you have mail awaiting collection, please email store.physics@anu.edu.au.

The Stores team would appreciate if all enquiries wait for a reply email prior to presenting at the Store.

A Reminder About Reimbursements...

When seeking a reimbursement please follow these guidelines, and remember to use the updated reimbursement form found on the ANU Policy Library.

Departmental seminars

Weijian Chen - 18 November
Dynamical control of a non-hermitian superconducting qubit
» read more

Know your administrators...

L-R: Belinda Barbour, Sonia Padrun, Petra Rickman, Nikki Azzopardi, & Julie Arnold

Know your School team...

Sue Berkeley -
Finance Team Leader

Goran Radovanovic -
Stores Services

Hannah Phan - Purchasing/Finance Services

Patrick Romero - Stores/Purchasing Services

Know your student admin...

Liudmila (Luda) Mangos -
Higher Degree Research admin
C3.02C, Cockcroft bldg (Mon-Fri 9.30-5pm) hdr.physics@anu.edu.au

Siobhan Ryman -
Physics Education Centre admin and HDR
1.05, Bldg 38A (Mon-Tues 8.30-4pm) ; C3.02C, Cockcroft bldg (Wed-Fri 8.30-4pm) pec.physics@anu.edu.au

Matthias Wurdack (he/him)

Disha Kapasi (she/her)

Shridhar Manjunath (he/him)

Elizaveta Melik-Gaykazyan (she/her)

Ben Swinton-Bland (he/him)

Mahdi Davoodianidalik (he/him)

HDR Student Reps - Seeking Expressions of Interest to Join our HDR Student Reps in 2022

Do you want to become a HDR Student Rep, 'Read more' ?

ANU COVID Pathway to 2022

November is... Academic Writing Month - #AcWriMo

Need to get some writing done before the end of the year? November is academic writing month!

MYSTERY MATTER! ART COMPETITION
Open until Tuesday, 30 November

ANZCOP21 - November 18-19, 2021

ANZCOP 2021 is a special event of the Australian and New Zealand Conference on Optics and Photonics presented on behalf of ANZOS - the Australian and New Zealand Optical Society.