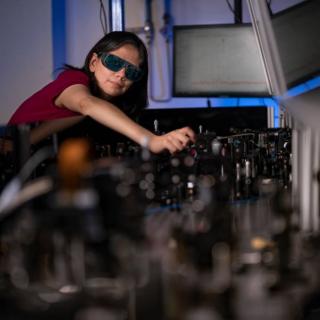 Director's Message
Dear Colleagues,
This week's pic celebrates the success of a five-year, eight-university collaboration which led to a recent article in Advanced Photonics. In this work they demonstrate how a compact metasurface composed of GaAs semiconductor nano-antennas can upconvert short-wave infrared wavelengths into visible wavelengths, all within a thin film imaging device. My congratulations to lead researcher, Dr Rocio Camacho-Morales (EME), featured above and in the Canberra Times article (image: Jamie Kidston, ANU) and to her co-authors, who include ANU colleagues; Lei Xu, Zhonghua Ma, Andrei Komar, Mykhaylo Lysevych, Fouad Karouta, Hoe Tan, Chennupati Jagadish, Mohsen Rahmani and Dragomir Neshev.
With all the collected learnings over the past 18 months, James Irwin and the Heads last week submitted our COVID-safe plans against the different ANU traffic-light stages to the Dean. In this initial plan we tentatively listed the key staff and students anticipated to require access the School under different levels of COVID alert. It is important to note two things; we have not yet specified a schedule of access times, and recognise that the actual list of names my vary. The details of our actual response will very much depend on timing and how severe the alert is. With advice from the Heads I am confident that we can finesse the recommendation to the Dean if we progress beyond blue-mask conditions.
The image at the bottom of this week's Event Horizon shows 50 spools of engineered electrical cable, kilometres worth, awaiting a massive electrical upgrade of the Heavy Ion Accelerator Facility. Together with replacement of aging switch boards this upgrade started design phase well before COVID and has remained central university supported throughout. My sincere gratitude to colleagues at Facilities & Services, our School Facilities team and the technical staff in Nuclear Physics for their combined expertise on this complex project, valued at close to $1M.
Have a good week,
Tim
(PS: Test'n'tag chocolates still waiting for a good guestimate. Hint, it's somewhere between 8,000 and 22,000! And, thank for all your assistance as the T'n'T team moves through the laboratories.)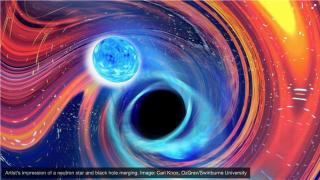 Black Holes Swallow Neutron Stars like "Pac-Man"
CGA scientists are among the international gravitational wave collaborations (LIGO-VIRGO-KAGRA) to celebrate the first confirmed detection of two neutron star and black hole binary mergers. The gravitational waves detected from these two merger events (#GW200105 & #GW200115) that occured a billion years ago, were detected by LIGO and VIRGO detectors in early 2020.

Australia-India Strategic Research Fund
The Australia-India Strategic Research Fund (AISRF) Round 14 is currently open and closes on 26 August 2021.
Grants of AU$500,000 to $1,000,000 per project, with projects to be completed by 1 January 2025.
The Australian National University (ANU) may only submit two Project applications this round in total, but only one application per priority area.
To facilitate a potential ranking process, please notify science.jaeger.rm@anu.edu.au before 5PM, Friday 9 July 2021.
ARC Assessment Process and Medical Eligibility Seminar
Dr Robert Mun, Executive Director, Engineering and Information Sciences from the ARC will be discussing details of the ARC assessment process, and how it has been modified for COVID-19 restrictions, plus some detail on the medical eligibility clause.
This session will be held on Wednesday, 14 July 2021 from 12.00 – 1.30PM via Zoom.
Please RSVP to preaward.rsd@anu.edu.au by 9AM on 14 July to receive an invite.
Metasurfaces Achieve Maximum Chirality
| | |
| --- | --- |
| | The team from Nonlinear Physics Center with collaborators from the Jilin University (China) and Institute of Crystallography (Russia) suggested and demonstrated a novel concept of maximum chirality with metasurfaces. Chirality is the geometric property assigned to objects that cannot be superimposed on their mirror images, and it has numerous applications in physics and biochemistry. |
Safety Awareness: Reverse Travel Adaptor Usage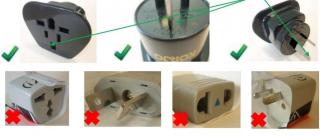 There has been a significant increase in the number of travel adaptors discovered during testing and tagging and workplace inspection programs recently at the University. These adaptors are being utilised to adapt non-compliant and potentially dangerous electrical appliances to socket outlets.
National Graduate Innovation Forum – application deadline extended (applications close 5 July 2021)
SAAFE Research Internship Program – applications are open (applications close 15 September 2021)
AINSE 2021 Early Career Researcher Grants (ECRG) – applications are open (applications close 31 July 2021)
Cooperative Research Centres – Roundtable Information, Scheme Open
Cooperative Research Centres (CRC) Grants provide funding for medium to long-term, industry-led research collaborations. Round 23 is now open, and stage 1 of the applications close on 24 August 2021. If you intend to apply, please inform the College Research Office as soon as possible.
The Cooperative Research Centres Association in collaboration with the Department of Industry will host a roundtable session on CRC bidding to coincide with the opening of Round 23 of the CRC Program.
In this roundtable, you will hear from experienced participants in CRCs, the CRC Association, and the CRC Program team on what makes a competitive bid, how to address the selection criteria and common pitfalls.
The session will take place from 2:30pm to 3:30pm on Friday 9 July 2021 via Zoom. Registration is mandatory.
3MT: Three Minute Thesis (College final)
The College of Science and College of Health and Medicine are hosting a 3MT Final on Tuesday 20 July from 1pm-3pm.
The event will be held in the China in World Auditorium and will be followed by afternoon tea in the atrium.
Oliphant Tea Room

The Oliphant tea room is open with tea bags & black coffee* only.

Please remember to bring your own cup & spoon.



*coffee grounds for garden use are available

STAFF MOVEMENTS

Cedric Simenel will be on leave 5/7/21-9/7/21

Building and Room Security Access

Please note that the school now has a general access restriction of 8am to 6pm, Monday to Friday.

If you need to complete a new after-hours risk assessment, please see the new top section here: https://physics.anu.edu.au/intra/whs/

School Colloquium - 23 July

Photonic chips harnessing thin film lithium niobate - Professor Arnan Mitchell

Know your administrators...

L-R: Belinda Barbour, Sonia Padrun, Petra Rickman, Nikki Azzopardi, & Julie Arnold

Know your School team...

Sue Berkeley -
Finance Team Leader

Goran Radovanovic -
Stores Services

Hannah Phan - Purchasing/Finance Services

Patrick Romero - Stores/Purchasing Services

Know your student admin...

Liudmila (Luda) Mangos -
Higher Degree Research admin
C3.02C, Cockcroft bldg (Mon-Fri 9.30-5pm) hdr.physics@anu.edu.au

Siobhan Ryman -
Physics Education Centre admin and HDR
1.05, Bldg 38A (Mon-Tues 8.30-4pm) ; C3.02C, Cockcroft bldg (Wed-Fri 8.30-4pm) pec.physics@anu.edu.au

Westpac Research Fellowship

The Westpac Research Fellowship is an exceptional opportunity for the very best early-career researchers to apply for one of Australia's most prestigious Fellowships, valued at over $400,000 over 3 years. Applications are now open, and close Wednesday 25 August 2021.

Please contact the RM team if you intend to apply for this opportunity at your earliest convenience.

OFF CAMPUS FLU VACCINATIONS
The University is committed to supporting our staff to maintain their health and wellbeing during the upcoming influenza season and for this reason is ensuring that FREE flu vaccinations for staff are available again this year.

Opportunity for PhD and Early Career scientists: Global Young Scientists Summit (GYSS)

The ANU has been invited to participate in the milestone 10th anniversary edition of the prestigious Global Young Scientists Summit (GYSS) 2022 to be held online from 18 to 21 January 2022.