Event Horizon

Research School of Physics
| | |
| --- | --- |
| | Weekly newsletter | vol 46 no 19 | 17–21 May 2021 |
Director's Message

Dear Colleagues,

This week's pics shows members of the National Association of Women in Construction (NAWIC) being jointly host by our friends at Hindmarsh and Physics colleagues. I am grateful to Prof Elena Ostrovskaya (AD(R)/NLPC) for opening the event, supported by Profs Jodie Bradby (EME), Lan Fu (EME) and Nanda Dasgupta (NP) who each presented a vision of their research to the large audience. My thanks to Julie Arnold and her admin colleagues for arranging the catering. Above: Elena leads the introduction to Physics, and Jonathan De Puit (Hindmarsh) leads the site tour. At the bottom I've included an assortment of images from the tour (image credits: Rohan Thomson, Pew Pew Studio)

The magnificent new building provides a valuable and timely vehicle for public engagement. If you have ideas for particular tour groups, now or after the opening, please let me know.

General items for note, but see below for detail. Second semester will see teaching return to 100% occupancy. Yay! All those interested in discussing the future of lab coursework a meeting will be held on Wednesday. There is some urgency in reviewing the offerings if we are to influence the teaching program for 2022. Finally, please look at some of the funding programs below. Increasingly, you will see opportunities for translational research. Please take the chance to talk to your Heads and supervisors about shaping a portion of your research to include partnerships beyond traditional academic collaboration.

Finally, there is wonderful opportunity to see the entrepreneurial journey lidar company Baraja has taken. Founder, Cibby Pulikkaseril with be presenting their next week, hosted by the ANU Engineering Student Association, with some assistance from Computer Science and Physics Student associations. Please see details below and note this is a public talk. It is different from the more technical talk scheduled in CGA and currently rolling on our video screens.

Have a great week, stay warm.
Tim

Baraja Information and Q&A (26th May 2021)

Cibby Pulikkaseril, Founder and CTO, Baraja Inc

Baraja's mission is to deliver LiDAR to support the autonomous vehicle revolution; an audacious, ambitious race to transform human mobility and in doing so, change society for the better. Baraja inhabits an industry driving some of the brightest minds to overcome herculean challenges – and we want to help.

Campus Operations

Campus operations will return in all education (teaching and examinations) spaces to 100% for semester 2 2021 with effect from 01 July 2021.

100% capacity will only be used at the ANU Campus Alert System LOW Risk (Blue traffic light) level and the 'COVID Normal' Stage of Canberra's Recovery Plan. If the risk level increases to MEDIUM, capacity will be reduced to no more than 50% and the wearing of masks will be mandatory. At HIGH level or above, face-to-face teaching will cease.

Culture and Inclusion Officers – Call for Expression of Interest

Call Requirements and Nomination Process
Culture and Inclusion Officers are going to be visible members of our School that volunteer their knowledge and skills to further Physics as an inclusive and welcoming environment for all people. These officers will be available to all Physics staff and students for guidance regarding any personal or structural concerns.

You will be a go-to person when members of our community are struggling to navigate where to go, what to do, who to speak to…

We are looking for academic staff, researchers, technicians, administrators, HDRs and undergraduates!

If this role interests you, we would like to consider you as one our Cultural and Inclusion Officers. For more details about the role please 'read more'.

Please contact Mary Gray (mary.gray@anu.edu.au) or James Sullivan (james.sullivan@anu.edu.au) if you are interested in volunteering for the role of CIO.

Student participation in the Australian Institute of Physics

The Australian Institute of Physics (AIP) invites all students with an interest in Physics to participate in the AIP, by becoming a Student Associate. If you have graduated with your AIP-accredited BSc then you are invited to become a Member (MAIP).

The AIP is the professional body working to promote the role of physics in research, education, industry and the community, both in Australia and internationally, and represents over 1000 physicists.

2021 Office of Naval Research (ONR) Global Research Opportunity: Global-X Challenge

The 2021 Office of Naval Research (ONR) Global Research Opportunity: Global-X Challenge is an annual funding opportunity from the DoD specifically targeted to non-U.S. researchers. In other words, the lead PI must be from a non-U.S. organisation. Last year, two of the four awards were made to Australian-led teams: the Royal Melbourne Institute of Technology, and Western Sydney University.

Awards are up to $500K for an initial 9 month project addressing defined challenges in Persistent Polar Perception, High Latitude High Bandwidth Communications, and Alternate Navigation at High Latitude.

White Paper Submission Date – 28 May 2021 23:59 Eastern Daylight Time (EDT)
Notification of White Paper Valuation – Expected 11 June 2021
Full Proposal Submission – 9 July 2021 23:59 EDT
Grant Award – Expected 24 September 2021

Please notify the Research Office of your intent to apply as soon as possible.

Andrew Thomas Space Foundation

The Andrew Thomas Space Foundation supports space education and outreach in Australia and to inspire young people to pursue careers in space by building a culture of entrepreneurship and igniting a curiosity for space and related scientific activities.

Last month the first ATSF Education Found launched including five programs which support scholarships and awards/prizes.

Australia-US International Multidisciplinary University Research Initiative (AUSMURI) 2021

AUSMURI operates in conjunction with the United States Department of Defense's Multidisciplinary University Research Initiative (MURI). It encourages partnerships between Australian and US-based institutions. If an Australian university is part of a successful submission to the US MURI for a research project on the designated topic, it can then apply for AUSMURI funding for that project. The AUSMURI program will provide 100% of eligible project costs up to a maximum of AUD$1 million per year over 3 years. Projects may be extended for a further 2 years, subject to approval, with additional funding of AUD$1 million per year.

The designated topic for AUSMURI Round 5 is: Bio-architected Responsive Materials with 3D Nanoscale Order (Topic 9)

Oliphant Tea Room

The Oliphant tea room is open with tea bags & black coffee* only.

Please remember to bring your own cup & spoon.



*coffee grounds for garden use are available

HDR Student Office

Luda Mangos will be on leave between 26 April and 21 May.

The HDR Student Office in the Cockroft building will be unattended on Mondays and Tuesdays during this time.

HDR enquiries can be directed to Siobhan Ryman on ext x52747 (Monday - Tuesday), x55195 (Wednesday - Friday), or by email on hdr.physics@anu.edu.au.

Siobhan will be in the HDR Student Admin office on Wednesdays, Thursdays and Fridays.

Open Meeting: Lab and Experimental Program for Physics ANU

**For anyone interested**

Time: 11-12 Wed May 19th 2021
Place: 1st year labs (Ground floor, Physics North)

For more information please contact Jodie Bradby.

Kitchen Etiquette

Can all RSPhys staff/students please be aware of the following kitchen hygiene/etiquette that we must follow to maintain a clean and healthy working environment at RSPhys.

Departmental seminars

Mr Alexander Kiy - 21 May
Design of novel applications in solid-state nanopore membranes
» read more

School Seminar Program - 27 May

Quantum microscopy of elementary charges in ambient conditions, An introduction to Quantum Brilliance Pty Ltd & The Army Quantum Technology Roadmap: opportunities for ANU - Dr Marcus Doherty

Know your administrator...

Julie Arnold - EME & NLPC

Petra Rickman - NP/HIAF & ARC CDM

Belinda Barbour - DQS

Nikki Azzopardi - AM, CPF, LPC & TP

UA-DAAD Joint Research Cooperation Scheme 2022 - Unavailable

A reminder to all that ANU will not participate in this year's UA-DAAD Australia-Germany Joint Research Cooperation Scheme (2021 for funding in 2022). Please do not draft applications for this scheme.

Free Flu Vaccinations

ON and OFF CAMPUS FLU VACCINATIONS
The University is committed to supporting our staff to maintain their health and wellbeing during the upcoming influenza season and for this reason is ensuring that FREE flu vaccinations for staff are available again this year.

The University has two options for receiving the flu vaccination – either on campus at the National Health Co-Op or off-campus by accessing a voucher code to be used at a Terry White Chemist in Canberra.

Check In CBR App

All RSPhys meeting rooms and teaching spaces now have a QR Code located at their entrance. It is encouraged that everyone at RSPhys use the Check In CBR app when using these rooms, as this will enable the 1 person per 2m2 rule, and follow ACT Health guidelines for improved contact tracing.

It is mandatory for all RSPhys visitors to use the Check In CBR App to 'check in'. An additional check in point is located at RSPhys reception. If you require a QR code for your area, please contact whs.physics@anu.edu.au.

1.5m physical distance must still be followed in all scenarios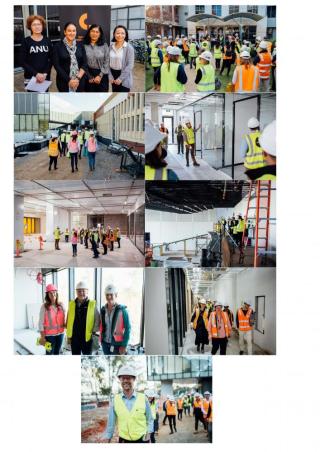 1. Left to right: Professors Elena Ostrovskaya, Jodie Bradby, Nanda Dasgupta and Lan Fu.
2. Elena checks the group in with the CBR COVID safe app.
3. Walking up the new entrance.
4. Brett Price (Hindmarsh) describes the new offices.
5. Inside the cleanroom.
6. The auditorium takes shape.
7. Catherine Carter (Salon ACT), Domenic Staltari (Hindmarsh) and Peita de Boer (President, NAWIC ACT).
8. Sarah O'Callaghan (F&S, ANU) leads a group near the stable labs.
9. The indefatigable Jonathan De Puit (Hindmarsh) smiling as always!
---
The Australian National University, Canberra | CRICOS Provider : 00120C | ABN : 52 234 063 906
---
If you do not wish to receive future emails from us, please unsubscribe.