Director's Message
Dear Colleagues,
Welcome back, I hope you had a pleasant weekend. This week's pic was provided by Professor Patrick Kluth (EME) and shows details from a recent and successful trip to the Australian Synchrotron. Pictured is an in situ cell, which facilitates x-ray measurements of novel membranes in a hot caustic liquid environment, with precisely controlled temperature and transmembrane bias. The two reservoirs on each side of the membrane have different liquid inlets that are connected to a set of syringe pumps. The cell was manufactured in the RSPhys workshop and has been refined many times over the last few years. Patrick would like to acknowledge the detailed work by Mark Grigg in the Electronics Unit.
The Implementation Schedule has been updated, with particular note to the timing of new Head appointments. I am aiming to announce the five new Heads around Easter time. From that point the department naming discussion should accelerate in time for the first School Executive the week after School holidays. I hope people are relaxed that the schedule is stretching a little. I certainly am. I always expected this and understand the need to accommodate the busyness we are all experiencing.
Lastly, some fresh images from the building. Last week, Simon Foxcroft arranged for an onsite demonstration of the sophisticated orbital welding of our specialty gas lines. The company undertaking this immense task has been onsite for 9 months, each weld requiring validation at every join. The multitude of novel gases required for the cleanroom can be seen below, as well as a picture showing half the cleanroom floor complete. On Saturday morning, strolling along Lake Griffin I was pleased by the appearance of our new landmark, poetically illuminated.
Have a good week,
Tim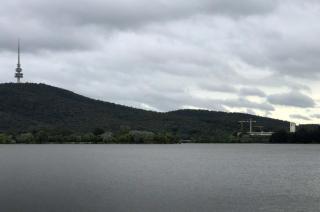 Helping HDR candidates with their career options
PostAc helps HDR candidates become more aware of the incredible range of employers looking for their talents on graduation.

Developed by ANU and Data61, PostAc is a rich, searchable database of jobs for researchers outside academia, identified by machine learning algorithm. The database contains jobs in a huge range of industries and can be used by students to look for that perfect job now or work out what they might need to succeed in the competitive job market.
Upcoming Researcher Development Events
| | |
| --- | --- |
| | ANU Researcher Development coordinates and facilitates workshops, events, and competitions to develop your skills even further. |
National Library of Australia 2022 Fellowships
Apply for a National Library Fellowship
The National Library has diverse collections that support, inspire and transform research. Fellowships enable scholars, writers and researchers to conduct intensive research into our collections in a supportive, intellectual and creative environment.
Tunable Mie-resonant metasurfaces 
| | |
| --- | --- |
| | The team from the Nonlinear Physics Center, in collaboration with colleagues from the CNRS Institut des Nanotechnologies de Lyon (France) demonstrated Mie-resonant silicon-based metasurfaces tunable via the insulator-to-metal transition of a thin VO2 layer with reversible properties at telecom wavelengths. Tunable dielectric metasurfaces may find their applications in various photonics technologies including optical communications, information storage, imaging, detectors, and sensors. The paper has been published in ACS Photonics (Impact Factor 6.88). |
Oliphant Tea Room

The Oliphant tea room is open with tea bags & black coffee* only.

Please remember to bring your own cup & spoon.



*coffee grounds for garden use are available

STAFF MOVEMENTS

Julie Arnold will be on leave 25/3/21-9/4/21

Lee Philip will be acting Facilities and Services Manager 8/3/21-5/4/21

Building and Room Security Access

Please note that the school now has a general access restriction of 8am to 6pm, Monday to Friday.

If you need to complete a new after-hours risk assessment, please see the new top section here: https://physics.anu.edu.au/intra/whs/

Hot Cross Buns

There will be a School morning tea with Hot Cross Buns on Thursday April 1st, 10:30am in the Oliphant Tea Room.

Departmental seminars

Mr Jacob Buete - 24 March
The Asymmetric Two-Centre Shell Model and its Applications
» read more

Know your administrator...

Julie Arnold - EME & NLPC

Petra Rickman - NP/HIAF & ARC CDM

Belinda Barbour - DQS

Nikki Azzopardi - AM, CPF, LPC & TP

Check In CBR App

All RSPhys meeting rooms and teaching spaces now have a QR Code located at their entrance. It is encouraged that everyone at RSPhys use the Check In CBR app when using these rooms, as this will enable the 1 person per 2m2 rule, and follow ACT Health guidelines for improved contact tracing.

It is mandatory for all RSPhys visitors to use the Check In CBR App to 'check in'. An additional check in point is located at RSPhys reception. If you require a QR code for your area, please contact whs.physics@anu.edu.au.

1.5m physical distance must still be followed in all scenarios

Boosting Female Founders Initiative – Round 2 now open

NHMRC schemes opening in 2021 (Q1)

The College of Science Research Office (CRO) is now inviting notices of intent (NoI) to submit applications for the following schemes opening in 2021.