Event Horizon

Research School of Physics
| | |
| --- | --- |
| | Weekly newsletter | vol 45 no 25 | 22–26 June 2020 |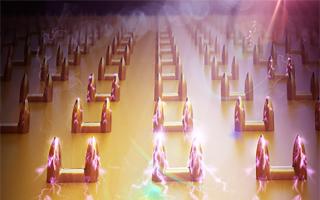 Director's Message
Dear Colleagues,
I hope your weekend was relaxing. I enjoyed seeing the country out near Yass drinking up the rain, in stark contrast to now distant memories of a parched summer.
To kick the week off it is a pleasure to share with you the image above, straight from the cover story of the latest Nano Letters graphically representing a novel plasmonic metasurface. My congratulation to all the co-authors, who include Mr Kirill Koshelev (student) and Distinguished Professor Yuri Kivshar (Head) from the Non-Linear Physics Centre. Kirill delivered an excellent School seminar only last week. I invite you to discover more about this in the Research portfolio below.
Today you will read an important message from our College Dean, Professor Kiaran Kirk. I wish to underline the sentiment embodied in the topics he raises. Firstly, the constraints Kiaran details are very real and you may already have discussed the RSPhys measures with your Head. Kiaran emphasises the individual need to consider and act, a deliberate response which becomes amplified across the ANU over the immediate timeframe. He also stresses the imperative of seeking future funding opportunities. Simply put, for the remainder of this year, where possible, conserve and build capacity for new initiatives in 2021. The clear message is not to shy away from future opportunities, as lean as this year may be. In the New Year, some restaging of our mission in new directions will be the most sensible response to a rapidly evolving tertiary sector.
Some of the fresh headlines around changes in university fees disguise some of the opportunities around post-graduate education, all of which will need closer evaluation as the VC notes in his last blog. As a research intensive teaching School I believe are well equipped to capitalise on this changing tertiary landscape. It will require some agile thinking, but that's what we do. The Working Parties are very timely and will help shape where we need to be, emerging from 2020 and ready.
Have a great week,
Tim
A message from the E&D committee: This week - Further to the #shutdownSTEM action and the email (see read more below) from the Director about watching "13th", here are some more resources from the US movement Black Lives Matter on topics relevant to the academic environment. Film Club - join in for a zoom discussion Monday 22 June @ midday after viewing 13th in your own time.
For an Australian perspective, Yorta Yorta woman Summer May Finlay, a researcher at the University of Wollongong, said non-Indigenous Australians should first educate themselves about how they benefit from Indigenous dispossession and inequality. "They can actively start thinking about themselves and what they do to contribute to ongoing discrimination or at least maintaining the very crappy status quo of Aboriginal and Torres Strait Islander people," she said. She recommended learning about the Stolen Generation through the testimonies and videos on the Healing Foundation website, reading Bruce Pascoe's book Dark Emu, and watching the ABC TV program First Australians. (This paragraph is taken from ABC's program Hack.)

This weeks update includes - 3 Minute Thesis Competition, Researcher Training, HDR Working Party, COVID-19 extension scholarship eligibility and an email from the HDR Dean re: Safe Corridor Pilot.
This weeks update includes - Congratulations to Kirill Koshelev and Yuri Kivshar (NLPC) on their cover story in Nano Letters.
New Purchasing Guidelines and Requirements
In the current financial climate and with the University's Expenditure Control Framework (ECF), there have been changes to purchasing requirements and credit card use at the School. In general R ledger and ANU purchase cards should not be used without approval. Please see the updated purchasing page for details.
Cyber Security Update
With the level of Media around Cyber Security and threats within Australia recently it is a good time to ensure that internet connected devices are up to date with the latest security patches both at home and work (computers, laptops, phones, routers, IoT devices, etc). Be vigilant of phishing or scam emails and ensure that passwords are appropriately secure. The ANU CISO provided a good range of advice on this topic last year. A guide to cyber-security at home can be downloaded here.
First Aid Officers and Fire Wardens are needed
With the increased number of staff and students returning to Campus we have a need to ensure adequate first aid and warden coverage. We have an urgent need for more first aid officers and need some additional floor wardens.
Return to Campus Acknowledgements
Returning to campus? Please see below regarding the relevant protocols requred for RSPhys staff and ANU HR.
Winter sunflowers from Luda Mangos' garden, a project from her daughter, a young naturalist at heart. She only planted the seeds in autumn and they have just flowered!
---
The Australian National University, Canberra | CRICOS Provider : 00120C | ABN : 52 234 063 906
---
If you do not wish to receive future emails from us, please unsubscribe.