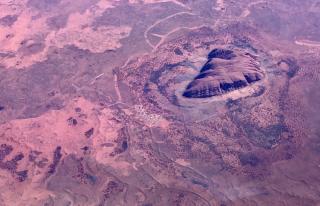 Director's Message
Dear Colleagues,
Welcome to autumn!
The theme for International Women's Day this year is "An equal world is an enabled world". It's a positive message for everyone and you are invited to join the School for morning tea on Friday to celebrate IWD happening on Sunday (see details below).
Over the next few months your Head of Department will be revising their 3-6-9. They will be speaking with you about your contribution to the Department vision and it is a great chance to build this into your PDR. Please start the discussion with your Head as soon as possible as it will help frame their next 3-6-9.
The new-look School Forum run by Prof Jodie Bradby (Academic Board rep) will be held tomorrow at 10.
This week's pic comes from 10,000m above Uluru, the sacred site of the local Pitjantjatjara people and more broadly for the Anangu peoples of the Western Desert. I was fortunate to catch this wonderful sight in late afternoon light on my way home from India. During the year members of the School travel widely around the world. Sue and I always welcome interesting photos from your travels for the Event Horizon.
Have a great week,
Tim

Congratulations to Prof. Yuri Kivshar and his collaborators on publishing their work in Science. This work continues Yuri's research on bound states in the continuum (BICs), and demonstrates a vortex BIC microlaser switch with switching time as low as 1.5 ps and energy consumption orders of magnitude lower than those reported previously.
International Women's Day
Please join us for morning tea on Friday 6th March @10:30 in the Oliphant tea room to celebrate International Women's Day. There will be a ribbon cutting at the "Women in Physics ANU" display board.
An equal world is an enabled world. Individually, we're all responsible for our own thoughts and actions - all day, every day. We can actively choose to challenge stereotypes, fight bias, broaden perceptions, improve situations and celebrate women's achievements. Collectively, each one of us can help create a gender equal world. Let's all be #EachforEqual. image:@artby_misspolly
Call for new members - Physics E&D Committee
| | |
| --- | --- |
| | We are calling for new members for the Physics Equity and Diversity Committee. Anyone who might be interested in contributing to the school's ongoing work in the area of equity and diversity to contact us. |
HDR Student Representatives
| | |
| --- | --- |
| | The Research School of Physics (RSPhys) seeks nominations for new Higher Degree Research (HDR) student representatives for the School as current representatives will step down from 1 April 2020. EoI closes 20 March 2020. |
8 more PhB Mentors are still needed
| | |
| --- | --- |
| | Thank-you to everybody who supported the PhB physics students in 2019 by supervising projects and serving on the marking panel. Your time is always appreciated. This year we need 16 mentors. Please see below for further details and contact Jodie Bradby. |
In 2017, Diversity Council Australia, Suncorp and Novartis partnered to create a national Inclusion@Work Index to track the state of inclusion in Australian workplaces over time. The second biennial survey, conducted in 2019, shows that Australian workers overwhelmingly support inclusion initiatives. It also shows that Australian organisations need to do more to combat harassment and discrimination, particularly of Aboriginal and/or Torres Strait Islander workers, and workers with disability. In 2019, as in 2017, these workers experienced the highest rates of workplace discrimination and harassment of any demographic group.
Tuesday 3 March 2020
10:00 -11:30
Oliphant Tea Room

6 March
Dr Cibby Pulikkaseril
ARC Centre of Excellence for Transformative Meta-Optical Systems (TMOS)Industry Seminar along with Nonlinear Physics Centre and Electronic Materials Engineering present: Introductory to automotive LiD
» read more

Training courses for supervisors and managers

This weeks Courses:
Cultural Capability
Performance Coaching|
Building Resilience for High Performing Teams
Managing Staff Grievances

Carers' Career Development Assistance Fund

25 March deadline

Physics South Orientation
Every Monday at 10:00am all new starters are invited to meet at reception to have a short tour of the School's central areas and receive a welcome pack.

Bookings are not required.