Director's Message
Dear Staff and Students,
Despite the recent milder weather, ACT is still in the state of alert. Please continue to be vigilant and regularly check the ESA website for updates. If you and your immediate family have been directly impacted by the bushfires and need additional support, please talk to your supervisor or DA in the first instance.

It's that time of the year again for ARC DP21. If you are putting in an application, please remember to submit the required information to Associate Director (Research) Prof. Elena Ostrovskaya, by 17 Jan.
The College hard deadline is 19 Feb.

Please note your diaries, for the 2020 Commencement Address on 17 February 2020. The Commencement Address is the formal welcome for all new students at ANU. It's an opportunity to hear from the Vice-Chancellor, notable graduates and other great speakers about what makes ANU such an exciting place. Expect a fun event full of colour and excitement and the opportunity to get to meet some fantastic people.
Hoe Tan
Acting Physics Director
2020 Mike Smith Student Prize
| | |
| --- | --- |
| | The Mike Smith Student Prize awards $3000 to an outstanding research essay addressing the history of Australian science or Australian environmental history. Submission deadline: 9 am AEDT Monday 20 January 2020. |
Quantum Characterization of Intermediate Scale Systems (QCISS)
The U.S. Army Research Office (ARO) in partnership with the National Security Agency (NSA) is soliciting proposals for research in Quantum Characterization of Intermediate Scale Systems (QCISS). Applications due 28 January 2020.

Robotics, Automation and Artificial Intelligence (AI) Command and Control Centre and Mission Control Centre. The Space Infrastructure Fund: Mission Control Centre grant opportunity is an open, competitive grant opportunity that will award a single grant to establish a mission control centre on the ground floor of the McEwin Building at Lot Fourteen in Adelaide. Deadline 18 February 2020.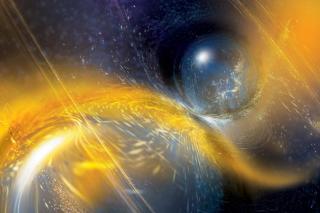 Detection of the second ever Neutron Star Merger
Centre for Gravitational Astrophysics (CGA) incorporating the ANU node of OzGrav contributed to the detection of a collision of two neutron stars earlier in 2019—only the second time this type of cosmic event had ever been detected. The gravitational-wave observatory network, that includes the National Science Foundation's LIGO and the European Virgo detectors, picked up what appeared to be gravitational ripples from a collision of two neutron stars.
Grant support for researchers affected by bushfires

If you are impacted by the current bushfires personally or professionally, the College Research Office can advise you on options available with regard to extensions to application deadlines and post-award reporting obligations.

Summer School - CANCELLED

Unfortunately the summer school has been cancelled due to the unpredictability of the situation generated by the bush fire crisis in the coming two weeks.

Physics in the Pub

Quantum Conformity, Mesmerising Maths and Laser Levitation

When: 6.30 PM 17th January 2020

Where: Badger and Co, Kambri, ANU Campus

Director's Office
Tim Senden will be away from 1 - 31 Jan. The acting Director will be Hoe Tan.

DQS
John Close will be on leave 1-29 Jan, Ben Buchler will be acting HoD during this period.

NP
Andrew Stuchbery will be away 23 Dec - 2 Feb. Tibor Kibedi will be acting HoD during this period.