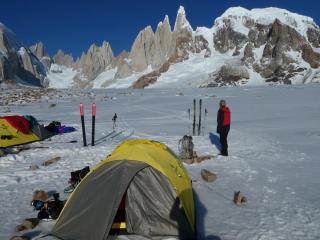 Director's Message
Dear Colleagues,
Spring keeps treating us to wonderful weather. Fingers crossed for Founder's Day on Friday.
I'd like to draw your attention to three masters programs, two new programs for Physics which will help graduates to translate and excel in emerging industries, and a long standing and world renowned program from the Centre for the Public Awareness of Science which will help graduates harness the art and science behind science communication. Places are limited and close soon, details below.
The glorious image above was sent in by Professor Ken Baldwin in an 8 day traverse of the Patagonian icecap - the largest outside Greenland and Antarctica. He is seen here looking up from their camp below Cerro Torre, having earlier climbed Gorra Blanca (2907m). Unusually, they have had perfect blue sky and windless conditions for 5 days running, noting the more typical Patagonian extreme conditions have bookended the trip.
A good colleague and past member of our School, Associate Professor Gerd Schroeder-Turk, is facing a legal action by his university for his role in disclosing his observations of the conditions some students face at his university (ABC's 4Corners report ). Many individuals, research groups and several National representative bodies, including our AIP have banded together in support of him. If you would like to throw your support behind Gerd please see the NTEU site, http://www.nteu.org.au/Istandwithgerd
We're in the last half of National Work Safe Month and I am very grateful to all those assisting the School in preparations for the upcoming ARPANSA site inspection. The pic below shows one of the many team efforts in coordinating the complex and important exercise.
Have a good week, see you at Founder's Day.
Tim
PS. Please note that the Founder's Day Quiz (right) has been opened up to include staff this year. Good luck!
Outreach @ Physics North
| | |
| --- | --- |
| | Elliot Davis, past student and now head of science at Lake Tuggeranong College works with a year 11 student to build a solar passive house. Two groups came for an afternoon to construct and instrument their houses. |

After the euphoria of 2018, this year's Nobel prizes in chemistry, medicine and physics have again all been awarded to men, however, there are ways to encourage change.
| | |
| --- | --- |
| | Want to change society and assist in the transition to the new age of Quantum Science? Dig into the frontier of quantum technology, covering topics such as unbreakable cryptography, faster computers and quantum phenomena with the Master of Science in Quantum Technology. |
| | |
| --- | --- |
| | Technology is advancing more and more everyday, and this program will prepare you to be at the forefront of the technology revolution. Learn how technology works, how to advance it and how to measure it all. Be at the frontier of the development of new and more precise instrumentation with the Master of Science in Precision Instrumentation and Measurement. |
| | |
| --- | --- |
| | Master of Science Communication Outreach / Shell Questacon Science Circus! This unique one-year, scholarship-supported Masters program – including adventures with the Science Circus – is an ideal springboard into a science communication career. |
Courses for HDR Students
6 Nov - Thinking resiliently as a researcher
6 Nov - Maintaining the research balance
7 Nov - The emotionally intelligent researcher
7 Nov - Managing research relationships
| | |
| --- | --- |
| | 6 and 13 November - Writing workshops for Physics HDR students on: Writing up results with logic, clarity and style, Editing your work and Individual writing advice |
R&D opportunity with Japanese optical manufacturer
ARC Laureate and Future Fellowships - Schemes Open
Funding Opportunities from Research Professional Website
Industry Engagement Bootcamp (Repeat session). Wed 27th Nov, 9am-4:30pm @ Common Room, University House, ANU.
Achieve better and faster collaboration with industry with this full day, intensive workshop. To join the waitlist for this session, please complete the short EOI- link below.
70 Years of Physics

Friday 25 October 2019
9:00 - 2:30
Leonard Huxley Theatre and Patio - Program details here

Founder's Day Quiz

This Quiz is open to all staff members and graduate students. The deadline for submission is 11am, 24th of October, 2019. Prizes are availble for the top three entrants.....good luck.

October Seminars

23 October
Prof Stephen Hyde
Tangling: between geometry and topology
» read more

JCoS Public Lecture

28 October
5.30 - 6.30
A/Prof Ian Cockburn
Vaccines to eradicate malaria: Impossible, Improbable or Immminet
The Finkel Lecture Theatre

RSAA Colloquia

31 October​
11:00-12:00
Dr Peter J Riggs​
Time Dilation and Rates of Flow of Time​
Duffield Lecture Theatre

Nuclear Reactions - Workshop

Monday, 4 November
Physics Seminar Room

This workshop proposes to gather experts of the Sub-atomic Physics community to explore nuclear reactions and their applications, from astrophysics to medicine.

Changes to OneStop and Concur have been introduced to allow a self service, online reimbursement, when cards are accidentally used for personal use.

Christmas Shut Down

The University will be closed for business....

HR Drop-in Sessions

HR does a drop-in session from 10am-11am in the Oliphant Fishbowl, for anyone who needs advice or guidance on any HR related matters.

Wednesday 13/11/2019
Wednesday 11/12/2019

Department Meetings

There are no department meetings scheduled.

Physics South Orientation
Every Monday at 10:00am all new starters are invited to meet at reception to have a short tour of the School's central areas and receive a welcome pack.

Bookings are not required.