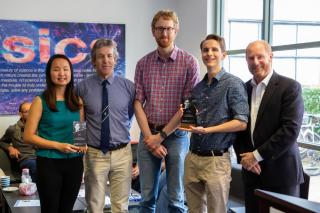 Director's Message
Dear Colleagues,
Recognition of our strength in Category 2/3 funding has been an ongoing highlight these past few weeks, and not least with the recent announcement of the Defence Next Generation Technology round on Quantum Technologies in which Physics won 3 of the 11 National wide projects. Congratulations go to the groups of A/Professor Matt Sellars (LPC) and Professors Ping Koy Lam and John Close (DQS) on their award of this important funding round totalling almost $3M. Quintessence Lab, a spin-off from DQS was also awarded a project.
My sincere thanks go to A/Professor Matt Sellars for his service as our inaugural Associate Director (Infrastructure). Matt is soon to step down from this role and an Expression of Interest will open to seek his replacement. As the first in this position, he has helped to define this important part of the School Executive and has been a constant and strong voice for the technical capability in our School. I greatly appreciate all he has done.
A reminder for all those who wish to work with vulnerable people that while the University is currently implementing a process that will facilitate this registration with the ACT Govt, the School will reimburse you for the cost of registration. Please bring your receipt to Sue Wigley.
This week's pic by Martin Conway at the presentation of the new-look John Carver Prize for the two top Honours students each year. From left to right; Kay Song (2018 awardee), Professor John Carver (son of the late John Carver), Dr Andrew Horsley (grandson) and Lachlan Oberg (2018 awardee).
Have a good week,
Tim
2019 Market Day in RSPE
Save the Date - 13th August, 11:30-2:00, Physics South
Staff Flu Vaccinations – Appointments open
Congratulations
| | |
| --- | --- |
| | Congratulations to visiting NLPC student, Liza Melik-Gaykazyan, has been just been listed on the Russian Forbes list "30 under 30" for her contributions to science and technology. |
15 April - RSPE Distinguished Lecture - Prof Molly Shoichet
15 April @ 12:00 Finkel Theatre
Tools of the Trade: Engineering the Cellular Microenvironment with 3D Culture and Protein Affinity Release.
This is a jointly sponsored event with the Research School of Engineering
15/16 April - ASD - Capture the Flag
| | |
| --- | --- |
| | Capture the Flag (CTF) is a friendly competition consisting of assorted cyber security and cryptography problems and puzzles run by the Australian Signals Directorate. |
17 April - Thesis Proposal Review
HDR students are invited to attend a workshop on Thesis Proposal Review offered by the Academic Skills and Learning Centre and tailored to STEM students needs.
29 April deadline - APEC Science Prize for Innovation, Research and Education
The ASPIRE Prize is an annual award which recognises young scientists from APEC economies who have demonstrated a commitment to both excellence in scientific research.
30 April - Australian Academy of Science
The Academy is seeking nominations from existing Fellows of the Academy for diversity candidates, especially female scientists, for consideration for election into the Academy. Diversity candidates may be suggested via the Fellowship Director, Karen Holt (by email to fellowship@science.org. au), by 30 April 2019. Please include the proposed candidate's full name, email address, field/s of science and a brief statement (up to 150 words) on their scientific achievements.
16 May - Review of ARC's Implementation of National Science and Research Priorities
Equity and Diversity
| | |
| --- | --- |
| | On Monday The Hon Karen Andrew, Minister for Science and Industry launched the Women in STEM Decadal Plan at Parliament House. The decadal plan outlines six opportunities to strengthen gender equity in STEM in Australia over the next 10 years, including establishing a national evaluation framework to guide decision making and drive investment and effort into STEM measures that work. |
Director's Colloquium

9 April
Prof Graham Farquhar
Using simple mathematics to explore the plant-atmosphere exchange of carbon dioxide, oxygen and water vapour.

Departmental Seminars

10 April
Mr Lachlan Deakin
Mid Term Review
» read more

11 April
A/Prof Conrad Burden
Branching processes in Population Genetics: Most recent common ancestors and genetic mutations
» read more

12 April
Prof Hyeon K. Park
Newly uncovered physics of critical MHD and Alfvénic instabilities with 2-D imaging diagnostics in tokamak plasmas
» read more

12 April
Ms Andrea Hadley
Development of Novel Nanopore Membrane Technologies
» read more

EME
Julie Arnold is away 17-26th April
Patrick is away 23-26/4 there will be no acting HoD

TP
Cedric Simenel is away 8-26 April, Vladimir Bazhanov will be acting HoD

Contacts for RSPE – College Jaeger Hub

Bin liners

With the changes to the ANU's cleaning contract with ISS, office bins are no longer serviced. Staff are expected to maintain their own bin and liners are now available from stores.

RSPE Orientation

Every Monday at 10:00am all new starters are invited to meet at reception to have a short tour of the School's central areas and receive a welcome pack.

Bookings are not required.