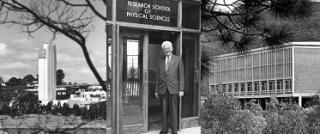 Director's Message
Dear Colleagues,
It is with deep sadness that I inform you of the passing of Professor Jacob Israelachvili, one of the key founding members in the early days of Department of Applied Mathematics. From 1974 to 1986, Jacob achieved a revolution in the measurement of intermolecular forces (DOI: 10.1039/f19787400975) with equipment designed and built by expert technicians in Applied Maths and the central workshop (notably: Allan Reading, Anthony Hyde and Tim Sawkins). In the years to come this instrument, aptly named the Surface Forces Apparatus, was sold to over 35 collaborating laboratories world-wide. Many of his most famous papers were written in this time, a momentum he maintained for decades to come with over 45,000 career citations and an H-factor making an easy Century. His landmark paper on theory of molecular self-assembly, co-authored with Prof Barry Ninham and A/Prof John Mitchell, is still one of the most cited from this School (DOI: 10.1039/f29767201525) and has had huge influence on modern biology. Jacob received the Pawsey Medal in 1977 and the Mathew Flinders Medal and Lecture in 1986. He moved to Santa Barbara in 1986, to take up an appointment as professor at the University of California (UCSB) where he remained until his death. An obituary can be found here.
With great pleasure I announce the Jagadishwar Mahanty prize for the best thesis submitted by an RSPE postgraduate student between 1 July 2017 and 30 June 2018 has been awarded to Dr Alexey Slobozhanyuk (Non-Linear Physics Centre). Alexey's prize will be celebrated officially at Founder's Day. I would like to congratulate Dr Katie Chong (Non-Linear Physics Centre) as the 2018 ACT nominee for the AIP Bragg Medal. We wish her all the best at the National level.
See you at Founder's Day.
Equity and Diversity
| | |
| --- | --- |
| | Donna Strickland, an associate professor at the University of Waterloo, in Canada, was awarded the Nobel Prize in Physics this year. She is the first female physics winner in 55 years. |
Ada Lovelace Day - 9 Oct
| | |
| --- | --- |
| | Ada Lovelace Day (ALD) is an international celebration of the achievements of women in science, technology, engineering and maths (STEM). |
Volcanoes, climate change and space junk
| | |
| --- | --- |
| | 9 October - Local Physicists hit the pub to tell you about their amazing research. Ancient photos of the Universe, amazing new materials and the next quantum revolution - it's brain boggling stuff. |
World Mental Health Day
| | |
| --- | --- |
| | World Mental Health Day - 10 October. World Mental Health Day is observed on 10 October every year, with the overall objective of raising awareness of mental health issues around the world and mobilizing efforts in support of mental health. |
Energy Change Institute
29 November - The ANU Energy Update is the ECI's annual flagship event - a one-day summit that brings together energy researchers, policymakers, industry and the public to provide an overview of the latest world energy trends.
29 November - ANU Solar Oration 2018: Can we make a 100% renewable electricity system?
Vale Jacob Israelachvili FAA FRS NAE NAS

(19/08/1944 to 20/09/2018)

Departmental Seminars

10 October
Dr Pan Ma
Integrated optical devices based on chalcogenide glasses, with applications in MIR spectroscopic sensing.
» read more

11 October
Ms Rowena Yew
Abstract for Mid-term Presentation – Metal Oxide Based Nanostructured Photoelectrodes for Solar Water Splitting
» read more

School Seminar

18 October
Anna Herring
Breaking the 'Black Box': Using 3D X-ray Imaging to Understand and Optimize Fluid Transport in Porous Materials
» read more

As a result of RSPE's new building work it is necessary to change access and egress routes to the Oliphant and Cockcroft buildings and Link Tea Room. Please see your email for details and familiaries yourself with new assembly points and the modifed emergency tones.

ARC Deadlines and Application Dates

Who is looking after your department this week?

RSPE Orientation

Every Monday at 10:00am all new starters are invited to meet at reception to have a short tour of the School's central areas and receive a welcome pack.

Bookings are not required.