Director's Message
Dear Colleagues,
Thank you so much for pitching in with the decant over the past few weeks. We're in the final stages this week and I would like to thank the administrators and Heads for their coordination and good spirits. It's a tough process, and I believe you will start to see the fruits of your labour shortly. Our IT guys have installed a camera on top on the HIAF tower so you can see the building progress (or check the weather).
Congratulations to Professor Jagadish on being inducted as Foreign Fellow into the Indian National Academy of Engineering. This is another significant accolade and I'm very pleased to report that it's his 8th Academy membership! As I know he would say, this is also a great credit to his group and collaborators over the years.
A Town Hall meeting is being planned by F&S and Hindmarsh to communicate the building program and its impact on the precinct. Our neighbouring Schools will be invited to attend to cover topics such as noise, traffic impacts and, of course, parking. The details will be forwarded via School-wide email once they are finalised this week.
There are several great images from the past week. Above, our very own Gandalf (aka Em Prof Rod Boswell) joins in for Open Day fun. Below, Dr Mohsen Rahmani (NLPC) beams after his Eureka moment. And, (right) last but not least a 'thank you, but not a farewell' to Gail Bissell who has been standing in for Joe Ivanic for the past few months. Don't worry, we'll have the pleasure of Gail's company at Founder's Day. Speaking of which, if you have a burning desire to represent your Department in a short, public-spirited talk for Founder's Day, please speak to your Head asap. All staff and students are welcome to present.
Have a great week,
Tim
Winner - Eureka Award
Dr Rahmani received the prize for Outstanding Early Career Researcher for his work in creating nanoscale surfaces.
Congratulations
Congratulations to Dr Matt Thompson who has been awarded the Under 30 Young Scientist award by the Association of Asia Pacific Physical Societies (Division of Plasma Physics) for his outstanding contributions to the field of plasma-surface interactions relevant to nuclear fusion materials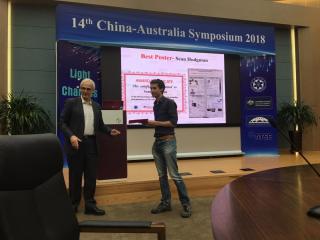 Congratulations - Dr. Sean Hodgman wins the best poster prize at the 14th China-Australia Symposium 2018
John Carver Seminar Series 2018
| | |
| --- | --- |
| | Nominations for the John Carver Seminar Series 2018 close 7 Sept. This is an RSPE annual competition that enables our students to showcase their research to their fellow students. |
Expressions of interest – RSPE HDR Convenor
| | |
| --- | --- |
| | Expressions of interest are being sought from early and mid-career researchers to join the Physics HDR team as an HDR Convenor. |
CCI - Lecture
| | |
| --- | --- |
| | Cleaning up our carbon dioxide waste: Technologies to achieve global climate targets; Prof Klaus Lackner (Arizona State University); 6 Sept, 6-7:30pm |
Elizabeth & Frederick White Conference- Frontiers in Gas–Solid Processes from the Atomic Scale to the Parsec; Crawford School, ANU; 5-7 September 2018
Gender Equity Resources & Links
College of Science guidelines on Gender Equity have been officially endorsed by the CoS Executive meeting in July. Please consult the guidelines before organising/scheduling important meetings, seminars, or other events.
Alumni Event
Science alumni, join us for breakfast on Tuesday, 11 September from 7.30am-9.30am at the ANU China in the World Auditorium as we host Pathfinder: The Journey to Now – a panel discussion followed by a networking session.
Singapore Innovation Eco-system
ANU HDR Student Delegation to Singapore Festival of Innovation - The Australian High Commission in Singapore is holding an Australian Festival of Innovation in Singapore over the month of September.
Information Sessions
The Joint Colleges of Science Research Office, ARMS, and NECTAR will run a series of information sessions and workshops over the next several months to inform and prepare researchers for NHMRC's new grant program.
Linkage Projects 2018
Round 3 - The College Research Office has created a series of tools and resources to help you plan, budget and draft your proposal.
Departmental Seminars

4 Sept 2018
Mr Philip Braodbridge
Conditionally integrable nonlinear PDE models
» read more

5 Sept 2018
Dr Morgan Hedges
Rare-earth ions in crystals inside cryostats, with applications in quantum Information
» read more

11 Sept 2018
Austin Akey
The Atom Probe as High-Speed Camera: Correlating Nanometer Composition with Nanosecond Material Dynamics
» read more

Soup and raffle tickets for our farmers.

Help raise money for Drought Angles. Buy a cup of soup and bread roll for $3.50. Monday 3 Sept 12 noon - 1:00 pm or until sold out.

Raffle tickets - first prize a $100 voucher for a massage

Director's Office

Tim Senden is in China this week, Lan Fu is acting.

Do you know who your administrator is?

RSPE Parking Permits

Reminder - RSPE parking permits are for the use by casual visitors to our school only. These are not for using to travel across campus, they are not for visiting fellows, contractors, unofficial visitors or staff unable to find a parking spot. Please note our parking permits are strictly monitored by the parking office and complaints have been received regarding the inappropriate use of these permits.

Due to an on campus incident, Comcare (WHS Regulator) has prohibited the use of LPG Bottles on BBQ's until further notice.

RSPE WHS Guide

With the building decanting and office relocation well underway, now is a good opportunity for everyone to take time to review their workstation to ensure that it is set up correctly.

STEM breakfast - thank you

Thanks to the ANU staff and students who braved the 7am start to attend the breakfast and chat with the teachers and student during Sceince Week.

RSPE Orientation

Every Monday at 10:00am all new starters are invited to meet at reception to have a short tour of the School's central areas and receive a welcome pack.

Bookings are not required.