Director's Message
Dear Colleagues,
It was a very big Science Week this year and my thanks go to all those who contributed their time and passion. Market Day was fabulous, again, and extremely well attended. It's become one of the most effective ways to reach our students and the Market Day team have excelled themselves. Everyone can feel very pleased with the day, I would like to particularly thank Liz Micallef, Martin Conway, Gaye Carney, Goran Radovanovic, Sonia Padrun, Michael Blacksell, Andrew Papworth, Cormac Corr, Jodie Bradby and James Sullivan for their tireless efforts in making it another great success.
There have been some important changes to visa conditions now requiring all TSS (482) visa nominations to occur within 4 months of labour market testing. Primarily, should an entire recruitment process from the advertisement commencing to the visa nomination being submitted take longer than four months the University's would not be able to prove labour market testing (i.e. the previous advertisement period would be invalid) and in most instances we would have to advertise the position again for a period of at least 28 days to be able to sponsor a candidate for a visa. Please consult with College HR and FTAC Chair, Ken Baldwin, well ahead of advertising.
I'd like to highlight the Academy of Science's call for applications for the 69th Lindau Nobel Laureates Meeting in the field of physics below. It's a tremendous opportunity to meet some of the world's brightest minds.
We are on-track to decant the Le Couteur and Applied Maths buildings. Please work with your Heads and administrators to refine your specific schedule with the removalists.
Have a great week,
Tim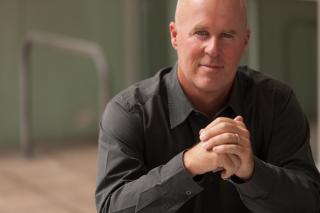 Director's Colloquium - 21 August 2018
Prof Matthew England, UNSW
Dispelling climate change myths – how ocean physics can help explain surprises in the modern-day climate record.
Professional Staff Development Scholarships
| | |
| --- | --- |
| | I am pleased to announce that applications for the Professional Staff Scholarship Scheme (PSSS) and the Professional Staff Development Endowment Fund (PSDEF) are now open with a closing date of Friday, 14 September 2018 at 5:00pm. |
Research Forum
| | |
| --- | --- |
| | The ARC will be hosting an information and networking Forum for the Industrial Transformation Research Program (ITRP) in Canberra on Thursday, 13 September 2018. |
Research Fingerprinting
As an ANU researcher you have free access to Research Professional, a comprehensive online database of research funding opportunities from Australia and around the world.
Equity and Diversity
| | |
| --- | --- |
| | We often hear that girls in science need more role models and inspiration. WikiProject Women Scientists is a project designed to create high-visibility profiles for women in science and celebrate their achievements rather than their gender. Find out why you should participate too. |
Superstars of STEM
| | |
| --- | --- |
| | STA's world-leading Superstars of STEM program provides a diverse group of passionate and articulate women in all areas of STEM – and at all career stages. |
Lindau Nobel Laureate Meeting 2019
| | |
| --- | --- |
| | Call for applications for the 69th Lindau Nobel Laureates Meeting in the field of physics 30 June - 5 July 2019. |
The Mason Foundation - ME/CFS Research Grants
| | |
| --- | --- |
| | The 2018 ME/CFS research grant round is now open and will close on Monday, 10 September. |
CPAS Workshop for HDR Students
| | |
| --- | --- |
| | The Australian National Centre for the Public Awareness of Science will be holding a short workshop for HDR students of the Colleges of Science from Monday 26 November to Wednesday 28 November, 2018. |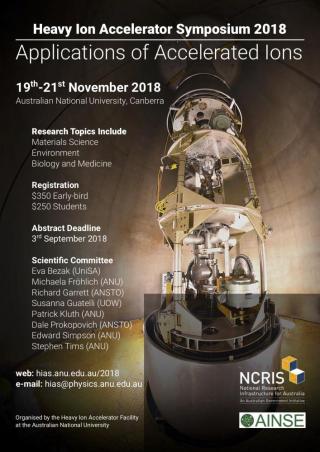 We are pleased to announce that the next Heavy Ion Accelerator Symposium on fundamental and Applied Science – HIAS2018 will be held 19 – 21 November 2018 at the Australian National University hosted by the Department of Nuclear Physics and the Heavy Ion Accelerator Facility.
Departmental seminars

17 August 2018
Mr Thomas Shiell
The High Pressure Behaviour of Glassy Carbon - Creating harder-than-diamond materials
» read more

24 August 2018
Mr Hijaz Hasan
Improved Characterization of Thin Bed and Low-Resistivity/Low-Contrast Hydrocarbon Reservoirs
» read more

HDR Forum - 23 Aug

The RSPE student reps will be holding an open forum on Thursday 23rd August and invite all HDR students to attend. Agenda items include mentoring, external advisors and career pathways in physics. Meeting start will be 10:30am in the Oliphant seminar room, 4-414.

Printers

On Monday 20 August 2018 we will be installing a fleet of new centrally managed printers around Physics South (excluding Nuclear). These new printers will use YSoft SafeQ to provide a flexible, managed secure printing solution.

Outreach

Over 5,000 people and students attended Science in ACTion at the Kingston bus depot last weekend. The "Physics " trail to discover who stole the Radionuclide Thermoelectric Generator was very popular and the villain identified each time! Many thanks to Aqeel, Mitchell, Nicholas, Jackson, Chandrima, Ruvi, Tom and Neil. (Photo of Neil & Tom)

Warning

Warning - Chinese speakers in Australia targeted by phone scammers threatening violence.

ADMIN
Ms Uyen Nguyen is away from 13 - 24 August, please contact purchasing.rspe@anu.edu.au during this period.

Nuclear
Petra Rickman is away from 13 - 27 August 2018 and will have limited access to email in this time. For urgent administrative matters please email admin.rspe@anu.edu.au

TP
Prof Mukunda Das is an invited speaker and Member of the International Organising Committee in the 5th Conference on New Advancement in Condensed Matter Physics at Kunming, PRC during 21-23 August 2018.

RSPE Orientation

Every Monday at 10:00am all new starters are invited to meet at reception to have a short tour of the School's central areas and receive a welcome pack.

Bookings are not required.