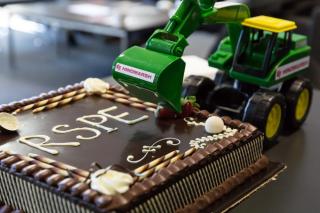 Director's Message
It is with sadness that I inform you of Dr Lindsay Tassie's passing last week. A familiar figure around the School until only recently, Lindsay had been with the Department of Theoretical Physics since the 1960's. Those wishing to celebrate Lindsay's contributions can find details of his funeral to the right.
My congratulations go to Alex Bray for his acknowledgement by the Editor of Physical Review Letters (see below). It's fantastic to see students leading such pivotal work.
A reminder that the 2018 Academic Promotions Round has just opened (see my recent email for details). Those seeking promotion to Level E are kindly requested to contact the Dean's EA, Angela Ryan (
ea.cos@anu.edu.au)
for a discussion with him. I welcome any applicants for any level to come for a chat, and remind applicants that external professional coaching is available as well. The

NECTAR Mentoring Program

is also highly recommended for professional guidance on career development in the ANU context.
Martin Conway is credited with this week's pic. At the School Forum we welcomed the Hindmarsh team to the School. Over the next two years we will be working closely with them, starting with enabling works in Physics North and South ahead of the decanting process over the next two months. Please speak with your Head of Department directly about how this process will affect you. I would be happy to hear your thoughts about making this process run as smoothly as possible. For all the current news about the program please see the School Intranet (below). There are some beautiful new VR scenes from Hassel up on the site. They work best on a mobile device, as you can pinch-zoom.
Finally, don't forget the Monday morning orientation for new School members. Even if you've been here for a while you might like to have a guided tour of the essentials of RSPE, and you receive a welcome pack.
| | |
| --- | --- |
| | Congratulations to Alex Bray on selection of his first author Physical Review Letter as an Editor's suggestion. |
| | |
| --- | --- |
| | Are you an early- and mid-career researcher working in material science? Are you interested in events in the field of advanced materials that offer valuable engagement opportunities with peers and industry? |
| | |
| --- | --- |
| | CAM is running several workshops over the next few weeks, and there is something available for everyone. |
| | |
| --- | --- |
| | The Australian Research Council (ARC) has just published its progress report on the ARC's approach to gender equality in the NCGP and the expectations the ARC has for administering organisations (mainly Australian universities) to support gender equality. The article also contains a link to the ARC Gender Equality Action Plan for 2018. |
Tuesday 19 June 2018 - The Energy Change Institute - Open Day
The ECI Open Day will showcase the latest energy research from ANU and provides a platform for exchanging ideas for ANU researchers, industry, government agencies and other energy stakeholders.
RIP
Dr Lindsay Tassie passed away peacefully at Clare Holland House on Tuesday 29th May 2018. The funeral will be held at St Paul's Cathedral on Friday 8th June @ 3:00 pm.

Dept Seminars

7 June
A/Prof Sabetta Matsumoto
Non-Euclidean virtual reality
» read more

ADMIN
Lee Philip will be acting Facilities and Service Manager until 15 June.

DQS
Head of Department John Close is on leave until 6 June. Joe Hope is acting HoD.

NP
Dr Nikolai Lobanov and Prof Andrew Stuchbery will visit the China Institute of Atomic Energy (CIAE) Beijing from June 6-12 to discuss the installation of a superconducting linear accelerator at CIAE. Prof David Hinde will be Acting HoD in this time.

PRL
Dr Cormac Corr is away from May 28th to June 10th on a visiting Professorship at Laboratoire des Sciences des Procédés et des Matériaux, CNRS, Paris, France.

RSPE Orientation

Every Monday at 10:00am all new starters are invited to meet at reception to have a short tour of the School's central areas and receive a welcome pack.

Bookings are not required.