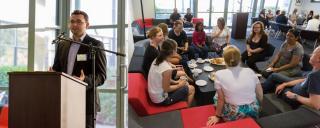 International Women's Day Celebration
The School celebrated international Women's day over afternoon tea with recognition of some of the outstanding achievements in the past year by women within RSPE and a brief introduction to the Science Australia Gender Equity (SAGE) program.
The theme of this year's celebration was "Pledge for Parity".
Attendees were called upon to make one of the following pledges and the males present were challenged to own gender equity as an issue that they can help address.
Help women and Girls achieve their ambitions
Challenge Conscious and unconscious bias
Call for gender-balanced leadership
Value men's and women's contributions equally
Create inclusive and flexible cultures
We recognized the following achievements over the past year (sincere apologies for any ommissions)
Prof Christine Charles - Fellowship of the Australian Academy of Science
A/Prof Jodie Bradby - AIP Women in physics lectureship
A/Prof Elena Ostravskaya - Promotion to Level D
Dr Sudha Mokkapati - Promotion to Level C
Dr Katie Chong - AIP NSW Postgraduate Award
Larissa Huston & Qian Gao - Poster Prize recipients at ICONN 2016
Virginia Mazzini - ECIS/ACIS presenters award at ACSSSC 2016
Prof Susan Scott - Theoretical contributions to the discovery of gravity waves
Liudmila Mangos - Staff excellence award
Karen Nulty - Staff excellence award
The School also graduated 4 female PhD students in 2015: Dr Aruni Fonseka, Dr Amelia Greig, Dr Sun Yue and Dr Clara Teniswood.
Lukas Sigut a diversity consultant from HR, addressed the School on the SAGE program that had been launched at ANU earlier in the day by the Vice Chancellor Professor Brian Schmidt. The program is aimed at addressing Gender Equity in Science and Engineering in Australia through a long term program that involves commiting to change, measuring actions and outcomes and maintaining performance in the Gender Equity arena. Progress is recognized through the award of Bronze, Silver and Gold awards initially at the Institution level but also at the School and Department level.
We intend to make this an annual event in which we reflect not only on the achievements of women but also as an opportunity to renew a School wide commitment to gender equality.
Vince Craig
Co-Chair RSPE Equity and Access committee
Welcome
School Administration
Welcome back to Ms Andrea Butler, Senior School Administrator, working with the School and Business Development Mangers, and Director ECI, Prof Ken Baldwin.
Science in Australia Gender Equity (SAGE)
From the RSPE Equity and Diversity Committee
The University has used International Women's Day to strengthen its commitment to gender equity.
At an International Women's Day event for female academics, staff and students, Vice-Chancellor Professor Brian Schmidt committed ANU to joining the Science in Australia Gender Equity (SAGE) Pilot project. Professor Schmidt said while the SAGE project would initially focus on science, technology, engineering, mathematics and medicine, he hoped it would work across all colleges and divisions at the University.
More details on the Sage pilot can be found here
Everyone has unconscious bias and everyone is affected by bias. To find out more, go to the Unconscious Bias information on the ANU website.
The United Uranium Scholarship
The United Uranium Trust Fund was established in 1966 for 'the promotion and encouragement of scientific research and education in the field of atomic energy'. In accordance with the Deed, the United Uranium Scholarship is awarded to 'promising young scientists' from any Australian organisation or institution whose research or work is in the field of nuclear energy. The applicant must also be an Australian citizen.
The recipient of the scholarship will receive up to AUS$6,000. For further informartion please refer the website.
Closing date: 2 May 2016
Call for Applications: Scholarship for Space Plasma, Astronomy and Astrophysics
The scholarship is intended to aid postgraduate research students undertaking a project in Space Plasma, Astronomy or Astrophysics and in exceptional circumstances to an undergraduate. Up to four scholarships may be awarded for use towards travel, acquiring of equipment or collaboration activities as required. Further details including eligibility and conditions of the award can be found online. Applicants need to present a case outlining the intended use of funds and how it will assist their current research. A brief supervisor's support statement is also required. No formal application form is required.
Applications open 1 March 2016 and close 5pm, 31 March 2016. The application should be submitted to the RSPE Student Administration office via rspe.hdr.sa@anu.edu.au.
2016 Dunlap Institute Summer School
14-19 August 2016
Introduction to Astronomical Instrumentation
Learn basic principles of radio, infrared, optical, x-ray and gamma-ray instrumentation
Learn how detectors and spectrographs work
Learn in lecture and hands-on laboratory sessions
Learn about a career in instrumentation
Work with students from around the world
Learn from international leaders in the field of astronomical instrumentation
Attend a professional development/ mentoring session
Registration Fee: $500 Travel subsidies and registration fee waivers available Application and Travel Subsidy Deadline: 15 April 2016
Call for applications to participate in Australia's first Falling Walls Lab
The Academy invites applications from Australian researchers, Postdocs and students, entrepreneurs, engineers and innovators to attend Australia's first Falling Walls Lab in 2016.
Up to 25 contestants will be invited to participate in this challenge with each required to give a 3 minute presentation on their research, business model or initiative based on the "Which walls will fall next" concept.
Candidates should be research active in any field of the natural sciences, including technology, engineering and medicine as well as social sciences and humanities.
Deadline for applications is 5pm (AEST) 23 May 2016.
School Seminar Program - 17 March

Stochastic dynamics of interacting systems and asymmetric exclusion processes - Dr Vladimir Mangazeev

Departmental seminars

Dr Dimi Culcer - 11 March
Interactions in strongly spin-orbit coupled systems
» read more

Science Collaborative Workshop

Nonlinear Physics - Laser Physics - Quantum Science Collaborative Workshop -

Congratulations Baby

Congratulations to Peter and Angela Linardakis (NP) on the birth of their daughter, Miss Zoe Linardakis, born on Thursday 3 March. We wish them all the best at this happy time.

OHS

Training course:

Corrosives (OHSA07) 17 March

Registration via HORUS

Research Skills and Training Opportunities for HDR Students

Online Performance Development - Supervisor Familiarisation Information Sessions

Performance and Development (PDP) Supervisor Familiarisation Sessions – March 2016

Tuesday 8

March,

10-11.30am -

Professional Supervisors,

Slatyer Seminar Room, Robertson Building 46
Wednesday 16 March

,

10-11.30am - Academic

Supervisors,

Slatyer Seminar Room, Robertson Building 46
Thursday 24 March

, 1-2.30p

m - Academic

Supervisors, Room 1.04A, Coombs Extension Building

Please note these sessions are not college specific. Please register via HORUS for any of these PDP supervisor familiarisation sessions.

Please use training code PDP01 to register for Academic Supervisor Sessions.
Please use training code PDP02 to register for Professional Supervisor Sessions.

Supervisor training course

ANU HDR supervisors have the opportunity to take up the following professional development activities offered by the research training team in the office of the Pro Vice-Chancellor (Research and Research Training) and you are encouraged to attend if you can. The professional development being offered is specific to your needs as a supervisor of HDR students. Come along and learn from experienced peers and share your own knowledge of supervision. This is also an opportunity to build collegial networks across the ANU.

Research on supervision shows that supervisors perform five key roles for their students: keeping the research on track, helping students integrate with their community, challenging student's thinking, acting as a mentor and supporting students emotionally through the PhD journey. Each session is geared around these key roles and restricted to HDR supervisors only.

Click on the links below to see details of each session and book your place. If you have missed out on the sessions of most interest several of them will be run again in semester two but places are limited.