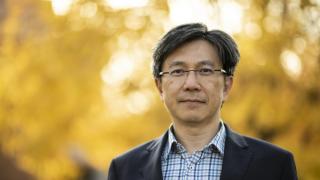 Director's Message
Dear Colleagues,
I hope January is proving to be a more steady month for all.
A short message from me today, leading with some excellent news from late last year that I, regrettably, dropped the ball on. Professor Ping Koy Lam was named one of Australia's top 40 lifetime research achievers by the Australian newspaper. In this citation Ping Koy is the only ANU researcher listed, and you'll find some familiar colleagues from other universities represented. My congratulations to Ping Koy and his group, this is a very significant recognition of your standing in your field (image credit:ANU).
Just a reminder that the Intermediate Laser Safety Officer course is running on 21st January. This course, designed and delivered by Dr Vincent Daria, has been approved as the mandatory ANU laser safety training module and is also offered externally to Commonwealth agencies. The cost of the course will be covered for RSPhys staff and students.
Have a good week,
Tim
Notice of Intent (NoI) Form for Discovery Projects commencing in 2023 (DP23)
Although the ARC are yet to release the funding dates for ARC Discovery Projects (DP23), the College of Science Research Office (CRO) is now inviting notices of intent (NoI) to submit applications for this funding scheme.
If you would like to apply for (or are contemplating applying for) DP23 through ANU or another institution (externally led), please fill in this form. The form should take less than a minute to complete per application you intend to submit.
For queries in relation to DP23, please contact your local Research Office
Science Communication PhD Workshop: Open for Registrations for CoS/CHM PhD Students
The Centre for the Public Awareness of Science (CPAS) has historically offered an annual 2-day Science Communication workshop for PhD candidates from SHM schools. Due to Covid-19, they have not been able to offer this workshop in person since 2019.
They are now calling for registrations from SHM PhD candidates for their 2022 workshop, to be held on 1 and 2 February 2022, from 9am to 5pm each day, in the Marie Reay Building in Kambri.
Please send your expression of interest in attending the workshop, by email to: cpas@anu.edu.au. Places are currently limited to 60 attendees.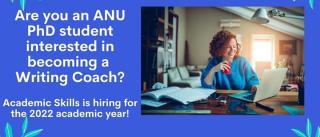 Are you an ANU PhD candidate with teaching, tutoring and/or academic mentoring experience? Does helping your fellow students with their academic writing sound like your idea of fulfilling work? If so, we invite you to apply for the casual position of Writing Coach for the 2022 academic year.
Returning to Campus

Updated Process and Mask Protocols

STAFF MOVEMENTS

Tim Senden will be away 24/12/21 – 1/2/2022

Andrew Stuchbery will be away from 23/12/21 – 31/1/22 (Greg Lane will be acting NPAA HoD during this time)

2022 Wall Planners

2022 wall planners are available now at the Store.

Know your administrators...

L-R: Belinda Barbour, Sonia Padrun, Petra Rickman, Nikki Azzopardi, & Julie Arnold

Know your School team...

Sue Berkeley -
Finance Team Leader

Goran Radovanovic -
Stores Services

Hannah Phan - Purchasing/Finance Services

Patrick Romero - Stores/Purchasing Services

Know your student admin...

Liudmila (Luda) Mangos -
Higher Degree Research admin
C3.02C, Cockcroft bldg (Mon-Fri 9.30-5pm) hdr.physics@anu.edu.au

Siobhan Ryman -
Physics Education Centre admin and HDR
1.05, Bldg 38A (Mon-Tues 8.30-4pm) ; C3.02C, Cockcroft bldg (Wed-Fri 8.30-4pm) pec.physics@anu.edu.au

ANU COVID Pathway to 2022