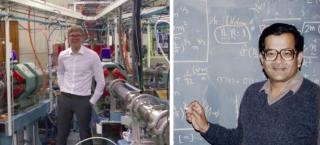 Director's Message
Dear Colleagues,
It is my very great pleasure to announce the winner of this year's Jagadishwar Mahanty Award. Presented to the most outstanding thesis each year, this prestigious award was established in 1999 by the family of the late Jagadishwar Mahanty, and commemorates one of our most distinguished theorists (1972-1995). With the unanimous agreement of the committee, the 27th Jagadishwar Mahanty Award goes to Dr Tim Gray from the Department of Nuclear Physics for this thesis, "Electromagnetic Moments and Emerging Nuclear Collectivity near Z=50". Tim is currently on a postdoc with the Low Energy Nuclear Physics Experimental Program, Physics Division, Oak Ridge National Lab, Oak Ridge, Tennessee, USA.
Congratulations to the Quantum Brilliance team, not only have they just announced $13M investment, but Drs Andrew Horsley and Marcus Doherty have just been named in Australia's Top 100 Innovators. QB are going from strength to strength, and to paraphrase the Australian Newspaper, it is fantastic to see ANU Physics at the inflection point for Australian innovation.
I'm grateful to Dr Buddini Karawdeniya (EME) for pointing out an excellent article written by her husband, Dr Nuwan Bandara, in Nature Career Column. Writing from the US, Nuwan articulates the shared challenges their family face over this time and some of the steps he has taken to strengthen his career (see below).
The JG Crawford oration this year will be given by India's External Affairs Minister, His Excellency Dr Subrahmanyam Jaishankar. The oration is one of those 'must see' events on the ANU calendar, and this one looks great. Register here for Monday 6th September, 2000-2100.
As leading psychologist, Professor Hugh Mackay says, "Revolutions never start at the top". Hugh is an Honorary Professor in the Research School of Psychology, and author "The Kindness Revolution" a new book on managing the challenges and upheaval of recent times. As part of the Salon Canberra community he will bring positive perspectives on asking important personal questions, and how best to treat others. If you would like to register for the event on Friday 3rd September, 1200-1300, click here.
One week before the mid-semester break.
Cheers,
Tim

ANU 2025 CoS Town Hall - Monday 30th August, 1pm
The Vice-Chancellor is hosting a Zoom Town Hall meeting with staff from each College, to discuss the roll-out of the ANU2025 Strategic Plan and how it pertains to that College.
The College of Science meeting has been scheduled for Monday 30 August, at 1.00pm.

Monday 30 August to Friday 3 September, the University is hosting its first Academic integrity Awareness Week. There will be a series of webinars across the week for both students and staff, covering topics such as academic integrity myth-busting, exams and academic integrity, and writing with academic integrity for students, and academic integrity and assessment design for staff.
Update on the ARC Preprint Rule
The open letter from the AIP and other professional societies to the ARC regarding the 'no pre-prints' rule can be found here. It has been signed by most of the leaders in Physics in Australia including Tim Senden, Dragomir Neshev, Brian Schmidt, and Lisa Kewley at ANU.
On Thursday, the Senate forced the ARC to table documents information showing that 32 applications, ALL in the FOR codes 0201, 0202, 0204 and 0206 were ruled ineligible.
The AIP continues to work with STA and the ARC on this issue.
UniSuper Retirement Considerations Webcast
Monday, 30 August 2021 at 12:00PM
Like any chapter in your life, preparation can go a long way to ensure you're emotionally and financially ready for the road ahead. But where do you start when it comes to retiring?
To help you on your way, this webcast will provide an overview of the issues you need to consider in the lead-up to retirement. We'll discuss:
- challenges in retirement
- establishing retirement objectives
- contribution strategies
- income in retirement

Vote for Your Favourite 'As You See It!' Photographs
The submissions are in and the photos have been shortlisted – it's now time for you to help us pick the winning images!
We have received some amazing photos and we need your help to find each category winner to be featured in the 2022 ANU College of Science, and ANU College of Health and Medicine calendar.
All ANU staff, students and alumni are eligible to vote (once per image), so jump on and let us know which images are your favourites!
Voting closes on Sunday 12 September and the winners will be announced on Monday 13 September.
Five Hundred Days Between Pay Cheques: The Road I Took to Revive My Career
A global career move left one member of a scientist couple unemployed during the pandemic. Here's what he learnt.
In February 2020, my wife Buddini Karawdeniya and I moved with our one-year-old son from the United States to Australia. We'd worked together as postdocs at Southern Methodist University (SMU) in Dallas, Texas, until Buddini, a nanopore researcher, accepted a research fellowship at the Australian National University (ANU) in Canberra.
ANU Alumni Self-Care Social Media Challenge – Provide your self-care tips to win!
These are truly difficult and exhausting times. But this is also an opportunity for us to come together, support each other, and maybe have a little fun in the process!
Starting on 28 August, we're launching a six-week self-care challenge that will inspire you to move, grow, cook, connect and relax.
Each week, we will announce a new challenge to win a self-care prize pack. Follow us on Instagram @anualumni and respond to the weekly question for your chance to win!

CQC2T Women in Quantum Top Up Scholarships
CQC2T is looking for female PhD and Honours students to join our multidisciplinary team of scientists and engineers developing quantum computing and communication technologies of the future.

If you are ready to further your career in this exciting field, apply now!
Multiphoton Processes Enhanced by Perovskite Metasurfaces
| | |
| --- | --- |
| | The team from Nonlinear Physics Center with collaborators from the Harbin Institute of Technology in Shenzhen (China) and ITMO University in St. Peterburg (Russia) studied, both theoretically and experimentally, multiphoton luminescence in perovskite metasurfaces, and they demonstrated a substantial enhancement of multiphoton stimulated emission by the metasurfaces with the emission threshold comparable with that observed for one-photon processes. The results have been published in Nano Letters (Impact Factor=11.189). |

Managing Teams Remotely
12-1.30pm, Thursday 9 September, via Zoom
Managing teams remotely has now become a crucial skill for every leader.
You no longer have a cohort, but many individuals with different needs. How do you set them up as independent, competent and capable team members who not only look after themselves, their colleagues, but also the business?
RSPhys Store

Stores will be physically manned, though operating at reduced capacity with no face to face interactions.

ANU Libraries

The JB Chifley Library will remain open 24/7 through the lockdown. Students and staff will need to swipe in. They will be able to use collection material, print, use the computers, record lectures in the One button studio, study rooms on level 4 equipped with ECHO recording software and use the Flex labs to give or record lectures.

Mid Term Review - 2 September

Positron bound states and scattering resonances - Zoe Cheong

Know your administrators...

L-R: Belinda Barbour, Sonia Padrun, Petra Rickman, Nikki Azzopardi, & Julie Arnold

Know your School team...

Sue Berkeley -
Finance Team Leader

Goran Radovanovic -
Stores Services

Hannah Phan - Purchasing/Finance Services

Patrick Romero - Stores/Purchasing Services

Know your student admin...

Liudmila (Luda) Mangos -
Higher Degree Research admin
C3.02C, Cockcroft bldg (Mon-Fri 9.30-5pm) hdr.physics@anu.edu.au

Siobhan Ryman -
Physics Education Centre admin and HDR
1.05, Bldg 38A (Mon-Tues 8.30-4pm) ; C3.02C, Cockcroft bldg (Wed-Fri 8.30-4pm) pec.physics@anu.edu.au

Matthias Wurdack (he/him)

Disha Kapasi (she/her)

Shridhar Manjunath (he/him)

Elizaveta Melik-Gaykazyan (she/her)

Ben Swinton-Bland (he/him)

Mahdi Davoodianidalik (he/him)

HDR Progress Milestones

Students and supervisors can access information on HDR progress milestone requirements on the School Intranet.

HDR Opportunities

Notice of Intent (NoI) Form for ARC schemes closing in 2021

The College of Science Research Office (CRO) is now inviting notices of intent (NoI) for the following schemes closing in 2021:

2022-2025 MIT Pappalardo Fellowships in Physics Competition
The Executive Committee of the MIT Pappalardo Fellowships in Physics invites faculty and senior researchers within physics, astronomy or related fields to submit nominations for the 2022-2025 MIT Pappalardo Fellowships in Physics competition.

ANZCOP21 - November 18-19, 2021

ANZCOP 2021 is a special event of the Australian and New Zealand Conference on Optics and Photonics presented on behalf of ANZOS - the Australian and New Zealand Optical Society.

Applications Open for 71st Lindau Nobel Laureate Meeting 2022

Applications are now open for the Science and Industry Endowment Fund - Australian Academy of Science Fellowships to the Lindau Nobel Laureate Meetings.

Domestic Postgrad Scholarship Opportunity -  the Westpac Future Leaders

Scholarship (worth up to AU$120,000 for Masters/PhD study). There are two of these scholarships allocated to ANU, and applications close 2 September 2021.