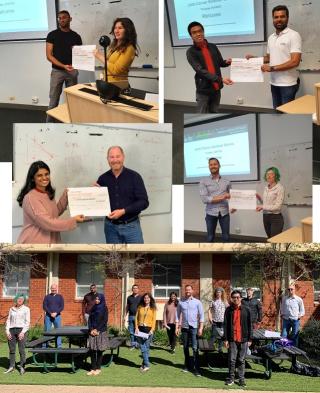 Director's Message
Dear Colleagues,
It was an enormous pleasure to sit on the judging panel with Lauren Bezzina (NP) and Julie Tournet (EME) for the John Carver Seminar Series last Thursday. All the presentations amply illustrated the amazing talent we have in our student colleagues. Thank you to all the students who participated and put so much effort into preparing their talks. You all made it a very difficult task for the judges. Congratulations to the prize winners (above clockwise) – Karun Paul (DQS) for the Director's Prize, Anthony Leung (DQS) for the People's Choice award, Matthias Wurdack (NLPC) was awarded the John Carver Prize and Disha Kapasi (CGA) the Dean's Prize. Well done! A big thank you to the Lauren and Julie, Shridhar Manjunath (NLPC) who did an excellent job chairing the event and Karen Nulty from our HDR Team for organising everything.
A week of excellent news ahead leading with the Australian newspaper releasing their annual research report which showcases some of Australia's top researchers and institution by field and activity. The categories include identifying 40 Superstars in key fields measured by performance over their careers, 40 Rising Stars identified as stellar young researchers in their fields, and researchers who lead one of 230 important fields. We can be proud that ANU Physics is recognised through the brilliance of three named in the special report: Prof Ping Koy Lam (DQS) identified as Research Superstar in Physics and Mathematics, Prof Hoe Tan (EME) as Field Leader in Nanotechnology and Dr Daria Smirnova (NLPC and DECRA Fellow) as Rising Star. ANU was also identified nationally as Lead Institution for Microelectronics and Electronic Packaging, and ANU had highest lead co-authorship with industry in the country, where RSPhys is a very large contributor. Former staff member (NLPC) and colleague still, Prof Andrey Miroschnichenko (UNSW), was also identified as a Superstar in Optics and Photonics. Four other familiar ANU colleagues were identified Field Leaders including Albert van Dijk (Fenner) and David Lindenmayer (Fenner), Robert Costanza (Crawford) and Rob Lanfear (Biology). Well done to all, it is a good time to be showing Australia how we shine.
Please take time to look at the consultation papers from the Working Parties for Education and Infrastructure. They will be guiding how we shape the School in 2021 and your input is greatly valued.
Have a great week, good luck to all those teaching again in this last semester.
Tim
Infrastructure Working Party – Guiding Principles
As ANU and the School are going through some major changes, the Working Party (Infrastructure) has come up with a set of principles on Technical Capabilities to guide us through this turbulent time. We would appreciate your comments and feedback as these guiding principles will form the basis of our report and recommendations. Please send your feedback to hoe.tan@anu.edu.au or rachael.hanrick@anu.edu.au.
Education Working Party | Draft Recommendations
The Research School of Physics is responsible for delivering physics education at ANU. It specialises in having a rich, research-led curriculum that encourages students to apply their knowledge. In 2019, the school underwent an external review, which also examined the education program. Read more to see the objectives and recommendations now available for feedback. Please email pec.physics@anu.edu.au with your comments.
1 October, 1:00-4:00
2 October, 10:00 - 1:00
Discovery Days - tours, tools, prizes and demos @ANU MakerSpace

October Seminars

2 October
Mr Bill Leggate
Investigations into wood permeability, gluability and treatability –effects of manufacturing processes and micro-structure
» read more

7 October
Mr Dominik Koll
A 10-million year time profile of interstellar influx to Earth mapped through long-lived Fe-60 and Pu-244
» read more

4-6 November 2020
STEM paper & grant writing workshops

This workshop provides mentoring, transparent peer review and centralized writing training opportunities that young women in STEMM may not have at their home institutions. It is designed to help strengthen the scientific writing and critical thinking skills of Australia's next generation of scientists and academics. Registration now open.

Hydrogen Plasma in MAGPIE II

Following on from last week's picture of the new 3D printed helicon antenna, the first Hydrogen Plasma was created in MAGPIE II. This picture shows the glow under all three sections of the antenna. In the movie (link below) the bright glow in the centre is underneath the curved part of the antenna and the less bright glow is under the two end rings. Early days for the MAGPIE team - now for the students to push ahead and see what can be achieved using the high power that used to drive the h1 heliac.