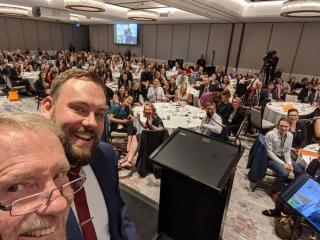 Director's Message
Dear Colleagues
My congratulations to Professor Ken Baldwin, recently awarded the AIP Award for Outstanding Service to Physics. This Australian Institute of Physics Award recognizes an exceptional contribution on the part of an individual to Physics in Australia. Ken was presented with this award at Science Meets Parliament last week, an annual event that Ken championed from its inception. It also happened to be a significant birthday for him! This week's pic is a selfie Ken took when receiving the award.
The Level E promotions were released last week and it is my great pleasure to welcome Ben Buchler (DQS), Elena Ostrovskaya (NLPC) and Andrey Sukhorukov (NLPC) to the Physics Professoriate. If you would also like to congratulate our colleagues in other Schools a complete ANU-wide list of the 2019 promotions for all levels can found here.
Finally, I've just returned from a short visit to Shandong University (Weihai) to attend the launch of the Joint College Program. Attending from ANU were the Provost and College Dean, Professors Mike Calford and Kiaran Kirk, College and School representatives, and our teaching team, who are currently half way through their two week intensive Freestyle Physics course for some 300 students. I am so immensely proud our the Freestyle team and their spectacular engagement with the Shandong students. Our team are superstars and my gratitude goes to; Paul Francis (PEC), Joseph Hope (PEC), Habiba Hossian (EME), Mahyar Bokaeeyan (TP), Xingshuo Huang (EME), Huma Latif (LPC), Campbell Strachan (EME), Layla Steed (DQS), Gao Ting (NP), Yunguo Jiang (SDUW) and Zhiquan Li (SDUW). A/Prof Jong Chow masterminded the induction of our team in China, will speak in more detail about the program at the School Forum this morning. Some images from Shandong are posted at the end.
Have a great week,
Tim
PS. Physics is sponsoring the Salon Canberra Creative Ideas Forum below. If you would like to attend, please let me know as I have some tickets to give away. The speakers are all great social thinkers, contributors and entrepreneurs (including an editor of the Betoota Advocate).
Tis the season for audits and inspections
In the next couple of weeks the School will be partaking in inspections and audits form both ARPANSA and Comcare. Is your lab, workshop or office up to scratch?
Chemicals stored safely, trip hazards removed, electrical items tested and tagged, signage up to date, inductions and training documentation on hand?
You can also help out by providing any localised risk assessments or induction documentation you have to the ohs team and let everyone know to get on board!
Contact ohs.physics@anu.edu.au for further information.
| | |
| --- | --- |
| | Graduation ceremonies will be on 10, 11, 12 and 13 December 2019. Academic staff are cordially invited to participate in the Academic Procession for these ceremonies. Registration is required. |
End of year celebration and training session
meriSTEM
Monday, 9 December 2019, 4:00pm/5:00pm to 6:00pm
ANU Physics Studio #38a
RSVP required
The Australian Academy of Science, in collaboration with Science in Australia Gender Equity (SAGE), is inviting participants to attend the event Catalysing Gender Equity 2020 on at the Adelaide Convention Centre. Applications close 13 January 2020.
ARC Assessment Panel - Observers' talk & drinks
Friday, 6 December 2019, 3:30 to 5:30 pm
APCD Lecture Theatre, Hedley Bull Building, 130 Garran Rd, Acton
2020 Major Equipment (MEC) Grants Scheme
The next Major Equipment (MEC) Grants round will open on Monday 1 June 2020 and close Monday 27 July 2020. It is anticipated that interviews will commence in mid-August.
US Funding Research Policy Workshop
The ANU Research Funding and Development Office are inviting ANU researchers and professional staff to attend training on US Funding Research Policy for a session on the 11 of December 2019.
Monday 2 December
10:00-11:30
Physics South tea room

December Seminars

28 November
Mr Michael Smith
Monte Carlo modelling and radiation measurement with ATAGS, the XArray, and SATURN at CARIBU
» read more

2 December
Dr Katrina Morgan
Advanced chalcogenide materials and their applications
» read more

5 December
Dr Alexander Poshakinskiy
Optical and radio-frequency control of a spin-3/2 qudit ensemble in SiC
» read more

Monday 9 December 2019
5:00-7:00pm
China in the World
Join some of Australia's foremost creative thinkers and entrepreneurs as they explore the power of repurposing ideas for radical innovation.

CoS Seminar - CPAS

Thursday, 12 December, 2:00 - 3:00 pm
Green Couch Room , Peter Baume bldg #42A
US science policy in 2020: a "second bold era of American science and technology" or "second place America"? Paul Harris, Director of the ANU North American Liaison Office in Washington DC.

DQS
Gaye Carney will be away 22/11 - 4/12. Please contact admin.physics@anu.edu.au with any enquiries.

LPC
Andrew Truscott will be away 22/11-6/12. Andrei Rode will be acting HoD during this period.

PEC
Joe Hope is away 18/11 - 15/12. Ben Buchler will be acting Associate Director (Education) during this period.

Cut-off dates for financial processing

Account payable:Mon, 9 Dec
Account receivable:Fri, 13 Dec
Journal request:Mon, 16 Dec
Purchase orders:Mon, 23 Dec