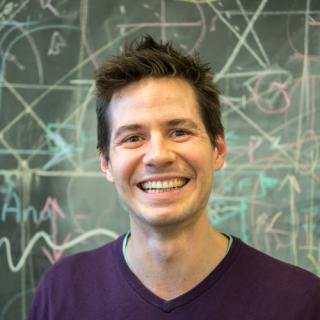 Director's Message
Dear Colleagues,
My congratulations go to Dr Stuart Szigeti on receiving a DECRA in the latest round. His project on "Optimising Space-Based Atom Interferometer Design" will start in the New Year.
MAGIC2019 commences today and will run all week. Brainchild of Profs Nanda Dasgupta (NP) and Nalini Joshi (USyd), MAGIC is a hugely successful mentoring and guidance in careers workshop for early career female or gender diverse researchers in chemistry, mathematics & physics. Sponsors include Universities of Sydney, Melbourne and Queensland, the ARC Centre of Excellence in Future Low Energy Electronics Technologies and the ANU.
At this time of the year my thoughts go out to our Rural Fire Service volunteers who contribute so very much to the Australian community. I would like to acknowledge and thank the RFS volunteers in our School.
Have a safe week,
Tim
WHS staffing update
Craig Young is now acting as WHS Manager for RSPhys following the departure of Mick Craft earlier in the year. For any WHS enquiries please contact ohs.physics@anu.edu.au

Alex Shanahan has taken on the role of RSPhys Workshop Manager and for all workshop enquiries please contactalex.shanahan@anu.edu.au
meriSTEM 'Physics and Flipping' workshop
| | |
| --- | --- |
| | meriSTEM facilitated a professional learning afternoon for 29 ACT secondary science teachers titled 'Physics and Flipping'. |
Nominations now open
| | |
| --- | --- |
| | Nominations are now open for the Australian Plenary speaker at the IUPAP International Conference on Women in Physics to be held in Melbourne in July 2020. |
Early Career Academic Fellows - applications open
University House is seeking to appoint its next cohort of Early Career Academic Fellows, broadly representative of ANU's academic areas and its diversity in other respects, to contribute to the academic life of University and Graduate Houses - see further nformation below.
HDR administration information session
All HDR supervisors are invited to attend an information and Q&A session on Thursday, 28 November at 2 pm in Physics Studio, building 38A (Physics North).
The ANU Research Funding and Development Office are inviting ANU researchers and professional staff to attend training on US Funding Research Policy for a session on the 11 of December 2019.
2020 Major Equipment (MEC) Grants Scheme - Opens June 2020
The next Major Equipment (MEC) Grants round will open on Monday 1 June 2020 and close Monday 27 July 2020. It is anticipated that interviews will commence in mid-August.
| | |
| --- | --- |
| | Dr Hua Xia from CPF will attend the Microbiome symposium "Host Microbiome Interactions – from Structure to Function " from 18-20 Nov at Research School of Biology, ANU. Dr Xia will give an invited talk on 'wave-controlled bacterial attachment and formation of biofilms'. |
PEC
Joe Hope is away 18/11 - 15/12. Ben Buchler will be acting Associate Director (Education) during this period.

NP
Andrew Stuchbery is away attending the Asia-Pacific Physics Conference in Malaysia 18-22 Nov. Steve Tims is acting HoD.

November Seminars

22 November
A/ Prof Matthew Weyland
Quantitative Scanning Transmission Electron Microscopy; "State of the Art" and where to next?
» read more

25-27 November
Frontiers in Quantum Matter Workshop: Electric Dipole Moments
» read more

25 November
Dr Anastasia Borschevsky
Theoretical investigations of atomic properties of the heaviest elements
» read more

27 November
Dr Joris van Heijningen
Particle physics keeps old bridgeps, tunnels and buildings from collapsing!
» read more

2 December
ANU Energy Update
Keynote Address by Ms Audrey Zibelman, CEO, The Australian Energy Market Operator (AEMO)

2 December
ANU and ACT Government
Solar Oration 2019
Fleur Yaxley
Shane Rattenbury, MLA
Prof Andrew Blakers

Monday 9 December 2019
5-7pm
China in the World
Join some of Australia's foremost creative thinkers and entrepreneurs as they explore the power of repurposing ideas for radical innovation.

Department Meetings

There are no department meetings scheduled.

Physics South Orientation
Every Monday at 10:00am all new starters are invited to meet at reception to have a short tour of the School's central areas and receive a welcome pack.

Bookings are not required.