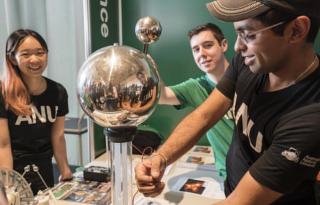 Director's Message
Dear Colleagues,
I hope you had a pleasant weekend. The past week has seen three wonderful achievements within Physics. The first of the 2020 ARC Centres of Excellence was announced with the Dark Matter Particle Physics CoE led by Professor Elisabetta Barberio (University of Melbourne) receiving $35M, with the ANU playing the crucial role in the detector design, development and installation. Please join me and congratulate Greg Lane, Cédric Simenel, Andrew Stuchbery and Anton Wallner for their very significant role in this international facility. We await further CoE announcements (nail biting!)
Marika Niihori has shown the high international calibre of our undergraduates with her Highly Commended at the recent Global Undergraduate Awards (see below). This is an amazing global competition and we wish her all the best for the next stages.
My congratulations go to AJ Mitchell (Nuclear Physics) on being named 2019 Young Tall Poppy (see below). He has been outstanding in his public engagement through a range of activities in Australia and abroad, including running workshops to train high school science teachers in Timor Leste and physics training and research with the University of Yangon in Myanmar.
Last week I missed thanking the Open Day team who entertained and inspired potential new students and parents alike. This week's pic shows some of the team (Felicity Lee, Tim Hume and Ruvi Lecamwasam) arcing it up for the public.
Sue will be out of the office for the next few weeks on a well earnt vacation and Linda Barbour will be standing in.
Have a good week, see you at PEC Planning Day.
Cheers,
Tim
Congratulations
| | |
| --- | --- |
| | Congratulations to AJ Mitchell being honoured for his contibution to science in the 2019 ACT Young Tall Poppy awards. |
Congratulations
| | |
| --- | --- |
| | Congratulations to Marika Niihori who received a 'Highly Commended' award by the the 'Global Undergraduate Awards' in Maths and Physics Category for her ASC project. |
7th Heavy Ion Accelerator Symposium 2019
HIAS2019
9-13 September 2019
Dept Nuclear Physics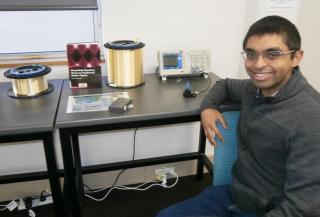 Last Saturday was open day and we had an area on the top floor of Marie Reay building and lots of hands on activities and demonstrations in the Physics studio. It was a good day and we reached many interstate potential students and parents. Just remember "Physics is fun" Many thanks to our helpers, Meristem and OZGRAV: Elena, Joe, Jodie, Ruvi, Felicity, Zoe, Jay, Tim, Kay, Disha, Dige, Matthew, Daniel, Johannes. (Phot of Ruvi with 50km of optical fibre)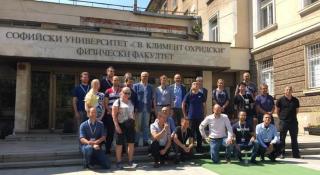 Kath Hicks in Sofia, Bulgaria
26th Canberra International Physics Summer School - registration now open
Under-representation of women in STEM professions is not only inequitable for women, but can be detrimental to reputation and performance of organisations. These consequences have led to pressure for some organisations to set measurable and objective gender diversity targets. The reasoning behind targets and quotas is that women are not making it to senior positions, or being represented in some professions, because of bias and other such factors that are nothing to do with women's capabilities or competence. Targets and quotas intend to level the playing field for women.
DST Summer Vacation Placements are now open
The Summer Vacation Placement (SVP) is a 12-week paid program targeted at high- performing undergraduate science, technology, engineering and mathematics (STEM) students.
Alumni scholarship in physics
This scholarship connects the brightest young physicists or mathematicians to a leading research centre overseas or in Australia. Applications are now open and will close on 29 November 2019.
Australia- India Strategic Research Fund
NOI: Please notify the College Research Office (CRO) by Tuesday 17 September if you are interested in this opportunity: science.jaeger.rm@anu.edu.au
Building Facts
The two images show the middle set of six stable labs out of sixteen on Level 1. Left image shows the preparation for the first pour of concrete onto bedrock, the right image shows the capping pour in total to a thickness of 1.2m. All reinforcing is non-magnetic stainless steal. Each of the 16 stable labs will sit on their own isolated slab, 8x9m, and meet VC-F vibration control or better (<1.56 micron/s over range 1-100Hz). Each lab will be constructed of a free-standing laminated timber shell without ferrous fixtures. To reduce EM interference main power supply will be twisted pair cabling. Each room will have an independent control room and cryogenics pass-thru.
PEC Planning Day

12 September 2019
9:00 - 5:00 @ Mt Stromlo

September Seminars

9 September
Professor C.K. Jayasankar
Down and upconversion in lanthanides for photonic devices
» read more

16 Setember
Dr Dr. Dmitry Efimkin
Exciton-polarons in doped semiconductors
» read more

School Seminar

19 September
Dr Johannes Eichholz
Oliphant Seminar Room
Thermal Noise and Gravitational Wave Detection

Women of Physics Lunch - Join us for lunch, chats and maybe some making* on Thursday 26th September (week 8) in the physics studio (downstairs) at Physics North.

70 Years of Physics

Founder's Day
25 October 2019, 9:00 - 2:30
Leonard Huxley Theatre and Oliphant tea room and gardens

Director's Office
Sue Wigley will be away 9-27 Sept. Linda Barbour will be covering 8.30-12.30 each day. Please use the ea.physics@anu.edu.au for all correspondence.

Last Chance - John Carver Seminar Series

The closing date for nominations is Monday 9 September 2019. Students wishing to nominate themselves are requested to register and submit presentation titles to hdr.physics@anu.edu.au by this date.

Department Meetings

EME - Mon 16 Sept 2019

DQS - Thur 10 Oct 2019

As You See It! Photography competition - The College of Science is calling for more entires from Physics, now is your chance - get involved.

Physics South Orientation
Every Monday at 10:00am all new starters are invited to meet at reception to have a short tour of the School's central areas and receive a welcome pack.

Bookings are not required.