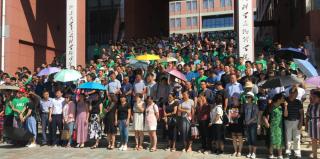 Director's Message
Dear Colleagues,
I hope enjoyed the glorious start to Spring yesterday.
This week's pic shows the entire student cohort, and parents, in the inaugural ANU-Shandong University Joint Science College (JSC) at the Weihai Campus yesterday. Representatives from Research Schools of Chemistry, Biology, Mathematics and Physics joined our Dean, Professor Kiaran Kirk, for the Opening Ceremony over this weekend. I believe there was tremendous excitement from the students on hearing the Physics team will commence their ANU studies with Freestyle Science in November, led by Professors Paul Francis and Joe Hope. Modelled on our well-known 1st year Ninja Physics course, Freestyle Science will incorporate examples from the other disciplines to round-out the introduction to ANU curriculum.
PDRs are an important way for you to influence your Department 3-6-9, and improve the overall performance of the School. Since our May 1st census date the number of active PDRs in Physics has slipped drastically. These are important discussions so please talk to your supervisor about your PDR. Details and examples can be found at here. Heads will receive Departmental statistics on recent PDR activity at the HoDs meeting this Thursday.
Have a great week.
Cheers,
Tim
| | |
| --- | --- |
| | Kath Hicks (NLPC) with the International Student Mobilty Team, University of Brescia. We have worked together for the last five years supporting the ERASMUS projects, focussing on academic and student collaboration between European universities and ANU. Many other European universities have been involved and all fully funded by the European Union. The latest project provided support for Kath to visit Europe to develop and strengthen ties with our University partners. |
Why nuking a hurricane will not work.
| | |
| --- | --- |
| | The idea is so prevalent, it's debunked every year by first year physics students at The Australian National University. Its not a sensible idea because an atom bomb has nowhere near enough energy to make any difference to a large hurricane" said Professor Paul Francis. |
ANU Major Equipment Grants (MEC) Scheme Review – request for feedback
The ANU Research Services Division (RSD) is seeking your feedback in relation to the annual major equipment grant scheme.
Archaeology Seminar Series
Dr Alice Gorman
Friday 20 September 2019 3.30-4.30pm
The archaeological record of humans beyond Earth
This talk is a survey of some of the most iconic and interesting archaeological sites in the solar system...Taking a solar system perspective raises questions about aspects of terrestrial archaeology that we take for granted, like the role of gravity in shaping society.
While many workplaces have developed inclusion programs, they are not currently specifically addressing the cultural diversity of LGBTIQ+ people. Diversity Council of Australia, along with Pride in Diversity, has developed a short survey to help provide informed advice to workplaces about how to make inclusion initiatives work. If you self-identify as part of culturally diverse LGBTIQ+ community, please consider participating.
Building Facts
During the excavation phase over 43,000 tonnes of soil and rock were removed from site. Ordinarily, this would have meant a huge traffic load on internal ANU roads. Thanks to the ACT Government, Hindmarsh were able to divert a vast majority of these truck movements onto Parkes Way, some 5120 movements as at the end of July 2019. With the tower crane now in full swing (pun) you will see the building quickly rise from the ground (time lapse of crane construction).
If you would like to know anything about the technical statistics of this fantastic building please drop Simon Foxcroft an email.
Director's Colloquium

Professor Andrew Peele
3 September 2019, 12:00-1:00, Leonard Huxley Theatre

Powered by the Australian Synchrotron – 1001 things you can do with a 200 mA current

PEC Planning Day

12 September 2019
9:00 - 5:00 @ Mt Stromlo

School Seminar

19 September
Dr Johannes Eichholz
Oliphant Seminar Room
Thermal Noise and Gravitational Wave Detection

ADMIN
Kath Hick (NLPC) will be awy 26/8 - 22/11. Julie Arnold will be acting team leader during this period, and Linda Barbour will cover NLPC.

Graeme Cornish will be away 29/8 - 29/10. Pat Lang will be acting Facilities Manager. Please continue to use maintenance.physics@anu.edu.au to contact either Pat or Lee Philip.

Department Meetings

There are no departmental meetings scheduled this week.

Physics South Orientation
Every Monday at 10:00am all new starters are invited to meet at reception to have a short tour of the School's central areas and receive a welcome pack.

Bookings are not required.